by Mike Sheahan
Entertainmentwise, it really seems to be feast or famine in our lovely little town. A parched time like last week is often followed by a flood of good times, like this week. Hopefully, most of us live here for reasons other than the night time entertainment, so a week like the last passes by fairly unnoticed. Still, it is nice to have more options than the same old DJ spinning the same old tracks. This week brings just that, and no matter your taste, you should find a pleasant diversion in the next seven days.
The excitement begins Thursday, Sept. 18, with the final night of our annual visit from Circus Chimera. If you are a parent and don't take your kids to the circus, child protection services should probably be called in to look for other signs of neglect.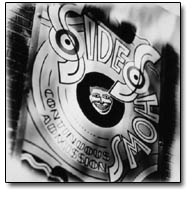 Sure this isn't the kind of circus with lion tamers or elephant ballet, but, if memory serves, there is a sad French-like clown (nothing says good times like sad and French) and those guys who ride motorcycles ridiculously fast in a small, round cage. Free tickets are available practically everywhere around town for the kiddies and, even though they make that up by sticking it to the parents, the look on your kid's face will be worth whatever you spent.
After the circus, deliver your kid to the sitter and head to the Abbey Theatre for live hip hop. From the hip-hop Mecca that is Lawrence, Kans., comes the Limited Liability Tour featuring the acts Mac Lethal, Archetype and others. It's not often that you read about upcoming hip-hop shows in this column and part of the reason for that is that those shows almost never happen in Durango. So, whether you are a sideways-ball-cap-wearin', hip-hop-starved music fan or just someone who loves supporting diversity in the local music scene, this is a show for you. Doors open at 8:30 p.m.
Fans of improvisational, jammy bluegrass have reason to celebrate as Colorado favorite Railroad Earth performs at the Fort Lewis College Community Concert Hall on Friday, Sept. 19. Railroad Earth is said to combine bluegrass, rock, jazz and Celtic themes to forge a sound all its own. If that's your style, the show starts at 7 p.m.
Local rockers Freewill Recovery also will be performing an all-acoustic show that same night at Haggard's Black Dog Tavern. Not only is it a special night since the band will be playing all acoustic, but some of you may not know that Haggard's recently reacquired their liquor license. That's right – now you can go without having to remember to stop at the package store for a 12-pack of Natural Light. The nonelectric fun begins at 8 p.m.
Around this time last year, the Animas Conservancy and the Friends of the Animas River hosted the Bluegrass for the Animas festival at the Animas Meanders Ranch. It seems the day was quite a success as this Saturday, Sept. 20, brings us the second annual. Billed as a day to "protect, preserve and celebrate the Animas River watershed," Bluegrass for the Animas will feature some of Durango's best local acts as well as some out-of-towners. Add plenty of beer and food to the mix, and you've got yourself a day. The Animas Meanders ranch is off of 32nd Street, near Holly Avenue. Call 259-0522 for more information.
This week's sign the end is near: Soon the brilliant FOX network will begin showing a new sitcom called "The Mullets." In the show, two brothers adapt to life after a conservative step-father moves in. Oh, and everyone has a mullet, thus hilarity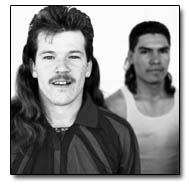 ensues. The show sounds terrible, even for FOX, but I fear it will help usher in the post-modern age of the mullet. After this show, it seems even the most clueless wearer of that hairstyle will have to be aware that the mullet is a source of ridicule. Therefore it will soon be impossible to know whether to laugh at a mullet or applaud the wearer's sense of retro style. The primer- and Bondo-covered Trans Am always will be a dead giveaway, though.
This week's record: In the early '80s a musical movement know as Do it Yourself (DIY) started all around the country. The idea was for bands to do every part of the musical job themselves. Songs were recorded in people's bathrooms on portable cassette players, shows were put on in dorm rooms, and record labels were started by bandmates. The group Beat Happening was at the forefront of this "movement" and even garnered quite a bit of national attention. The band received notice from Rolling Stone magazine and was able to tour the states.
That was a long time ago, though, and much of the music that received all the attention has been hard to come by. Until now, that is. K records, owned by Beat Happening frontman Calvin Johnson, recently released "Music to Climb the Apple Tree By," a collection of Beat Happening songs that span the groups nearly 20-year career.
The songs are simple, and Johnson's voice is an acquired taste, but the record provides a glimpse into a time when the process was simple and profit took a backseat to the sheer joy of making music. You can check out Beat Happening and other groups like them at www.kpunk.com
I'm thinking about growing a mullet. mpsheahan@yahoo.com