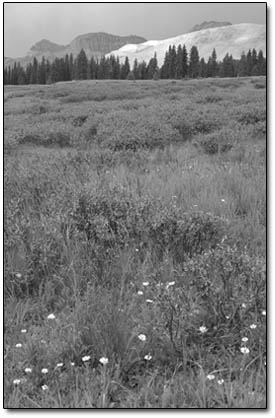 As proposed, the first leg of a Durango to Moab hut system would pass Bolam Pass (pictured) on existing road and doubletrack. Proponents of the system
complain that the Forest Service has been stalling./Photo by Todd Newcomer.
Bureaucracy may be the biggest obstacle to linking Durango and Moab with a hut system for self-supported mountain biking. After months of tense negotiations and differing expectations, a request by the San Juan Hut Systems for a special-use permit gained some unusual ground this week. On Monday, the San Juan National Forest kicked off the process by soliciting any and all outfitters interested in operating such a system.
In February of this year, San Juan Hut Systems owner and operator, Joe Ryan, approached the Forest Service with plans to expand business, expressing interest in creating a mountain bike route between Durango and Moab linked via backcountry huts. Ryan's company currently operates a popular hut system between Telluride and Moab and said the demand for the expansion has been tremendous.
"Our existing route has been completely, 100 percent full as of last January," Ryan said. "I had to turn 1,000 people away this year and came up with this idea of a Durango to Moab route. I could have filled it easily this summer."
As proposed, the new hut system would begin near Durango Mountain Resort, cross Bolam Pass into the Dolores drainage south of Lizard Head Pass, then descend into Paradox Valley and skirt the La Sal Mountains before dropping into Moab. The route would follow double-tracks and primitive roads.
Ryan had hoped for a quick response from the Forest Service. Instead, he said that the agency has done its best to drag its feet on the plan. In past months, Ryan got frustrated enough to seek the intervention of Sen. Wayne Allard, R-Colo., and accused the San Juan Public Lands Center of not following due process. However, recently, Ryan has adopted a more conciliatory approach to the process in spite of the fact that his February request has just started moving.
"I'm trying to get along with them," he said. "I'm trying to get progress, but they do move pretty slow."
As evidence, Ryan commented that he received a letter in May saying the solicitation would take place the following month unless there was a fire season. However, the Dolores Public Lands Office issued the announcement last Monday. It stated that that the agency is soliciting for individuals or business entities interested in providing a commercial hut-to-hut mountain bike operation from the vicinity of Durango Mountain Resort to Moab.
Tom Kelly, outfitter and guide administrator for the Dolores Public Lands Office, said that the solicitation is an effort to be fair to all comers.
"San Juan Hut Systems approached us about the route," Kelly said. "But we've also been approached over the last five years by other outfitters about commercial-based activities on the forest. We're trying to be fair with those who have been fair with us."
Kelly noted that 183 outfitters currently operate on San Juan Public Lands and that a prospectus on commercial recreation on the forest was completed five years ago. With Ryan's request, Kelly said that the Forest Service had to decide whether to reassess all outfitters on the forest or simply mountain bike hut-to-hut operations.
"We made a decision to be more specific and keep this to summer mountain biking," he said.
Should the Forest Service's solicitation reveal other interested applicants, Kelly said that the process will get involved and another prospectus will have to be completed. If Ryan remains the only party interested in the hut-to-hut route, the environmental analysis and public input would begin. Kelly said that even Ryan's best-case scenario will be full of federal, state and local hurdles.
"It's a somewhat complex process," he said. "To take something from Durango to Moab crosses a couple national forests, BLM lands and state, county and private properties. It all makes it a process that will require some time."
However, time is something that Ryan may not be interested in giving up. He said that San Juan Hut Systems would like to see the route in operation by next summer and argued that his company is the only one capable of making it happen.
"There's nobody else in the world doing this kind of thing and no one else has ever pursued it with the Forest Service," he said. "I think this solicitation is just their way of trying to do the fair and proper thing."
Responses to the solicitation are due by Oct. 1. Ryan said he thinks his proposal will be the only one and then the real work can begin.
"They've definitely got to get to work on this," he said. "It's unbelievable how slow this has been."