Four Corners Folk Festival returns for eighth year
Pagosa hosts Labor Day Weekend's biggest variety show
written by Katherine Warren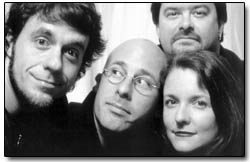 Eddie From Ohio
This year's eighth annual Four Corners Folk Festival, in Pagosa Springs, promises not to disappoint whatever your age. Not only does this year's festival have an eclectic, entertaining line-up, but the kids' tent is better than ever, and the festival has moved back to its original site atop Reservoir Hill, overlooking the San Juans.
"I think we'll have a good turnout this year," said festival Executive Director Crista Munro. "People are realizing that they need a relaxing and fun weekend."
Munro, along with her husband, Dan Appenzeller, put on the first festival in 1996 with acts ranging from the then pre-pubescent Nickel Creek to the now late John Hartford. Since then, the festival has grown exponentially and brought in such headliners as Tim O'Brien, Allison Brown, Sam Bush and Bela Fleck.
This year, the music kicks off Friday, Aug. 29, with local band The Pagosa Hot Strings. All under the age of 19, these guys are a promising hope that bluegrass will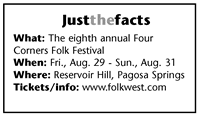 stand the test of time for one more generation. Friday's festivities will close with The Wayfaring Strangers, a band that fuses jazz, swing and traditional folk to create a sound all its own.
On Saturday, Aug. 30, festival favorite Darrel Scott will take the stage with guests John Cowan and Nick Forster. Scott has established himself as an entertaining performer and songwriter, writing No. 1 hits for the Dixie Chicks, Travis Tritt, Sara Evans and Garth Brooks. Following Scott, Tony Furtado and the American Gypsies will make their fourth appearance at the festival, and Grammy-nominated fiddler and dancer Natalie MacMaster will close Saturday night.
On Sunday, the audience will be treated to the Laura Love Band and a sound that's been described as folk-funk, Afro-Celt and Hip-apachian. Following her performance, Drew Emmitt, Leftover Salmon headman, will take the stage with John Cowan. The festival will come to a close with perennial favorites Eddie from Ohio, marking the fourth year the band has played the festival. Over this time, the band that actually is not from Ohio has built a loyal following in the Southwest with its thought-provoking lyrics and on-stage antics.
Despite the festival's stunning surrounding, it's real beauty may be the unknown bands that it brings to the stage each year, according to Munro.
"This year we've tried to balance the well-known artists with the unknowns," she said. "We like exposing audiences to the new frontier of music."
This year, those unknowns include Wisechild, a funky, bluegrass band that just finished its summer tour opening for John Mayer and Counting Crows. Also making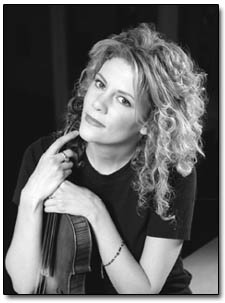 Natalie MacMaster
its first Folk Festival appearance will be the Bill Hilly Band. Hailing from British Columbia, this band has forged its own style of acoustic down-home music and will take the stage Friday and Sunday.
Ruthie Foster will play twice as well, giving audiences a taste of with raw vocal talent, which has been compared with Aretha Franklin and Etta James. On Friday, she will showcase her original music laced with blues, roots and folk, followed by a gospel set on Sunday.
Munro said this year's festival has strong draws throughout the weekend, and ticket sales have reflected that. "This year ticket sales are high for both days," she said, promising a balance of acts and an unforgettable weekend.
In addition to music, the festival boasts a climbing wall, alpacas, spinning and weaving presentations, and the always popular kid's tent. Munro said this year's kids' program is better than ever and will provide live entertainment from Mysto the Magi, storyteller Sara Ransom, and Creative Dance, as well as musical performances and arts and crafts.
Like past years, camping will be located on Reservoir Hill, overlooking Pagosa Springs. "The city of Pagosa Springs has embraced the festival and been accommodating to our needs," said Munro. "The city helps our festival because it associates good memories with the town."
As always, festival goers can expect to be part an eclectic crowd, according to Munro. Audience members will range anywhere from high school and college students to senior citizens, as well as a big chunk of 30- and 40-somethings.
"We try to appeal to a wide variety of listeners," said Munro.