Bringing art to the masses
Sculpture gets new home in Santa Rita Park
written by Missy Votel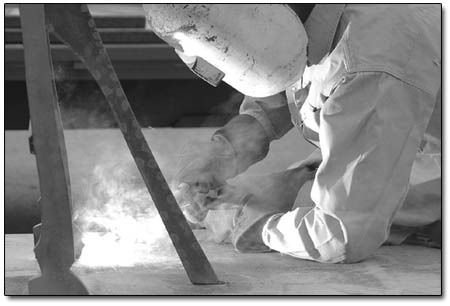 Kenneth Seay, a welder with Holt Sheet Metal, secures the leg of "Parade Formation," a steel sculpture by former FLC art professor Mick Reber, to its concrete base in Santa Rita Park on Wednesday morning./Photo by Todd Newcomer
Almost two years after the city of Durango installed three public sculptures along East Second Avenue, it is preparing to unveil yet another public piece of art, as well as an effort to facilitate more in the future.
"Parade Formation," a 30-by-10-foot steel sculpture by former Fort Lewis College art professor Mick Reber, was erected in Santa Rita Park on Wednesday morning, the latest in a series of public art works donated to the city over the last few years. The donation marks the culmination of a long-term plan by Reber, whose career at the college spanned 30 years, to donate a piece to the city.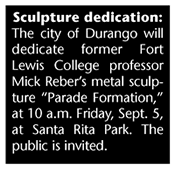 The sculpture, which is valued at $50,000, is a two- and three-dimensional abstract depicting three horse riders meant to blend old west and contemporary western images, according to Reber.
"A couple of years ago I began a series of drawings dealing with imagery relating to the horse and rider," said Reber, who is currently building a studio in the small town of Bayview, Texas. Reber moved to the town, which is near South Padre Island, in May of 2002 to be closer to family.
"As the drawings progressed, the idea of ceremony began to take over, with horse and rider in a kind of parade formation," he said. "My purpose soon became a search to secure a series of stylized drawings which would capture the spirit of that feeling in sculptural form.A0I was far more interested in a spiritual connection of past and presentA0than a literal one,A0evoking a kind of symbolic sense of honor to the way horse and rider have been used in ceremonies throughout the history of Durango as well as other areas of the world."
Rosie McGowan, the project's manager and Reber's partner, said originally she had tried to get the sculpture erected at the newly revamped entrance to the city at the juncture of Highways 550 and 160 directly southwest of town. However, the idea was nixed by the Colorado Department of Transportation because of safety concerns, namely a lack of parking.
"CDOT decided it wasn't really a good place if people wanted to stop and get out of their cars," she said. "We were disappointed but it seemed to make sense because of safety issues."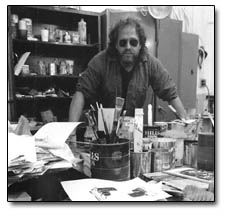 Artist Mick Reber, seen here in his former studio, donated a 30-by-10-foot steel sculpture, "Parade Formation" to the city of Durango. The sculpture was installed Wednesday in Santa Rita Park./Photo courtesy Mick Reber.
From there McGowan contacted the city, which helped find a better site. Linda Lewis, with the Durango City Manager's Office, said she was contacted by McGowan and directed her to the city's newly established art committee. The committee was formed in 2001 as a response to three donated sculptures, "Puck" and "Mudra," two dancers cast in bronze by artist Elizabeth McQueen, which are now along East Second Avenue; and "My Children," another bronze by artist Allen Houser that sits in front of the Durango library. According to Lewis, the idea for a citywide policy was hatched by former assistant to the city manager, Clint Kinney.
"It started with the donation of the pieces along Second Avenue," she said. "It got him thinking about a policy."
Up until that point, the city had no clearly defined ways of dealing with donated art work, she said.
"It was serendipitous and haphazard when we'd get these donations," she said. "We'd say, 'That's great, but where do we put them.'"
In response, the city appointed a four-member art committee, made up of local artists and members of the local arts community, to advise the city on site selection and what type of art to display and where.
"It puts us in more control," she said.
Lewis pointed MacGowan in the direction of the art committee, which already had done site research and suggested the Santa Rita Park location. From there, the project involved an orchestrated effort that included several entities and agencies, she said.
After meeting with the art committee, McGowan approached the Parks and Forestry Board, which oversees management of the park.
"Rosie went to a meeting and gave a presentation on the project, and they recommended that City Council approve it, which they did," Lewis said.
However, this was only the beginning, Lewis said. From there, the Durango Parks and Recreation Department got involved to prepare the site and the Public Works Department was called upon to design the concrete base. Private entities pitched in as well, with Holt Sheet Metal donating half of the raw material for the sculpture's fabrication, Four Corners Construction donating concrete for the base and Firehawk Construction donating labor, McGowan said.
Despite the various parties involved, McGowan said the project thus far has gone surprisingly smoothly.
"There was no hesitation on the part of the city and all of the donors have been fantastic," she said.
McGowan said that Reber, whose works are in collections all over the world – including that of Hotel Belagio owner Steve Winn, has been humbled by the assistance and cooperation he received.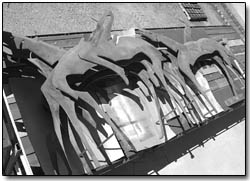 "Parade Formation," by Mick Reber, sits idle on a trailer at Holt Sheet Metal on
Tuesday prior to being installed at Santa Rita Park./Photo by Todd Newcomer
"It's just really exciting for Mick to have this go up," she said, adding that Reber plans to return to Durango for the dedication on Sept. 5. "This is a big thing in his career to have a piece this large in a city like this."
Lewis said collaborations like this are something the city would like to see more of in the future. In fact, this past week, she presented the City Council with options on promoting public art as well as developing a policy on the topic.
"City Council is interested in learning what to do to promote more public art," she said. "I think the sense is that people enjoy it, to have art adds to the aesthetic culture of a town."
Lewis said so far, it appears that the public is behind the city on backing public art.
"The Second Avenue sculptures are very well received," she said. "In the winter, Puck has always got a scarf on."
She said since the East Second Avenue sculptures went up, interest from artist and donors to display art has been brisk as well.
"Since then, we continually get donations and artists approaching us," she said, adding that the city has another piece of public art waiting in the wings behind Reber's. The work, called "Life Wall," is a sculpture by Willa Shalit, daughter of film critic Gene Shalit, which was bequeathed by an anonymous donor. Lewis described it as a montage of bronze body parts and masks depicting influential people of the 20th century.
In fact, Lewis said the biggest obstacle is not public opinion or the availability of art, but the age-old dilemma of money.
"I think people are in favor of public art because it becomes part of the character of the city in a positive way," she said, "it's just trying to find money for it, as always."