Labor Day weekend is finally here to signal the end of summer and the coming of thousands of really loud motorcycles and the folks who ride them. In past years, it has been my choice to leave Durango for the big Labor Day motorcycle rally. But for whatever reason, this year I'll find myself stuck amidst the noise, widespread drunkenness and wanton display of various body parts. Sure the rally pumps a lot of much-needed cash into our town's veins, but it seems a similarly attended quilting bee or convention of orthodontists would do the same thing with less mess.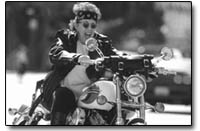 Rally supporters often defend the rally by claiming it to be a group made up mostly of "doctors and lawyers" whose name is besmirched by a few attention-grabbing miscreants. If so, here's a fun game. When you see a group of leather-clad cyclists encouraging a young lady to lift her top or hitting 50 mph on Main Avenue, try to decide: doctor or lawyer? It's good for hours of brain-teasing fun.
If the above is not your cup of tea, then you can take a short drive east to Pagosa Springs for the Four Corners Folk Festival, taking place Aug. 29-31. There one can
find the polar opposite of the Durango madness. At the Folk Festival, festivarians will be enjoying music by the likes of Tony Furtado, Leftover Salmon's Drew Emmitt and the Laura Love Band. This is one of the last outdoor music fests of the season in the area, so if you haven't gotten your fill (and really how could you?) of such events, now is the time. The most expensive ticket, $105 for a three-day pass including camping, means that unlike others, this festival is affordable. Further information is available at www.folkwest.com.
But maybe the three-day extravaganza offers too much music for you. If so, Durango Mountain Resort has your ticket with the second annual Wildflower Festival on Saturday, Aug. 30. Returning from last year is Arlo Guthrie, and this year he's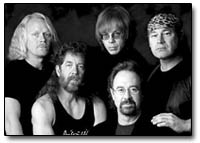 Creedence Clearwater Revisited
bringing Creedence Clearwater Revisited with him. Creedence Clearwater Revisited is a tribute act that boasts two of the band's original members. However, the Fogerty brothers are not among them. It's hard to imagine attempting "Born on the Bayou" or "Fortunate Son" minus John Fogerty's twangy guitar and vocals, but kudos to those gents for giving it a whirl. Guthrie is a great storyteller and decent guitar player who puts on a show worth seeing once. Tickets include access to all the mountain has to offer.
If you insist on staying in town to witness the motorcycle mayhem for yourself, here are a couple of diversions for when you finally decide you've seen enough mullets. Fans of the funky jam band Goodfoot will want to head to the Summit on Friday, Aug. 29 to see the band perform what it says is its last show ever. Goodfoot has been making local folk dance for around three years now, and unlike some groups, these guys seem to mean it when they say it's their last show ever.
The hit pick of the week, however, comes on Saturday, Aug. 30, when Drag the River hits the stage at Storyville. Originally an alt-country side project for punk rock stalwarts John Snodgrass, Paul Rucker (Armchair Martian) and Chad Price (All), Drag the River has taken on a life of its own. The band is currently touring behind its second release, "Closed," a nicely put together collection of songs dealing with all the great country subjects of depression, alcohol abuse and lost love. In the hands of Drag The River, though, these subjects seem kinda fun. When done right, the melding of country and punk is a beautiful thing. Drag the River will not disappoint.
If that's not enough for one week, and I dare say it may be, The Yonder Mountain String Band brings its nationwide tour to the Community Concert Hall at Fort Lewis College on Wednesday, Sept. 3. Because of the group's immense popularity with patchouli-wearing, hula-hooping newgrass fans, I've tried hard to dislike the Yonder Mountain String Band but can't. Their latest release, "Old Hands," is the group's best, and although a tad too laid back and groovy for my tastes, the superb musicians more than make up for any perceived stylistic misstep. You should see this Nederland band while you can. They won't be back for a while.
This week's sign the end is near: After the J-Lo and Ben Affleck train wreck "Gigli" bombed at the box office, I had reason to regain faith in the American movie-going public. Then those same people made the joke that is "Freddy Versus Jason," the country's biggest flick. Hollywood is like a misbehaving 2-year-old. It will stop being rotten if we don't encourage it.
Album of the Week: Mark Eitzel is not an upbeat musician. For more than 20 years, Eitzel has, as a solo artist or with the transcendent American Music Club, made some of the most likable depressing music there is. His most recent release, "The Ugly American," is a collection of reworked songs from the Eitzel oeuvre. Self-deprecating as always, Eitzel has chosen this album title for a recording made in Greece with Greek musicians playing mostly traditional instruments.
The album opens with "Western Sky," a heartbreaker addressed to a daughter that he never sees but repeatedly begs to "be happy" even though "the parade has already passed us by." The album's tone never changes; Eitzel is not a happy man, and his recent relocation to Greece has not helped at all. Still, this album features some of his strongest and most off-kilter vocals ever; old school fans will enjoy the new versions of longlost songs like "Take Courage" and "Jenny."
In 1996, at a Mark Eitzel show, I looked around and realized there wasn't a dry eye in the place. For some reason, he has an uncanny ability to jerk at the hearts of most people who take the time to listen, and it seems he's OK with that. That is the key when dealing with American Music Club or Mark Eitzel: If you are prepared to lose it for a night or go on a weekend bender, there is no better soundtrack.
Who wins, sucker, Jason or Freddy? mpsheahan@yahoo.com