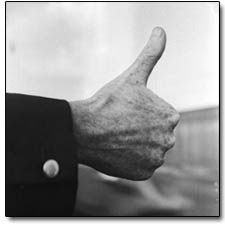 It was an awkward Thanksgiving.
As a first-year college student, I'd been invited up to the grandparents' to play Pilgrim and Indian. Alone on the East Coast, I accepted. But, getting there wasn't easy.
I quickly bummed a ride from a dorm-mate, but unfortunately he had no interest in visiting Gambrills, Maryland. Somewhere outside the nation's capital, I had no choice but to break out my thumb.
The ride came with time, and I found myself crawling into a beaten 1980s Ford Mustang. For the next hour, I would share a portion of my life with a man I knew only as Ted. Ted's passions went to menthol smokes and bands like Anthrax and Ratt. That ride was all about fast cars, blonde women with long legs and canned beer.
Nonetheless, Ted eased my load and shared the ride. He told me of his life in the somewhat average town of Glen Burnie. And he had opened his heart and offered me help in a time when I was in need. I rolled into Thanksgiving late, sweating menthol and road weary. Things only began to get stranger.
My grandma's growing senility assigned me the name of Joe. Grandpa was never much of a talker anyway, and the rest of the relations were complete strangers. Sitting in the corner with my plate of turkey, I started missing the Mustang.
Over a slice of squash pie, the scene shifted. A dapper great uncle of my dad's approached me. Hearing of my passage, he immediately set into tales of hitching. Looking regal in his tweed suit, he made one thing clear – he had never lifted his thumb in his life. But somehow, he understood the phenomenon intimately, and, for the first time, I heard talk of my dad's thumbing exploits.
With great envy, he spoke of my father over a brandy, elaborating on my then 22-year-old dad's yearly ritual, a crosscountry venture in search of snow. Armed only with his thumb and a backpack, he set out on the highway and hitched clear from the Chesapeake Bay to Aspen. In the spring, he returned via the same route. His nights were spent in fields adjoining the highway. His days were spent communing with strangers.
Those trips had filled a void in my great uncle's life.
Many years later, my friend Tim told a different tale about the romance of the side of the road. Tim was furious after spending an afternoon with his right thumb and a blown tire. Heading south on 550, he had just dropped down into Bondad when his left rear tire exploded. The pleasure cruise rapidly ended, and Tim was living the highway nightmare – trying to control a reckless ton of steel, plastic and vinyl.
He got his car over onto the shoulder, but had a hard time getting another to do the same and spent an eternity trying to get back into town, enduring the humiliation of waving to passing cars with an outstretched thumb. Minutes became hours. And naturally, Tim soured as all manner of car and person blew by him blind to his plight.
I remember experiencing a similar load of frustration hitchhiking from Telluride to Norwood nearly two decades ago. The highway distinctly changes character at one point, splitting at a nameless, abandoned auto dealership. One arm travels to the resort mecca/bastion of progressive thought. The other reaches a rural ranching community.
This situation usually made for a two-leg hitch, and ironically, on one leg the thumb was next to useless. Contrary to what you might believe, Telluride was no hitchhiker's paradise, and as years went by, rides became harder to come by. But, reality veered at the crossroads. After pointing it toward Norwood, rides were instant. On one occasion, a woman sporting a bee-hive, a domestic V-8, Patsy Cline on the radio and a National Rifle Association bumper sticker picked me up.
I mentioned my Telluride thumb blues and how grateful I was to be on the other side. She answered me simply. "Yep, we still trust over here."