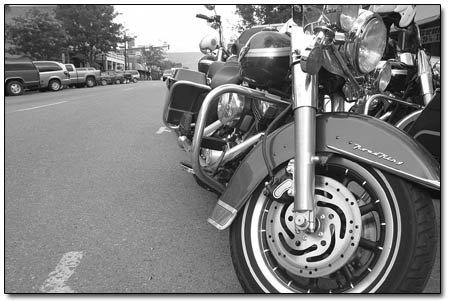 A posse of Harleys share a parking spot along Main Avenue on Tuesday. After an unofficial rally last year, the annual motorcycle gathering returns, with not one but two organized events catering to motorcyclists. Local reservation agents and law enforcement say they are expecting as many as 30,000 bikers for the three-day weekend./Photo by Todd Newcomer.
Tens of thousands of Harley Davidsons will roll into Durango this weekend, as not one, but two rallies host events for visiting motorcyclists. Both the traditional Four Corners Iron Horse Motorcycle Rally and the new Rally in the Rockies will take place for what promises to be a packed Labor Day Weekend. However, as the weekend approaches, friction between the two events has grown, and the possibility of lawsuits between the rival organizations has been aired.
Sen. Ben Nighthorse Campbell, R-Colo., founded the Iron Horse Rally 10 years ago as a way to interest riders in the region's riding offerings, and over time it has attracted as many as 25,000 participants. However, greater participation also has meant greater liability; six traffic deaths marred 2000's rally and made the event's future questionable. But rally organizers persevered, and Ignacio and the Southern Ute Indian Tribe hosted the Iron Horse again in 2001.
However, the merits of the regional riding and a giant party featuring wet T-shirt contests, biker bull riding and nonstop live music were outweighed by an additional three deaths that year. On top of that, the tribe decided to increase the rate it charged for use of its events grounds from $40,000 with a $20,000 deposit to $150,000 and two $20,000 deposits. The higher price sent Iron Horse Rally organizers scrambling for another location and a permanent home for the beleaguered rally. However, an attempted land purchase north of Ignacio failed to materialize because of opposition from potential neighbors, and requests before the city of Durango and Durango Mountain Resort fell short for the same reason. As a result, the Durango area hosted an unofficial motorcycle rally in 2002. Many of the riders still came, but the events were largely missing. Estimates of the numbers of visiting bikers ranged wildly between 5,000 and 10,000.
Not long after this unofficial rally, a new group announced in mid-November that it would take up the rally's reins, renaming the event the Four Corners Rally in the Rockies. With an emphasis on running a "professional event," the group reached an agreement with the Southern Ute Indian Tribe to lease the Sky Ute Event Center. Boasting a hefty $1 million budget, organizers Dan Bradshaw, of Farmington, and Creig Wallace, of Aztec, started making plans to attract more than 20,000 motorcyclists to what they said would be a larger, polished rally, featuring top entertainment.
However, the original Iron Horse Rally has never gone away, and this original "Rally of the Rides" plans to celebrate its 10th anniversary this weekend with an event focused primarily in Durango and centered in the former Big Kmart in the Durango Mall. The group will host an indoor motorcycle expo in the former discount retailer's space in conjunction with live entertainment all weekend long at the Iron Horse Inn and the Wild Horse Saloon.
"We've been trying to get the rally going ever since last year," said Tim Craig, Iron Horse Rally vice president. "We ran into some real hurdles in trying to get it on private land, and all we've been able to do this year is use existing establishments that don't require special-use permits."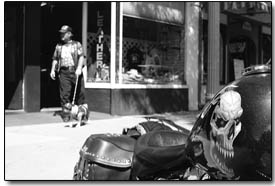 the same game plan as in past years," said La
Motorcycles and motorcyclists started trickling into Durango early this week for the Iron Horse Rally and
the Rally in the Rockies. A local lodging agency predicts a sold-out weekend./Photo by Todd Newcomer.
Meanwhile the Rally in the Rockies will host the Iron Horse's standard fare in the Iron Horse's standard location, Ignacio. Everything from the beer garden to biker bull riding will take place at the Sky Ute Events Center, along with several big nights of live music, including Edgar Winter and Canned Heat. However, the similarities between the Rally in the Rockies and past Iron Horse events has caused Craig and others serious frustration.
"We really don't want to comment on it," Craig said. "The reason is that there is legal action pending."
While Bradshaw also was hesitant to comment on the details of the lawsuit, he quickly noted that he and Wallace would be putting on the "real" rally this year.
"If they want to have a rally in the mall, that's up to them," he said. "The real rally's going to be out here."
The Iron Horse Motorcycle Rally took a more casual view of its rival rally. "It really isn't two rallies because most rallies are areawide events that are spread over 100-mile radiuses," Craig said. "We're a part of that radius just like the other rally is and any local businesses are."
Still, Bradshaw predicted that not only will visiting bikers be happy with the Rally in the Rockies, the community will as well. "When we started this, we said that we wanted to make some changes in the rally and make sure the community would feel welcome," he said. "I think we've accomplished that."
The community should also be happy with the amount of business that is likely to roll into La Plata County this weekend. Bradshaw said that local law enforcement is preparing for as many as 30,000 bikers this weekend and that most of the Four Corners is booked solid. Bruce Moss, owner of Gateway Reservations, the primary booking agency for the Durango area, agreed.
"We're down to a few rooms here and there," he said. "But for the most part, everything's gone. I still have some rooms in Farmington, but we're pretty much done for Durango."
While Moss couldn't pin down an exact estimate, he said that he expects in the neighborhood of 20,000 to 25,000 bikers. "My forecast would be that it will be like Labor Day Weekend two years ago," he said.
Local law enforcement also is forecasting a relatively trouble-free weekend regardless of how many bikers show up. "We've done this for so many years, we basically have the same game plan as in past years," said La Plata County Sheriff Lt. Dan Bender. "We hope for the best and prepare for the worst. We don't anticipate any new problems with the new rally, but because it's a new organization, we are keeping our eyes open."
After Labor Day Weekend has come and gone, Craig said that the Iron Horse Motorcycle Rally will continue to try to get back on its feet for the 11th annual edition in 2004. Meanwhile, Bradshaw said that he and Wallace will look at numbers and decide if there will be a second annual Rally in the Rockies.
"We'll see how many people show up," he said. "We've got a number that will pay the bills. If it doesn't work out, we gave it our best try and maybe someone else will be able to pull it off in the future."