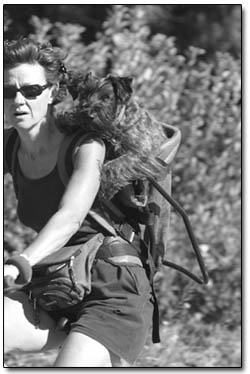 Dog Days: Jeanne Scarborough takes a spin with
her faithful friend Jesse along County Road 250 recently./ Photo by Todd Newcomer.
Local man contracts West Nile Virus
West Nile Virus is continuing to spread through La Plata County. This week the first human case of the disease was detected, according to the San Juan Basin Health Department, and numbers of infected animals have risen dramatically.
Two people were found to have the disease in La Plata County recently. The first was a woman visiting from the Front Range who contracted the disease there and developed symptoms locally. The second was a 27-year-old man who lives in La Plata County. He had also been exposed to Front Range mosquitoes as well as those locally.
"He had significant mosquito exposure on the Front Range and also had some significant exposure here," said Joe Fowler, an epidemiologist with the San Juan Basin Health Department. "It's one of those things we can't say for sure."
Fowler did say that the man has been released from Mercy Medical Center and is recovering. "He's not entirely back to normal, but he's getting there," he said.
Symptoms from the West Nile Virus start suddenly after a two to 14-day incubation period and include headache, muscle aches and rash. Some people also may have nausea and vomiting. Only one out of 150 infected people will develop severe neurological disease with meningitis or encephalitis. The risk of severe disease increases with age. Persons older than 50 years of age should be particularly vigilant in protecting themselves from the disease because older persons tend to become sicker if they contract the virus and can die from it. The local man contracted the meningitis form of West Nile.
As for cases in birds and horses, Fowler did not have hard numbers available. However, he said that local incidences of infection have risen dramatically. "We're getting more on a very regular basis," he said. "Our lab ran eight birds yesterday and five of them came up positive."
Fowler also said that the health department is bracing for more cases in coming weeks. He noted that historically, 65 percent of infections occur between mid-August and the end of September.
"If the historic model holds true, it would appear that the majority of our cases are ahead of us," he said.
The San Juan Basin Health Department encourages residents to submit dead birds for testing for West Nile virus. Testing is restricted to ravens, crows, magpies and jays that have died in the last 48 hours. Contact the health department at 247-5702 for more information or to report the address where the bird has been found and for further instructions on submitting birds.

DMR discontinues flight subsidy
The direct flight between Durango and Houston is now a thing of the past. Durango Mountain Resort has decided to discontinue its flight subsidy agreement with Continental Express for the service, saying returns did not justify the expense. Since late 2001, the resort had guaranteed Continental Express $200,000 annually, should the airline not meet its goals for filling the flights.
Originally, securing the flight was touted as a community effort, but the resort has picked up the tab on its own even though skiers comprised less than 50 percent of the passengers.A0DMR wrote Continental Express a check for $200,000 in 2002 and for $176,000A0this year, despite the fact that this was touted as one of Continental Express' best performing small marketA0routes.
"DMR is first and foremost a drive destination resort, and the return on the Continental flight was negligible," said General Manager Bill Rock. "We think we can reallocate those resources to get better results."
Matt Skinner, DMR communications director, added that the resort is not overly concerned about losing the flight. "The returns to the ski area were pretty minimal," he said. "We are primarily a drive market. The resort's client base over the past few years has shown that."
DMR contacted the Durango Chamber of Commerce, La Plata County officials and former airline partners before making the decision.

City to revamp design guidelines
The rigorous design standards imposed on Durango's downtown could be spreading to other areas of the business community. The city of Durango will be developing new urban design standards for major commercial corridors and revising existing standards for the central business district.
Senior Planner Keith Walzak said the move is an effort to get ahead of the ball and ensure that new business development is done in a quality manner. "We're interested in expanding the design guidelines into some of the major corridors as the city starts to expand," he said.
These corridors include: North Main Avenue; Highway 160 West; Highway 160/550 East; Grandview; Highway 3; College Avenue and East Eighth Avenue. Citing the city's extensive design negotiations with Wal-Mart, Walzak added, "We don't want to go through a battle every time something new goes into these areas."
An informational kick-off meeting will be held Aug. 27 at 7 p.m. at the Durango Arts Center. City staffers will explain the purpose of the design guidelines and outline the project schedule.

Fire ban lifted on local public lands
Courtesy of the monsoon cycle and an accompanying reduction in the risk of wildfire, all fire restrictions on San Juan National Forest and Bureau of Land Management lands will be lifted effective Thursday, Aug. 21.
"Firefighters have responded to over 440 fires in Southwestern Colorado this year, but only nine of those have been human caused," said Mark Lauer, Fire Management Officer for the Forest Service and BLM.
Human-caused fires have burned 38 acres, while lightning-caused fires have been responsible for burning approximately 5,840 acres.
"We really appreciate how well the public responded to the new Fire Restriction Zones we implemented this year and the care they took when they did build fires," said Lauer.
Since some lower-elevation areas have received only moderate amounts of rain, fire officials urge visitors to the backcountry to be cognizant of their surroundings and use fire with caution, especially in areas with dead pinon pine.
compiled by Will Sands