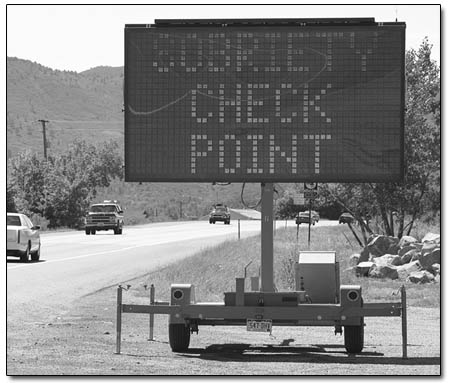 A sign alerting drivers to an upcoming DUI checkpoint rests along the side of U.S. Highway 550 north of town earlier this week. Thanks to a $45,000 grant from the Law Enforcement Assistance Fund, local officers will be beefing up DUI enforcement this Friday with a sobriety checkpoint, the location of which has not been disclosed. Officers
say more random checkpoints are planned for the future./Photo by Todd Newcomer.
Durango and La Plata County are continuing to take a hard stand against driving under the influence. Courtesy of an infusion of grant funding, that stand will materialize this Friday night in the form of a mandatory checkpoint at a random location. And local residents can expect to see more random checkpoints in coming months as local officers try to stem the tide of drunk driving and related accidents.
Durango police Sgt. Doug Embree said that while the Durango Police Department has always taken DUI's seriously, additional funding has enabled the agency to add some extra teeth to local enforcement.
"We've always made a strong statement about driving under the influence," Embree said. "But at the beginning of the year, we also received a Law Enforcement Assistance Fund grant to put extra officers on the streets just to patrol for DUI's."
Kassa Parsons, a consultant to the Colorado Department of Transportation, noted that Durango received additional funds because it is one of Colorado's DUI trouble spots. "Basically, grant money was distributed to areas in the state that make up 82 percent of alcohol-related accidents," she said.
The $45,000 grant has not only allowed the Durango Police Department an extra officer to patrol for DUI's, it has covered the cost of an in-bar education effort that began early this year. These short, voluntary presentations to bar patrons have been geared toward explaining DUI laws, intoxication and awareness of the ramifications or the prevention of driving while under the influence. Embree said the programs have been successful. However, he cited a growing number of arrests and said people seem to be missing the point.
"The LEAF grant has been very successful, which is not good," he said. "The people of La Plata County are not getting the point that driving under the influence is a really bad idea."
Embree said that despite all efforts, Durango remains one of the top producing DUI cities in the state and that per capita local numbers of arrests and accidents rival and occasionally exceed Denver's. During 2002, DUI enforcement efforts by the Durango Police Department resulted in 489 DUI or Driving While Ability Impaired (DWAI) arrests. Fifty-four of those arrests were a result of accidents that involved 11 injuries.
Referring to the current situation, Embree added, "When the LEAF grant officer is out, they are averaging one to two arrests per night. There's not a night that goes by where I don't have one or two arrests on my desk the next morning. On weekends, it goes up, and there are typically six or seven arrests."
This Friday, Aug. 22, at an unspecified location, the LEAF funds will be put to use again when local officers join in the DUI Colorado Checkpoint program and set up a mandatory checkpoint. The checkpoint will be up for a total of six hours, and local drivers who have not been drinking should expect a 20 to 30 second delay. Drunken drivers can expect a much more significant delay.
"We're trying to get people to think," Embree said. "We're not saying 'don't drink.' We're saying 'don't drink and drive.'"
Nancy Shanks, public information officer for the Colorado Department of Transportation, added, "It will be sometime Friday evening somewhere in the Durango area, and the big message is 'don't drink and drive.'"
Although this will be Durango's first checkpoint outside the holiday season, agencies throughout the state have conducted 55 sobriety checkpoints and netted 389 DUI arrests since Memorial Day. By the time the DUI Colorado Checkpoint program ends on Labor Day, a total of 70 randomly placed checkpoints will have been conducted throughout the state.
Parsons commented, "There will have been 70 checkpoints throughout the state compared to 19 in 1999. So far, it's been very successful in terms of reducing highway deaths. The simple goal is to get as many drunk drivers off the road as possible and ensure the safety of other drivers in our community."
After Friday night and beyond Labor Day Weekend, Embree said that Durango drivers can expect continued vigilance on the part of local officers. He also said that until numbers drop significantly, local drivers can expect to see more random sobriety checkpoints in the future.