For many people, living in Durango means working at least a couple of jobs to pay the extreme rent. Anyone who has rented in Durango for any length of time knows what I mean. Rents and deposits are enormous, and landlords will do their damnedest to make sure you get none of that gigantic deposit back. The worst part about renting is that eventually you must move. That is, you must pack up all the stuff you've accumulated since you last relocated, add it to all the other stuff you already own, and relocate your pile of stuff to some other place you don't own. Being in the middle of the process myself, I know that moving from one rental to another is tedious, exhausting, a little demeaning and carries the constant reminder that you may have to do it all again in a mere 12 months.
Finding worthwhile entertainment in Durango this week will be as challenging as finding decent housing and then moving, but there are a few things to do while wondering if living in a tent in Junction Creek or Horse Gulch is really such a bad idea after all.
The South Austin Jug Band returns to Storyville on Saturday, Aug. 23. Somebody in the band must have a relative or probation officer that lives in town because the band seems to stop by with great frequency, but whatever the reason, we win. The Jug Band is a Bluegrass-based group of accomplished musicians that will please purists and "newgrass" lovers alike, which is a difficult task. For a group of somewhat youngsters, they play like they have been together for a lot of years. That, too, is not easy.
The area's reggae fans will go crazy Irie-style this weekend as Jamaican legend Burning Spear brings his act to the Community Concert Hall at Fort Lewis College on Wednesday, Aug. 27 after playing a show at the Rico Theater the night before. If forced to, I might compare Burning Spear to Public Enemy's Chuck D. That is, he is a musician with a strong political and social message that may get overlooked by the hordes of kids who just want to par-tay. The good thing is, if you miss the point in Rico, you've got a second chance in Durango.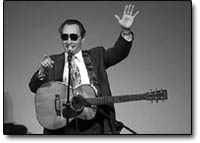 Dave Lippman
Sunday, Aug. 24, at the Abbey Theatre gives us the chance to enjoy political satire delivered by Dave Lippman. Lippman claims to be the world's only singing CIA agent and does a character named George Shrub that presumably stings George Bush. Get it? If political satire is your thing, this probably is your only chance so get it while you can. The fun starts at 7 p.m., and the $10 ticket benefits the Southwest Colorado Peace and Justice Coalition.
This week's sign the end is near: This week's sign comes to us via an attractive young woman holding court at one of our finer drinking establishments. Wearing a lily in her hair, glitter on her face and four potential beaus on her arm, the young lady was heard to exclaim in a voice loud enough for all to hear "Omigod, my life is, like, such a soap opera, and I don't care. I'm, like, the superstar, and everyone else is totally an extra!" The amused room looked on, waiting for a punchline that never came. The four boys were stunned by such a narcissistic display and soon split. Married men would be well suited to remember that little scene when complaining about the downfalls of married life.
This week's best album: For a large part of the 1990s, Danny Barnes was one-third of the Austin, Texas-based band The Bad Livers. The group's albums were wild, reckless affairs centered around bluegrass but also largely featuring a tuba. For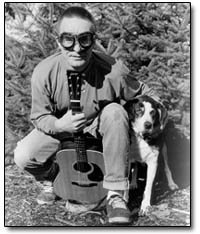 possibly obvious reasons, the band never grew past indie success and eventually split up. Since the split, Barnes has spent his time collaborating with other musicians to varied success. His most recent release, a solo effort called "Dirt on the Angel," is one fun hour of bluegrass, guitar jazz and techno-billy that still has me hitting the repeat button after each song. Barnes handles much of the record's instrumentation but is joined by Darol Anger (fiddle), Bill Frisell (guitar) and Dirk Powell (everything), who contribute just enough to make this an exceptional but not overworked record.
The record opens with "Life in the Country" a missive aimed at musicians who claim to be "country" but probably never set foot outside Nashville or get their jeans dirty. From there "Dirt on the Angel" never lets go of that happy, outsider mentality. Barnes chooses two covers that tell much of the record's story. First we hear the Small Faces pop sensation "Ooh La La," and later the album closes with Barnes' take on Beck's first hit, "Loser." Although both songs were chart-topping hits in their day, they couldn't be farther apart musically. That is the essence of "Dirt on the Angel," it is a collection of great songs with one entirely unlike the one it precedes.
Are you proud of your soap opera life? mpsheahan@yahoo.com