A conversation with Ram Dass
Renowned spiritualist to make address at Smiley Theater
written by Jen Reeder

In 1963, two men became the first Harvard professors in the school's history to be fired. They were terminated because of their controversial studies and experiments with the hallucinogen LSD. One of them, Timothy Leary, continued his exploration of the drug and its effect on the mind until his death in 1996. The other, Richard Alpert, traveled to India and found a different "map to the consciousness" through spiritualism and love and became the teacher Ram Dass, which means "Servant of God."

Now, after decades of service and the publication of his best-selling book, Be Here Now, Ram Dass is coming to Durango. He will host an evening of teachings and musical celebration on Friday, Aug. 15, at the Smiley Building and will lead a retreat over that weekend at the Tara Mandala retreat center near Pagosa Springs. In preparation for his visit, the Abbey Theatre will re-screen "Fierce Grace," a documentary on the life of Ram Dass, on Thursday evening, Aug. 14.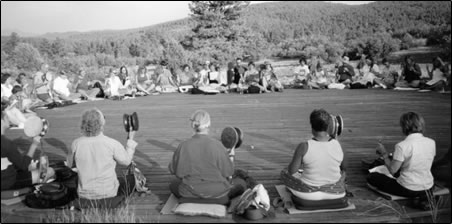 In addition to an evening of teachings at the Smiley Theater, Ram Dass will lead a weekend workshop at Tara Mandala, a 500-acre Buddhist retreat center nearPagosa Springs./Photo courtesy Tara Mandala.

The appearances are a fund-raiser for Tara Mandala and Ram Dass, who bequeathed his family inheritance and has accrued significant medical bills since a stroke in 1997. Ram Dass said he will discuss his stroke this weekend and answer any questions presented to him, just as he did during a recent phone interview from his home in California.

When asked if he had advice for people whose nontraditional lifestyles cause conflict with their conservative families, Ram Dass – who grew up on the East Coast in an affluent Jewish family – paused before saying, "Turn inside for advice – not outside."

As for his own turn inside, he said that psychedelics changed his way of thinking about many things, including God.

" My perception of God when I was bar mitzvahed and so on was of an old man with a beard. It was very stilted," he said. "When I took mushrooms, I was with God in my heart, not my mind."

Ram Dass said his life was drastically changed in 1968 when he met Neem Karoli
Baba, the Hindu teacher who gave him his name and told him not to take his inheritance. Though he doesn't believe in labels, Ram Dass does identify with Hinduism as his primary religion.

" I take the Hindu view of the world as gospel – there is One, there are many forms, many paths to the One – heart paths, mind paths, body paths – and the Hindus follow all those paths, and gods and goddesses are doorways toward the One," he said. "For example, I worship a monkey, Hanuman, and he's the symbol of service as a path to the One."

Ram Dass said one of the myriad ways he serves is by staying by the bedsides of dying people. In fact, he was with his old friend Timothy Leary when he died.

" We stayed friends through all of it," Ram Dass said. "We just couldn't play any games together because we had opted for different games on the gameboard."

Despite his stroke, which left him partially debilitated, Ram Dass' sense of humor is alive and well. When asked if he's had use for medical marijuana, he said he had become the poster child for it.

"In fact, it's made my post-stroke experience much more happy," he chuckled. "It makes my pain and my spacisity down to zero – but then the side effects are like a joint always did."

In "Fierce Grace" Ram Dass discusses the moment he "got stroked," stating that he "flunked the test" because he didn't have a spiritual vision but just stared peacefully at the pipes near the ceiling. However, in hindsight, Ram Dass admits he may have had a catharsis after all.

" I think now that I didn't flunk," he said. "After all, the fact I was going to die was in the doctors' minds, and I didn't have any feeling that I was going to die. That would have been fueled by processes of change – looking at the pipes was perfect."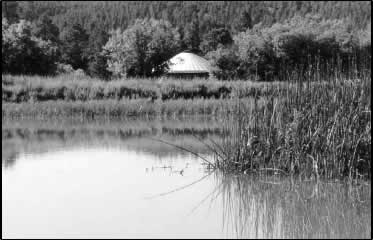 Ram Dass' appearances this is in the process of building a permanent temple and community building./ Photo courtesy of Tara Mandala

Despite his levity, Ram Dass' tone did take a serious turn when discussing environmental activism and the issues facing the planet, such as deforestation, overpopulation, global warming and pollution.

" It's us – we're the blight," he said. "And we have to stop soiling our nest. We're very, very stupid."

But when asked if he thinks people are less open-minded or aware now than they were in the 1960s, he quickly replied: "No. I think the '60s are doing well at the moment."

Despite the shortcomings of the current culture, Ram Dass did noted there is cause for inspiration all around, including the next generation.

" For example, I was in Texas the other day, and at the end of lectures I have a hug line," Ram Dass said. "There were two adolescents who came up and said, 'Man, you are awesome!' It was the same stuff we were saying in the '60s. Those ideas are going on and on and on."

And so are friendships Ram Dass forged in the '60s, such as the one with Tsultrim Allione, founder of Tara Mandala. The two will lead the Smiley event and retreat together.

" We go way back," said Allione. "I first met him in 1967 when he came to Nepal with a friend, and they were trying to explore the 'Mystic East.'"

Allione later traveled in the United States with Ram Dass and Allen Ginsberg in 1973, when she was the only Tibetan Buddhist nun in the country. She also was Ginsberg's meditation teacher.

" He took a tremendous interest in whoever he met and wherever he was," she said of Ginsberg. "Just a waitress in a restaurant `85 he would really talk to her and try to learn about her life."

Allione said she and Ram Dass always stayed in touch, and it will be special to have him here to support Tara Mandala.

" I think it's great that he's doing it and coming to the area," she said.