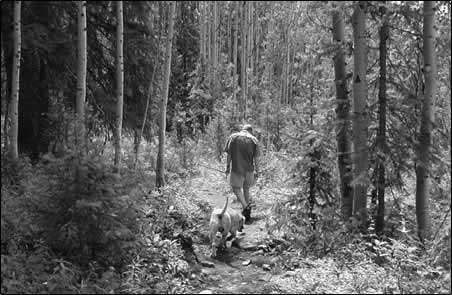 John Carroll, of Silverton, and his dog walk one of the countless trails that criss cross the backcountry in San Juan County. Carroll and a group called Community Design are in the process of mapping the former mining trails in the area for use as a recreational map. Carroll believes the actual number of trails will be astounding. /Photo by Amy Maestas.
More than a century of mining in the San Juan Mountains surrounding Silverton has left more than steel relics and closed-off adits. Still in place are untold miles of trails that are often untouched because of a lack of inventory and maps.

But Silverton resident John Carroll, recognizing the value of the paths miners cut for their Jeeps and mules on public land, is ready to change that. Recently, Carroll, a landscape architect who has lived on and off in Silverton for the past 12 years, set in motion a plan to build a database and identify these trails with the intent of creating a map for recreational use. The project – the San Juan Trails Initiative – likely will have far-reaching impacts.

Magazines, including National Geographic, Outside and Skiing, all have declared the San Juan Mountains to be one of the top 10 destinations for outdoor adventure. The buzz among a few Silverton residents is that combined with its existing popularity and a new spotlight on trails, the tiny settlement at nearly 10,000 feet will become the "alpine version of Moab."

" I agree," Carroll says. "All these trails provide a tremendous recreational opportunity."

Neither Carroll nor any public-land officials know exactly how many miles of trails exist in San Juan County. Some recreation guides estimate there are 750 miles of four-wheel-drive roads alone. Yet because the county is replete with thousands of mining claims – all of which have some sort of access – it's possible that a network of hiking and mountain biking trails could outdo the number of roads.

" The only thing I'm sure of is that it's going to be a very large area that will shock all of us in the Four Corners," says Carroll.

Mining's contribution

Carroll's idea to inventory the trails was actually a secondary project that sprouted from his original endeavor, the creation of the nonprofit environmental group Community Design, planners and landscape ecologists who focus on ways to measure the impacts of development on biodiversity. Initially, Carroll's project included using the existing trails as access to study a variety of environmental gradients in the greater San Juan ecosystem.

" We are trying to bridge the divide between the landscape and forest ecology community and the planning and design disciplines that are ultimately responsible for our built environment," Carroll says.

As Carroll initiated the project, he quickly realized the passel of unmapped trails existing on San Juan National Forest and Bureau of Land Management land throughout San Juan County.

" When I started to use these trails to study biodiversity, I realized that mining may have been the best thing for this area – not because of the gold but because of the accessibility we have today with these trails," he says.

Now, he intends to add a "public outreach" component to his original endeavor by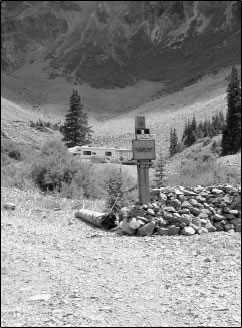 Carroll hopes the trail inventory will help prevent this kind of situation on the abundance of mining claims around Silverton. /Photo by Amy Maestas.
creating a map for recreation users. On it, Carroll and his group will carefully mark existing trails and their accepted usages. Although the project is in its nascent stage, Carroll anticipates that the map also will provide details about each trail, including descriptions and a technical rating. Because so many trails start at more than 10,000 feet and climb many more thousands of feet, Carroll and others guess that most trails will be rated on the more difficult end of the scale. In other words, this network of trails may produce some of the most extreme hiking and mountain biking in the region.

Property rights prevail

Currently, most of the public-lands trails in San Juan County are unmapped because the Forest Service or BLM have not officially designated them, says Richard Speegle, recreation planner for the Columbine Ranger District.

The agencies place trails or roads on their maps only if they have official numbers. Speegle says the trail situation in San Juan County is particularly complex because much of the public land exists in patchworks among mining claims. Thus, public land officials have never kept records of what exists. Since the mining industry in Silverton went belly up, most companies are selling mining claims to individuals who sometimes want to build homes or cabins on the property.

Because some trails end up crossing private property, Speegle says more trails will be broken up and the possibility of creating a network made much harder.

" It's tough to designate a trail that goes through someone's property," he says. "We are sensitive to private land ownership."

Speegle says that the BLM and Forest Service do have a travel management plan that designates usage for each mapped trail, but the plan has not been updated since 1986, and it largely addresses motorized travel. Carroll's project, he adds, will be the first of its kind in the county. However, Speegle also says he isn't familiar enough with Carroll's project to comment on its benefits. "But we would look at his inventory of trails because we are always interested in what people come up with," he said.

Polishing reputations

Meanwhile, some Silverton business owners believe Carroll's map will boost their business reputation. They are unsure how much it will impact tourism, if at all.
Douglas Wall, a partner of the year-old Explorer's Club: Southwest, a self-styled guide service, pub and grill, says visitors often inquire at businesses about places to hike or bike. Because of the popular Alpine Loop, Jeep trails are mostly well marked and used. Nonmotorized recreationalists, however, have less direction about where to go.

" We have people coming in all the time wanting (this information)," Wall says.
Wall adds that more information is always helpful, especially for his business, but he's hesitant to attribute additional visitors to a map like Community Design's.
" I think the greater impact will be the reputation of existing business, because we'll be able to give them what they want," he said. "I don't know if more people will actually come here because of a map."

Carroll, too, is unsure if the San Juan Trails Initiative will boost tourism. It's likely, he says, but it's not the sole intent.

" If the map is adopted and implemented by the BLM and Forest Service, I think it would have significant tourist and economic impacts that could more than rival the (Durango & Silverton Narrow Gauge Railroad) train's numbers," he says. "Most interesting is, this would be an environmentally clean economic impact."

Community outreach

Field work, which entails using GPS units to mark points for map information, along with biological studies, is just beginning. Carroll is relying on graduate students studying environmental planning and landscape ecology to do the bulk of the work, which he expects will begin in earnest next spring.

Right now, funding is coming from $70,000 of seed money donated to Community Design by Carroll, some of his previous clients and private donors. Carroll says the group is considering applying for a grant from Great Outdoors Colorado, but even without government funding, the group has enough money right now to cover the project for the next two years.

In addition, Community Design is receiving technology support and lab infrastructure from Auburn University's College of Architecture, Design and Construction in Alabama. Auburn is associated with Community Design and its projects because Carroll is an alumnus and because of his work with the late Samuel Mockbee, a landscape architect famous for his work on environmental and affordable housing projects.

With secured funding, Carroll expects the group's chief obstacle to be continuity of trails. Mining companies are rapidly selling claims to people, some who build on the property, blocking access to existing trails. Since historically the trails have been open to the public, Carroll says his group will be challenged to work with property owners to restore or secure access.

" We certainly want to identify reroutes in a nonadversarial manner," he says. "We don't want to be going to court. We want to go to people and ask how we can work together."

This is also part of Carroll's attempt to keep "politics" from upending the project. His goal, he says, is to offer the community and its visitors a resource that at the least will be a record of mining history and at best a guide to some of the most sought-out terrain in the country.

" What we have here is a real jewel," says Carroll.