A decade of art on Main
10th annual Main Avenue Arts Festival takes off this weekend
written by Jen Reeder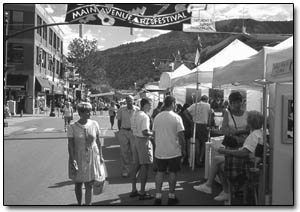 Community members peruse some of the offerings at a past festival./Photo courtesy the Durango Arts Center.
Marcel Proust wrote, "Thanks to art, instead of seeing a single world, our own, we see it multiply until we have before us as many worlds as there are original artists." This weekend is Durango's opportunity to view the worlds of many artists at the 10th annual Main Avenue Arts Festival.
Nearly 100 artists from across the country will converge upon Durango this Saturday and Sunday to showcase and sell their works during the Durango Arts Center-sponsored event. The festival will feature everything from tiles and textiles, paintings and jewelry, to live music, a food and beer garden, and a children's activity area called the "Creation Station."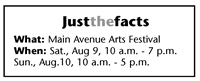 And in perfect timing for the 10-year anniversary, the beer and wine area will extend between Eighth and Ninth streets, creating an entire block where festival goers can take in live music while relaxing at tables.
Jules Masterjohn, festival coordinator, said the 10-year anniversary is an important milestone for the festival.
"I think it indicates the festival has roots," she said. "It's here to stay, and people can look forward to it for another 10 years."
Masterjohn said that, like other festivals in years past, this one will feature art from Durango and the Four Corners as well as around the country. The Main Avenue Arts Festival is also a juried show, which means the artists are competing for prizes. Awards will be given for best of show in both arts and crafts, and local jewelry designer Julie Shaw sponsors two awards for emerging artists and craftspeople. The members of the jury are Shaw; Rita Cordalis, gallery director at Fort Lewis College; and Amy Wendlind, adjunct professor in design at FLC.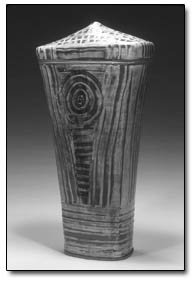 Ceramic boxes by Durango artist Lisa
Pedolsky,above, and tiles by Dolores
artist Steve Baranowski, below, are
just a couple of the pieces that will be
offered at this year's Main Avenue
Arts Festival./Photos courtesy the
Durango Arts Center.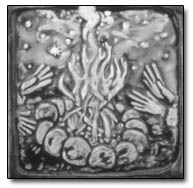 These three women were also responsible for selecting the artists for the festival. Of 153 applicants, about 95 were accepted, and 12 were selected as alternates, Masterjohn said.
Local artist Pat Smiley will be showcasing her handmade leather bags at this year's festival, her sixth appearance. She said the level of artistry is one of the strengths of the Main Avenue Arts Festival.
"I like this festival," said Smiley, who attends 18 to 20 other juried festivals around the country each year. "This one has an integrity about it – the priority is quality over the number of artists. I don't know if Jules knows this, but they're renowned for that among other artists."
Smiley also said that the Main Avenue Festival stands out for being well organized.
"It's not easy to do a festival on a main street," she said.
Ceramics artist Lisa Pedolsky, who will be making her second festival appearance this year, agreed with Smiley about the festival's caliber.
"It's nice to find a show of this quality to participate in, in Durango," she said.
Tracey Belt, who makes jewelry, said she will participate in the festival this year for the first time because the community has been so supportive of her art.
"I want to get some feedback from folks in town and also tourists," Belt said.
Her necklaces, earrings and other jewelry are sold in the gallery shop at the Durango Arts Center, which she says is an asset to the local artistic community.
"They care about the art and give artists an opportunity to show their work, whereas in a larger city it would be a lot harder to do," Belt said.
In turn, Masterjohn said the center's festival is well supported by the community, from sponsors and donations to the 60 volunteers who will work throughout the weekend. The festival also generates money for the Arts Center through booth fees and merchandise sales. And this year, a percentage of proceeds from beer sales also will be contributed to the center.
The festival should generate about $11,000 for the center, which is needed for the general fund, Masterjohn said.
"Grant money goes to a lot of things, but rarely for your utilities," she said.
But the primary goal of the Main Avenue Arts Festival is to bring superior art to the community – and have fun in the process, Masterjohn said.
"We want to have a fun and safe festival," Masterjohn said, adding that so far, the festival has lived up to her expectations. "It's pretty fun for me to plan a big party for the community."