Locals break onto big screen
Durango indie filmmakers play by their own rules
written by Missy Votel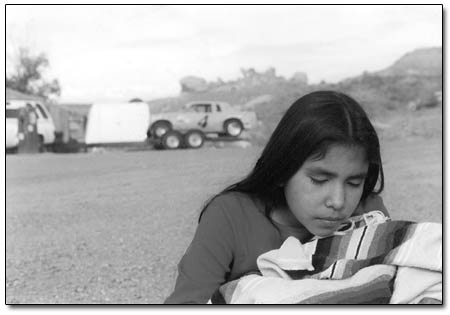 10-year-old Nicole Luna in a scene from the recently released short independent film "121 to Aztec," written and directed by local filmmaker David Eckenrode. The 32-minute film was shot on location in McElmo Canyon and the Moki Dugway, of southeastern Utah. /Photo courtesy David Eckenrode
The Four Corners area is no stranger to Hollywood, its dramatic landscape serving as a backdrop for everything from John Ford Westerns to fast food commercials. Yet, when left to their own devices, one group of young local filmmakers would just as soon leave the glitz and glamour in the Golden State.
"We pretty much broke every rule of filmmaking," said David Eckenrode, a Durango native and independent filmmaker who just wrapped production on his first film, set in the desert country southwest of Durango. "We camped out, slept in our trucks," he said. "We definitely didn't do it Hollywood style. It was kind of like an Outward Bound film set."
Eckenrode, 33, along with fellow DHS classmate John Sheedy, 31, founded Ouzel Motion Pictures, a small film company, this year. Eckenrode, who cut his teeth in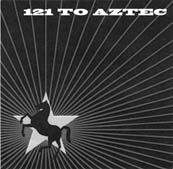 the industry by working on various movie sets, writes and directs while Sheedy shared writing responsibilities and was the cinematographer. Together with the help of local producer Rick Carlson, the small startup just released "121 to Aztec," a short about two stock car drivers en route to a race who get sidetracked when they help a Navajo girl on a quest to bury her dead dog.
On a shoestring budget of $8,500, the crew shot the film in four days last October in McElmo Canyon and the Moki Dugway in southeastern Utah. The film stars two professional actors, Chad Afanador and Adam Bartley, who Eckenrode met through the Creede Repertory Theater, as well as 10-year-old Nicole Luna, who plays the part of the young girl. There is even a cameo by local amateur actor Dan Groth, who can be found serving up lattes by day.
Eckenrode, who wrote and directed the film, said he enticed his mostly inexperienced crew by appealing to their more basic needs as well as their passion for the art.
"I told them, 'I can feed you and give you beer,'" he said, adding that even the beer was gratis, thanks to Ska Brewing.
Eckenrode said the filming was not without its pitfalls, including long days on the set and unforeseen disasters. "We blew out the transmission on the stock car on day three," he said. Pressed for time to wrap the shoot, crew member Michael Farley, a race car driver from Farmington, towed the car to Cortez where he wrenched on it throughout the night and returned victorious the following morning.
Eckenrode said it was this sort of camaraderie and unwavering devotion that convinced him to pursue a more permanent working relationship with the group.
"What was so neat was that here we had a blue collar working man, a Navajo family, two actors from New York City and a pack of freaks, and we all had a great time," he said of the crew and cast members. "It should be a metaphor for how the world should be."
Apparently, Eckenrode wasn't the only one who felt the chemistry.
"When we finished, Adam Bartley said, 'You know we have a really special group here; we should form a company,'" Eckenrode recalled. "We're now just putting it into a legitimate form."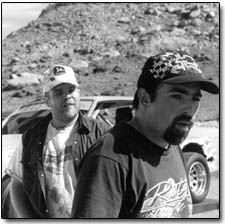 Adam Bartley, left, and Chad Afanador in a scene from Ouzel Motion Pictures'
"121 to Aztec." Both men are professional actors with the Creede Repertory
Theatre who worked on the film last October. The project went so well they are
planning to do more work with the Durango film company, according to founder
David Eckenrode./Photo courtesy David Eckenrode.
Eckenrode, who wrote "121 to Aztec" in the spring of 2002 while temping at a desk job in San Francisco, said after a private premier this week in Durango, he hopes to take his film on the road. He is waiting to hear from three film fests in Austin, Texas, as well as one in Portland, Ore. Closer to home, he said he has plans to submit the short to the Durango Film Festival as well as the Aspen Short Film Festival.
In the meantime, Ouzel, which is Old English for a common black bird, has already begun setting its sites on two more projects: "The Commute," a short written by Sheedy about life on either side of the Mexican-American border; and "Cyanide Black-Eyed Susan," a feature length murder mystery written by Eckenrode and set in a mining community.
"It's very poetic, almost like a visual poem," said Eckenrode of "The Commute."
He said the film, which is about 12 minutes long, should be complete in about three months. As for his feature film, he would like to start shooting by the fall of 2005. Although he wants to shoot in Silverton and Creede, he said the theme of the film, which centers on two friends trying to solve the mysterious mining death of a friend, is one that is common to most small Colorado mountain towns.
"It's about letting go," he said. "That and the changing of the old guard, a scenario you see in all of these Colorado towns."
For Eckenrode, who studied biology at Evergreen College in Olympia, Wash., before becoming interested in film, the short films are more of a stepping stone to bigger and better.
"This is just the tip of the iceberg, to learn and get better at the craft," he said. "We don't want to stick with these small shorts. We feel we have a large pool of talent to draw from."
And while he says he would like to keep the company based out of Durango, Eckenrode, who currently plies his days rowing rafts, admits working from a small town has its drawbacks, namely the struggle to make contacts and stay afloat.
"It's hard here," he said. "If you want to make things happen, you've got to do it yourself. If you sit around and wait for people to give you your chance, you're going to be doing just that – sitting around."
Nevertheless, he said there are some advantages to living in this out-of-the-way corner of the world.
"Living in Durango enables us to tell stories that are unique," he said. To illustrate his point, he referred to a recent film festival in New York City that was attended by a friend. "He said all of the films were about life in New York and that after a while, it got old," he said. "What we want to do is bring light and a voice to people in those hidden corners."
And while Eckenrode harbors dreams of hitting it big like many small-time filmmakers, he says it won't be at the cost of his ideals.
"The main thing I've learned is to tell a story," he said. "So many people get lost in what 'the industry' says you have to do," he said. "But for me, less is more. It leaves things open for questioning."
However, one thing that isn't open for questioning is Eckenrode and his company's will to succeed.
"This is about art," he said. "You can teach technical, but you can't teach heart and soul. We just have something special. It's a force to be reckoned with."