West Nile Virus begins to spread
West Nile Virus is continuing to spread through La Plata County. Four horses and two dead birds have tested positive for the disease, which is spread by mosquitoes.
"I think we're now up to four confirmed horses in La Plata County and one in Montezuma County, as well as two birds in La Plata County," said Joe Fowler, an epidemiologist with the San Juan Basin Health Department. Fowler said that one of the birds was found in downtown Durango, but the horse cases are generally confined to the southeastern portion of the county.
In Colorado, 41 people have contracted the virus and one has died though no human cases have been reported in La Plata County. Out of every five infected people, only one will have any symptoms of the virus.A0For those with symptoms, most will have West Nile Fever, a mild illness lasting three-to-six days.
Symptoms start suddenly after an usual two to 14-day incubation period and include headache, muscle aches and rash. Some people also may have nausea and vomiting. Only one out of 150 infected people will develop severe neurological disease with meningitis or encephalitis. The risk of severe disease increases with age. Persons older than 50 should be particularly vigilant in protecting themselves from the disease because they tend to become sicker if they contract the virus and can die from it.
Fowler said that disease prevention begins with being vigilant about mosquitoes.
"Try to eliminate any pools of water or other environments suitable for mosquito breeding and then take personal protective measures and try to minimize the number of mosquito bites you get," he said.
However, he also encouraged local residents to avoid panicking.
"We want people to take precautions, but just because you get a mosquito bite does not mean you'll get sick," Fowler said. "We don't want people to panic."
The San Juan Basin Health Department encourages residents to submit birds for testing for West Nile virus. Testing is restricted to ravens, crows, magpies and jays that have died in the last 48 hours. Contact the health department at 247-5702 to report any dead birds and for further instructions.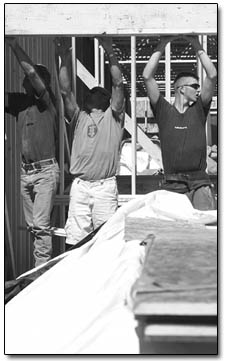 Lift from the knees: A trio of carpenters help
frame a new building in downtown Durango last Thursday./Photo by Todd Newcomer.
Fire restrictions to remain in effect
In spite of the return of the monsoon cycle, federal and local fire managers have decided to keep current fire restrictions in place for at least another week. While Southwest Colorado has received some substantial precipitation recently, much of it has been localized, and some areas continue to suffer from dry conditions.
Fire managers will continue to monitor fuel conditions on public lands and check with the National Weather Service on long-range forecasts to see if fire restrictions can be lifted in the near future.
"We really appreciate how careful the public has been with fire this year," said Mark Lauer, Fire Management Officer for the San Juan Public Lands. "Firefighters have responded to more than 350 fires this season, and more than 95 percent of those have been caused by Mother Nature, not by humans."
Prior to lifting fire restrictions, managers want to be sure that the region is not moving back into a warm, dry spell. In the meantime, burning restrictions still apply to San Juan National Forest and BLM lands, including Canyons of the Ancients National Monument. Campfires are allowed only in permanent fire rings or fire grates within developed recreation sites; smoking is allowed only inside an enclosed vehicle or building or in an area cleared of vegetation and at least 3 feet in diameter; the use of explosives, welding and other torches with an open flame are prohibited; and fireworks, as always, are prohibited. La Plata County also continues to have a ban on open burning.

Brainstorm acquires Frontier Internet
Durango's Brainstorm Internet is now the largest internet provider on the Western Slope and Northern New Mexico. This week, Brainstorm bought Frontier Internet, boosting its customer base nearly fourfold.
Brainstorm Industries was created when CEO Calvin Cooke bought Durango Internet and its couple hundred customers a few years ago. Since that time, Brainstorm has grown to 3,500 customers, and this week, with the purchase of Frontier, has made a giant stride.
"Frontier was the first largest provider in the region," Cooke said. "By buying them, we now have 13,500 customers. I believe we're now the largest Internet provider on the Western Slope and in Northern New Mexico."
Frontier Internet customers received a notice this week, saying, "We are pleased to announce that Frontier is now powered by Brainstorm Internet. E-mail addresses, passwords and phone numbers will remain the same."
While the details of these customers' Internet service may not change on the surface, Cooke said customer dedication and service should improve dramatically. "We've always been extremely genuine and real about being committed to our local community," he said. "We love this place, and we're looking at taking that same local model across the Western Slope now."
Brainstorm will now have offices in Durango, Montrose, Grand Junction, Cortez and Farmington.
"We're extremely excited," Cooke said. "Overall, I think it's really good for our town. We're now up to 32 employees, and those are all well-paid local jobs."
Little Molas improvements approved
Upgrades are coming to the Little Molas Lake Recreation Facility. On July 30, District Ranger Pauline Ellis approved improvements to the project area located along U.S. Highway 550, near Molas Pass. The project will involve resource rehabilitation, designation of different user areas and multiple facilities improvements at the Little Molas Lake Campground.
The decision calls for rehabilitating areas of soil compaction and erosion; designating campsites and parking areas; improving facilities by installing tables, fire grates, new toilets and a potable water system; improving road conditions; and constructing a new parking area for Colorado Trail access.
The improvements, which are intended in part to avoid user conflicts, will come at a price, however. One of the upgrades will be the implementation of a fee collection area for use of the site.
-compiled by Will Sands