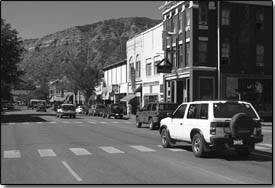 A Green Map effort is currently under way in Durango. By this fall, residents should have access to a free guide to local, conservation-minded businesses and organizations. Currently, such businesses and organizations are being asked to apply for placement on the map./Photo by Todd Newcomer.
The path to conservation may be getting easier to find in Durango. A collaborative local effort is joining other communities in the nation and world by developing a "Green Map" of Durango. Map in hand, new and existing residents would have an easier time of treading lightly in the Durango area.
Green Mapping was born in 1991 when a group known as Modern World Design unveiled New York City's Green Apple Map. The map showed everything from conservation-minded businesses and public transit to community parks and health food restaurants. In 1995, Modern World Design built on the success of the Green Apple Map and developed the Green Map System spreading the concept to other communities. The stated intent of the system was to strengthen community awareness of and connection to urban ecology via the maps. Now, hundreds of cities throughout the world, ranging from Boulder to Singapore, have green maps. Durango should be one of the next urban areas to join this number.
Get on the map
The Durango Green Map is currently looking for local businesses and groups
with a focus on providing environmentally sustainable services and resources
and/or utilizing environmentally responsible and healthy business practices.
If you would like your business to be considered for the map, please e-mail Angie Beach at abeach@fnbdurango.com
or give her a call at 247-3020. Applicants for map consideration must contact the committee no later than Sept. 5. Eventually, the Durango Green Map will be a user-friendly tool available to
the public free of charge.
The idea for a local Green Map came when Angie Beach, marketing, products and client relationship manager with First National Bank of Durango, came across an article in Natural Home Magazine earlier this year.
"I was in Seattle at my mother-in-law's and I read an article on the Green Map in New York," Beach said. "I thought this would be a perfect project for the bank."
Beach noted that First National Bank of Durango is a community bank that hosts the Durango Farmer's Market in its parking lot every Saturday.
"Because we are such an integral part of this community, we thought it would be a natural outgrowth," she said. "We really want this community to thrive so we can thrive."
Consequently, the bank decided to pick up the tab for the project and Beach approached Michael Rendon at the Fort Lewis College Environmental Center and Kent Ford of the Green Business Roundtable to join in putting together and launching a Durango Green Map.
Rendon admitted that he was skeptical at first, saying, "At first I thought it was Green Washing and wasn't sure we wanted to be part of it. But then I realized it's a good collaborative effort and will help encourage conservation and green business in Durango."
Rendon added that the map will help bring the last year of work by the Green Business Roundtable, an effort to encourage conservation direction within the local business community, further into Durango's mainstream.
"There are a lot of people that aren't connected to the business community and don't know the Green Business Roundtable effort is taking place," he said. "This should help raise awareness."
Beach said that the new map will be designed to chart the sites of environmental significance throughout Durango and work to cultivate the interconnections between nature and culture. Inspired by a desire to make Durango a healthier place, the free map will show the businesses, recreational areas, nonprofits and resources that are considered to be conservation oriented or "green."
"We hope it will provide a valuable tool for incoming and current residents to make responsible choices," Beach said.
Currently, a three-person committee is giving consideration to which businesses merit inclusion on the map. According to Beach, a fairly strict set of criteria has been set, and businesses and groups will be considered only if their focus is environmental sustainability and at least 70 percent of their business or activities is centered on that focus. When complete, the map is expected to contain suppliers of local foods, sustainable builders, recyclers, environmental education and advocacy groups, public transportation and others.
If all goes as planned, this collaboration will pay off, and local residents and visitors will have maps in hand by this fall. "I never thought the environmental center would be partnering with a bank, but it's become a good relationship and collaboration, and I think it's going to be a great resource for Durango," Rendon concluded.