by Mike Sheahan
Living in a small town requires, from time to time, an amount of civic participation. For some that means running for City Council or even mayor. For others that means spearheading a recycling program or volunteering at the soup kitchen. And for others yet, civic duty may end with the tossing of a cyanide-laced pork chop to the dog on my block who, at 4 a.m. daily, begins his ceaseless barking ritual. It's up to the individual really, this community interaction.
Now, at "The Goods" we obviously do not advocate the poisoning of annoying animals (or their owners), but as you lie in bed unable to sleep thanks to Cujo two houses over, the thought of the rancid pork chop does provide some comfort. It's like counting sheep but for the nearly homicidal.
For those who don't wish to be mayor, poison pets or recycle, there are a few chances to interact with the greater community this weekend, starting with the best excuse to shut down Main Avenue of the year, the Main Avenue Arts Festival.
We all know that Durango is ready to shut down Main Avenue if the Colorado Coalition of Beekeepers or the high school football team wants to have a parade, but the arts festival is a reason to go to Main Avenue rather than get cheesed because you have to drive four blocks out of your way. Almost the entire town turns out for this multiblock event that offers a little bit for every one. For the discerning art lover, there is fine art, for the less picky there are always a few chainsaw-carved bears. The hungry will find plenty of good food from local eateries, and the thirsty will find beer. Those with children will find art-related activities for the younguns while they go off looking for the beer. Plus there will be live music. Even though it's usually oppressively hot this week in August, I recommend you grab your Shady Brady and head out, everyone else will be there.
Another communitywide event is happening this week; the La Plata County Fair. The fair began Aug. 6 and runs through the Aug. 10. County fairs are part of the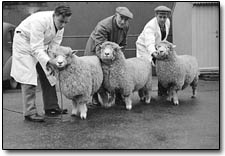 backbone of small, mostly rural communities like ours. The fair provides a chance to look in and see what 4H kids and Cub Scouts, bakers and quilters have been doing all year. Like the arts fair, the county fair offers a hodge podge of options for the finicky guest. If, my personal favorite, the exhibition hall filled with award-winning photographs, cakes, paintings, jellies, pies and scrapbooks is not enough, then there are all manner of live animals to peep in on. Cows, rabbits, sheep, goats, horses, it doesn't matter. If they are bred in these parts, you'll see them at the fair. You'll also smell them. I've been in a men's room at Shea Stadium but was still ill prepared for the first time I walked into a pavilion filled with livestock.
For those not yet adequately enticed, the fair also will offer a parking lot full of carnival rides, a midway in which one can win worthless stuffed toys made by children in China and the possibility of Elephant Ears. A quick couple words of advice: Do not befriend the carnies working the ring toss and do not make eye contact with the hot tub salesman. Both are likely to declare themselves squatters in your own home causing you to live in your tree house.
If these civic involvement suggestions make you worried about running into your probation officer or ex-husband, then leaving town might be ideal for you. The newly christened community radio station in Silverton, KSJC, is holding a benefit for itself at the Kendall Mountain Community Center tonight, Aug. 7. On the air for less than two months, KSJC is, like all other community radio, one of the last strongholds of free speech in our country and deserves our support. Even if you can't stay for the live music, stop in and support the bold experiment that is KSJC.
For some reason there exists in our world a drive for movie stars to stake a claim in the music business and vice versa. Most are hilariously bad at the transition. Keanu Reeves and Russell Crow from the acting world and David Bowie and Mick Jagger from the music world are perfect examples of the laughingly bad.
Billy Bob Thornton, an actor whose resume includes such greats as "Slingblade," "A Simple Plan" and "Monster's Ball," brings his overwrought folk-blues show to The Sheridan Opera House in Telluride on Sunday, Aug. 10. I have not seen his show, but I have heard Thornton's album "Private Radio," and the best I can say is the Sheridan Opera House is a beautiful room in a beautiful town. It does seem perfect for a movie star to bring his cruddy rock band to a town where other cruddy movie stars take vacation. I've got five words for film and music cross pollinators: Eddie Murphy and Don Johnson. It's a career killer.
This week's sign the end is near: We all know that 90 percent of current hip hop music is trash, and Sean "Puffy" Combs is to blame.
I think of the man who now wants to be known as P Diddy as the Weird Al Yankovic of hip hop. That is, he takes already popular songs by other artists, rewrites the words and makes less popular songs. His latest "hit single" doesn't even feature a ripped off tune, though. No, the new hit features nothing more than a drum machine behind the racist war chant that Atlanta Brave's fans do during the late innings of an apparent victory. That's just icky.
Can you find the Simpsons reference? mpsheahan@yahoo.com