A boat called Catmandoo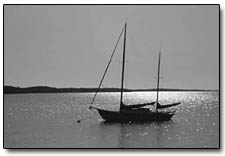 After five months, crewing on a yacht called Catmandoo was seeming less than ideal. A break from my bounce around the ports of Central America seemed appropriate.
"Oh, the girls in Columbia are outrageous. Cartagena will blow your minds in more ways than one. You guys gotta go," offered the man I knew only as Byron.
Once a professional ball-player, Byron had given up on America, bought a cruiser and headed south to the Caribbean. But, his was no pleasure cruise. Byron was six years deep into a growing case of cancer, determined to nurse himself back to health on Caribbean waters and Columbian medicinals.
Appealing though they were, Byron's tales never got us to Columbia. Instead of a smooth passage to a promised land, we sailed directly into surging seas and heavy winds, a preview of the approaching hurricane season. Under motor with sails raised only for stability, we beat directly into the gale for a day and deep into a starless night.
Something had to snap, and fortunately it was the Catmandoo. Dreams of Cartagena were dashed by a cracked boom and tattered mainsail. Our integrity as sailors ruined for all time, we rolled back to where the ill-fated passage began, the Rio Dulce in Guatemala.
Byron chuckled through yellowed teeth as we pulled back into the berth we'd left just three days earlier.
"Smooth sailing gentlemen?" he yucked, having apparently not left his seat at the bar.
Soon, we too were back in our old stools at Susanna's Marina, sanctuary for the motor-cruiser, permanent resting place for a host of disenfranchised ex-pats and one of the best stocked bars in Central America. Bottles of Flor de CaF1a rum were beginning to disappear too quickly, and I was spending far too much time with Byron. Once amusing, his stories of ingenious contraband trafficking in Morocco and Thailand were becoming commonplace. It was time to step off Catmandoo for the last time.
Byron waved "adios" over a fresh glass of Flor de CaF1a. I muttered a quick "hasta" and promptly hauled ass for the nearest bus stop and a trip overland to Honduras.
With that broken boom and those empty bottles floating in my mind, I happily kicked off my sea legs, settled into a tight seat in a Guatemalan microbus and made a strict pact to sever my ties with boats. I would never work on the sea again. With relief, I turned my back to the ocean.
Years later, a woman I knew only as Jennifer would warn me: "Have no illusions about this. It's going to be hard and dangerous. The work and the ocean will do their best to weed you out."
Jennifer owns a small commercial salmon fishing operation in Alaska on virtually deserted Kalgin Island. Contrary to my earlier decision, I'd signed up for another six-month date with the sea, and I would be running a skiff and hauling net. The Rio Dulce was but a distant memory.
Many consider set-netting for salmon hardship embodied. It is a most basic Alaskan art. Nets teeming with salmon must be hauled by hand. Wooden boats and fragile nets make for constant mending. Life becomes a constant communion with water.
Luckily, there was no hint of the Rio Dulce's decay in Jennifer, none of Byron's debauchery in her ropy arms or vigor. There was no Flor de CaF1a, no haze of disenfranchisement and no yachts belching exhaust into the sea surrounding Kalgin Island.
Rather, there was purity, an honesty born from a farmer's relationship with the soil. And, Jennifer was among the most competent farmers. She had worked the same sites on the same stretch of coastline for the last 15 years and embodied that place and that ocean. My brief stint gave me a snapshot of that relationship.
Throughout that half a year, we relentlessly worked that watery farm, blanketed by the shadows of Mount Redoubt and Spur, two 14,00- foot active volcanoes rising directly from the water. We hauled line during 14-hour Alaskan days. We came to understand our dependence on the ocean and stared into its depths with hope and respect.
And, though I hungered for land, I left Kalgin Island satisfied and cleansed. There was a powerful lesson learned, an appreciation renewed. Work with the tides, ride the currents and respect the winds.
Not long ago, one of my fellow crew members from Catmandoo returned to the states. The boat was now in Venezuela and no better for the trip.
Apparently, Byron had died a year after he bid me adios. Tanked on rum, he tripped on the deck of his boat and plunged to the bottom of Rio Dulce, never to be seen again. On the up side, he did note that Byron's mustache was graying and he was dropping weight at an alarming rate. Maybe it was his time.
Jennifer stopped in on me a couple months ago, and let me know she's still making it on Kalgin Island, fighting a dwindling run of salmon and plummeting prices. But Jennifer was never in it for the money. She lives for the harvest, and she lives for Kalgin Island. Her way was always driven by a unique relationship with and respect for that stretch of water.
– Will Sands