Fire-fighting efforts helped by weather
Wet weather has helped firefighters get a handle on blazes throughout the Four Corners region. Closest to Durango, the Bear Creek Wildland Use Fire has not grown recently, courtesy of substantial precipitation, and its management has been handed over to local officials.
Showing no growth over the past week, the Bear Creek Wildland Use Fire, which began July 6, has remained at approximately 1,869 acres. However, earlier in the week, Incident Commander Bill Clark told firefighters: "This fire is not out. It's like a game of chess. We have the fire in check and are waiting for it to make the next move."
Clark noted that if a warming and drying pattern develops over the region, local residents can expect to see increased fire activity and smoke. "Fires can smolder for a month or more, and when the conditions are right, they can begin to move," he said.
Mesa Verde National Park reopened Monday, July 21, after a five-day closure because of a series of fires near the Balcony House ruin. Park interpreters are once again guiding tours through Balcony House, where visitors had rapidly been evacuated July 15 when dry lightning struck, igniting five wildfires.A0Like the Bear Creek Fire, precipitation has allowed crews to make excellent progress, and the Balcony House fire complex has not spread significantly. Early this week, the size was estimated at 2550 acres.
One of the hottest spots in the region is currently the area west of Pagosa Springs. The Bolt Fire, which was triggered July 15 by lightning, is located south of the Chimney Rock Archeological Site and was 1,830 acres in size last Tuesday. The fire also was estimated to be 40 percent contained, thanks to a weather pattern that favors afternoon thunderstorms and lighter winds.
Firefighters also continued to make progress on the Devil Creek Fire, west of Pagosa. Early this week, the fire was estimated at 235 acres and was 90 percent contained.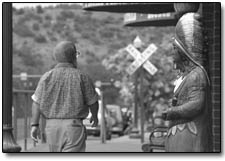 Silent sentry: A pedestrian walks past the watchful eye of the cigar store Indian in front of The Smoke Shop on College Drive./Photo by Todd Newcomer.
Schools closed for asbestos removal
Asbestos removal is under way at four local schools. The removal of the hazardous material from Miller Middle School, Park Elementary, Fort Lewis Mesa Elementary and Florida Mesa Elementary also kicks off School District 9-R's $84.5 million effort to repair, renovate and expand local schools.
At Miller and Fort Lewis Mesa, asbestos flooring and ceiling will be removed from offices, classrooms and common space. Asbestos is confined to utility tunnels at Park and Florida Mesa.
The asbestos removal precedes construction, which is expected to begin this fall. Last November, voters approved an $84.5 million capital improvement bond for the district's 11 schools. The improvements will alleviate overcrowding and modernize school buildings.
This round of asbestos removal likely won't be the last, said Director of Business Services Diane Doney. As construction activities move into areas with identified asbestos, removal procedures will follow strict environmental guidelines. Although the containment procedures are rigorous and prevent contamination in clean areas, all asbestos-removal activities will be scheduled during weekends or holiday breaks when the buildings are empty.
"We believe that the added cost of scheduling asbestos removal activities during nonschool hours is worth reducing the stress and increasing the comfort level of our parents and students during the construction program," said Doney.

Thinning planned for Perins Peak
Trees will be thinned in the Perins Peak State Wildlife Area in coming months in the name of habitat enhancement and fire safety. The Bureau of Land Management and Colorado Division of Wildlife will conduct a thinning project in late summer and early fall on about 400 acres in the wildlife area.
The project, which will take place on flat terrain and in small drainages west of Durango between the Rock Ridge Subdivision and Dry Fork Drainage, is designed to protect areas from wildfire and stimulate growth of edible vegetation for wildlife. The state wildlife and the Dry Fork areas will remain open, although the public is urged to use caution.
A machine called a hydroaxe will be used to create openings in dense areas of shrubs by thinning scrub oak and smaller juniper trees. It also will remove thick areas of brush that are choking out natural meadows. Beginning around Aug. 1, the hydroaxe will be running Mondays through Saturdays, and the public is advised to steer clear of the noisy machine, which can throw debris up to 300 feet. The work is expected to be completed by Oct. 3.

Autopsy deems drowning an accident
Two men conducting a GPS survey of a Pine River irrigation ditch discovered the floating body of a woman on the morning of July 15. Following an autopsy three days later, the death, which took place near County Road 222 southeast of Elmore's Corner, was deemed an accident.
Rebecca Devine, a 53-year-old Mercy Medical Center nurse, was apparently walking her dog on the evening of July 14, according to investigators. It is speculated that Devine tried to rescue her dog after it jumped into an irrigation canal and was swept down a spilling. The turbulence created by baffles in the spillway is believed to have drowned Devine and the dog. The autopsy also revealed blunt force trauma to Devine's head which was believed to be a contributing factor to the death.
The La Plata County Sheriff's Office urged the public to recognize the extreme danger associated with irrigation canals and ditches in La Plata County.

Pine River Times acquires El Valle
An area newspaper changed hands last week. Pine River Publishing Inc., in Bayfield, has purchased the only bilingual Hispanic newspaper in the Four Corners, El Valle Hispanic News.
Robert Mazur and Melanie Brubaker Mazur, owners of the Pine River Times since June 17, 2002, entered a contract with La Verta Valdez-Johnson on Monday, July 14.
The Mazurs will hire Shirena Trujillo Long to be the managing editor of El Valle, and the office will be located within the Pine River Times, in Bayfield.
Valdez-Johnson started El Valle more than three years ago in Bloomfield, N.M., because she believed the Hispanic population was underrepresented in the mainstream media.
"I'm glad that we can continue on," Valdez-Johnson said on the day of the sale. "My whole goal was to carry this little newspaper on."
-compiled by Will Sands