by Mike Sheahan
You are reading "The Goods," the column that promises, once and only once, to not whine or complain about a damned thing. For this week alone, everyone in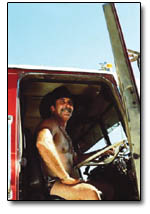 Durango drives like a NASCAR super hero, has no filthy personal habits and enjoys impeccable taste in music. Fellow cynics should not be alarmed, however, for next week I plan to go after this guy who weaves through traffic shirtless while blaring Blues Traveler. Add a backward baseball cap and, voila!, he is the most annoying dude in town. But there's no time for that now, it's time to get positive.
I am positively sure that music fans will have the devil of a time deciding where to hang out Saturday night. On July 26, the Summit is hosting punk rock courtesy of Durango locals Amazing Larry and Denver's own and local faves Gina Go Faster. Two other bands will join the bill to produce what might be the hardest rocking show outside of a Thirteens gig.
The pick of the week, though, happens the same night at Storyville when the Portland, Ore., group Richmond Fontaine hits the stage. It is hard to describe the sound of the band, sometimes loud and aggressive and sometimes quiet and plaintive. Richmond Fontaine has a foot clearly planted in roots music, but its gimpy other foot loves post punk '80s bands like the Replacements. Richmond Fontaine is touring behind its most recent release "Winnemucca." With song titles like "Out of State," "Twyla," and "Glisan Street," this is clearly an album about places with the northwest Nevada town serving as a jumping off point. The band seems to hold that idea near. The album reads and plays like a road trip soundtrack.
Richmond Fontaine's release from 2001, "Lost Son," was a much more noisy affair filled with electric guitars and hoarse vocals. I can only assume that the band will cover the terrain of its entire career, and, as a heavily biased Northwest music fan, I urge even the laziest jam band fan to give these guys a shot.
The weekend kicks off with local alt-rock favorites Pop Shuv It rocking the house at Storyville on Friday night. While some local bands claim every show will be their last, Pop Shuv It seems, by rarity of apperance, to always be playing its first. The band has been in exile for a couple of months, working on new material so this Friday should be a great show.
This week's sign the end is near: It may be in our best interests to cancel our cable and newspaper subscriptions right about now since soon Kobe Bryant, like OJ Simpson and Bill Clinton before him, will be the only thing in papers or on TV for months to come. Sexual abuse allegations are not trivial or fodder for entertainment, but surely the national media will do its best to make us forget about that. FOX News will soon be airing interviews with guys who know someone whose sister recently drove through Eagle County. Who wins in such an ugly situation? Well, I would bet the Bush administration is pretty thankful for such a timely distraction.
This week's record in review: There is a group of musicians in, or associated with, the Chicago music scene that is against the death penalty. Led by transplanted Welshman Jon Langford, The Pine Valley Cosmonauts are a revolving collection of tunesmiths that have just released "The Executioner's Last Song, Vol. II and III." Preceded by last year's Vol. I, this double album brings more of the same to experienced ears: tales of homicide, suicide and grief featuring a guest artist on each song, with all proceeds going to fight the death penalty. Self-intended humor and irony aside, this is an album that is at best a clever concept album that benefits a great cause and at worst a tossed together collection of mismatched knock-offs.
The record begins on a rough note with a clumsy reading of Led Zeppelin's already clumsy "Gallows Pole," and it isn't until the first disc's fifth track, "Homicide," featuring Skid Marks and Sally Timms, that the album picks up a little and the listener realizes it's OK to enjoy such a seemingly morbid collection. From there the discs keep up the good times approach with a German-sung, bloozy tune called "Gulag Blues"; Langford doing a Welsh pub sing-along called "Delilah"; and Alejandro Escovedo's "Bad News." At times the joke goes a bit over the top. Rhett Miller's hopped-up version of the classic "Dang Me" seems out of place, but mostly this a collection that takes itself very seriously while insisting on wearing its tongue firmly planted in cheek.
Man or woman, please wear a shirt. mpsheahan@yahoo.com