The life and times of Little Beaver
written by Matthew Albright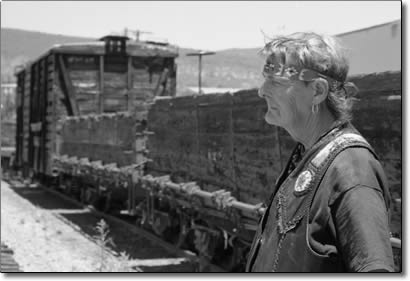 Little Jay Beaver, aka Little Beav, stands alongside the Durango and Silverton Narrow Gauge tracks in downtown Durango recently. The Beav, who turned 61 last month, has been a downtown fixture performing odd jobs and private sleuthing for more than 25 years./Photo by Todd Newcomer
I've been here for 24 years, and I can't remember not seeing Beaver," says Sue Sinton, owner of The Bottom Drawer.

Keith Byington, an employee of Midwest Distributing, adds: "He still looks the same as he did when I was in junior high. I've known him 26 years. He's an excellent human being. I love him."

Little Jay Beaver, or "The Beav" as he's affectionately known about town, turned 61 on June 21. And while he's been a fixture on Durango's main drag for nearly a quarter of a century, for most, he remains shrouded in mystery. Perhaps that's because he's a man of few words, the mystique furthered by heavy silver belts and bracelets, turquoise, shin-high leather moccasins, and a bead and bone choker. Sometimes – not as much anymore – he wears American Indian headgear, feathers optional.

Little Beaver recognizes his local celebrity status: "Everybody knows me. Most of them, I don't know their names. Most of them know my name. I have an easy name to remember."

At times, you'll find him sitting on a bench on Main Avenue, relaxing with a cigarette after his morning's labors. At other times, you'll find him on the smoking side of the bar at Lady Falconburgh's Barley Exchange, eating his peanut butter and jelly sandwich (untoasted) and drinking Sprite. But during most hours of the day, you'll see him striding down the sidewalk, eyes lowered, shoulders hunched, intent on his next destination.

" I walk the streets every afternoon," Little Beaver says. "Every morning I do my work."

As far as those that employ him know, Beaver has not varied from this regimen for years. "I don't know that he's ever missed a day," says Jessica Clark, an employee at The Bottom Drawer. Beaver takes out the trash for The Bottom Drawer every Tuesday and Thursday. He delivers newspapers to Lady Falconburgh's and Meritage every morning. At least half a dozen businesses downtown employ the Beav in a multitude of tasks.

" I start work at 7 o'clock in the morning, until 10 o'clock. I work seven days a week," he says. "I can't complain. I'm my own boss. I hire myself and fire myself."

As with all cultural artifacts, a mixture of fact, myth and fiction surrounds the Beav. Certainly, you've heard the one that the Beav is actually a millionaire, enjoying his eccentricities with the knowledge that he is rich enough to buy this town if he wanted to. Or the story that Little Beaver was accused of a crime he didn't commit and is now on the lam. And what about that private investigator's license that he carries around?

Like some Spaghetti Western character, the Beav has a mysterious history. He is the archetypal wanderer – a 21st century Caine from the show Kung Fu, a modern day Grizzly Adams – whose unending pilgrimage is an attempt to exorcise his past. And, like all legends, there are elements of truth amidst the myth.

The origin of the name itself – the Little Beaver – both explains a lot and leaves much room for intrigue. The name Little Beaver comes from "Red Ryder," a comic strip created by Fred Harman in the late 1930s. Little Beaver was a young Tontoesque sidekick to a cowboy named Red Ryder, and the two journeyed on adventures together for 17 years. They also fought the bad guys in 23 movies and a decade's worth of radio shows. The Red Ryder franchise is perhaps most famous today for providing the mascot for the Red Ryder Daisy B.B. gun (familiar to recent generations as the gun that Ralphie in "A Christmas Story" used to almost shoot his eye out).

In the movies, The Little Beaver character was played by child actor Robert "Bobby" Blake, who went on to "Barretta" fame and last year was arrested for murdering his wife. Although it's hard to draw parallels between the homicidal Blake and Durango's own Little Beaver, there are some similarities. For starters, like Blake's character, The Beav has a thing for feathered headdresses, beaded jackets and fringed leather.

However, the similarities are more than buckskin deep.

Harmon lived for many years in Pagosa Springs and drew upon the town for inspiration for the comic strip. Pagosa Springs is also hometown to Durango's Little Beaver, who recalls that from a young age his mother told him he was the original Little Beaver.

Did Harmon draw his inspiration for the character from a childhood version of the Beav? Could the silver jewelry and embroidered vests of a young Beav have been the true source of enjoyment for a generation of moviegoers?
The Beav says yes.

" I was the real Little Beaver," he insists.

As for being a millionaire, the Beav says that it simply is not true. "Money is something I do not have. I am always broke," he says. But, he notes, it is true that he has a millionaire's tastes. The vest he often wears is worth $500, he says, and his favorite accouterment is a $900 silver belt from the Taos Pueblo.
" That's what I spend all my money for, coats and clothes and stuff," the Beav says. "Might as well buy something good than something that won't last."
His wardrobe investments are not without some profitable return. A couple of middle-aged tourists once paid the Beav five dollars to pose beside them for some photos. The Beav was wearing a butt-length black wig tied with a red patent leather headband, all topped by a yellow feather.

Besides modeling, the Beav has dabbled in a long list of occupations: writer, fence mender, ditch digger, carpenter, rock mason, fruit and cotton picker, and – perhaps most famously – private investigator.

" I'm a guy who can get on the inside while all the other cops are on the outside," says the Beav. "They hire me special to get inside, break a case, while all the other cops are on the other side."

The Beav will not release the names of clients he has served, but one was happy to share one of The Beav's most famous triumphs: cracking "The Case of the Missing Lady."

" Since we opened in 1995, Little Beaver has been a valued employee and friend," says Janet Spear, one of the owners of Lady Falconburgh's. "But his greatest contribution was finding the portrait of Lady Falconburgh after it had been stolen. His skills as a detective brought back the symbol of our establishment."

Always with his ear to the ground, the Beav received a tip-off and found the painting at an antique store.

In fact, Lady Falconburghs' owners are so grateful that they are considering paying homage to the Beav on new T-shirts. One of the submitted slogan suggestions: "Lady Falconburgh's: Where The Beaver Hangs Out."

And what of the Beav's dark and mysterious past?

" It's long past. Why should I talk about something that is long past?" he says.
As with all legendary wanderers – Bruce Banner, Dr. Richard Kimbell, even Red Ryder and his sidekick Little Beaver – the lesson learned by those who come in contact with them is not to concentrate on their past, but rather on the effects they have on the present.

"I think Beav adds color to the community," says Aaron Sinberg, a co-owner of Lady Falconburgh's. "I think Durango is rather bland at times, no one wants to offend anyone, everyone just tries to slide into their laid back 'I-live-in-Durango' cool lifestyle. But the Beav just adds a little something to the town here; brings a little flavor."

The Beav's flavor and color can be a little shocking at times, especially given his height and his sometimes strikingly anachronistic garb. Many a tourist, and even a few locals, may cast a wary eye at the Beav as he strides down the street in full regalia. But, as those who know him can attest, Little Jay Beaver is as harmless and gentle as `85 well, as harmless and gentle as a little beaver. And doctors have assured him that he is not crazy.

"They say I'm not insane, I never was," he says. "The only thing I'm suffering from is loneliness. So they told me to go out and find a friend to talk with, talk it out of my system, then I'll be just fine."