Small fires flare up around county
Small fires sprung up throughout La Plata County over the past week. One of these, a lightning-triggered wildfire near Vallecito was still burning last Wednesday.
The Bear Creek Fire, three miles up the Vallecito Creek Trail and just inside the Weminuche Wilderness, began when lightning struck on the morning of July 6. As of Wednesday, the fire had grown to 25 acres and was being monitored by fire officials.
Although the fire was triggered by natural causes, it has been designated as a Wildland Fire Use fire, which means fire officials will manage the fire for resource benefits rather than immediately extinguish it. Wildland Use Fires are usually naturally caused fires in remote locations. The Bear Creek Fire is buffered by clearcuts and areas burned the Missionary Ridge Fire. "Because of the topography and prevailing winds, fire managers believe the fire will travel primarily north into the wilderness," said Allen Farnsworth, Fire Use Manager for the Columbine Ranger District.
Ron Klatt, fire management officer for the Columbine Ranger District, said that impending monsoons made this kind of burn possible. "A month ago we wouldn't have considered many places for these fires because the monsoon season was so far off," he said. "But now our long-range forecast calls for the monsoons to begin in mid- to late-July."
At any time, if a Wildland Use Fire no longer meets the criteria established, suppression action could be taken. Lightning also triggered a small fire near the Falls Creek subdivision July 6, but crews quickly extinguished the blaze, according to fire officials. The fire was burning approximately two miles southwest of Trimble Lane and was estimated at onetenth of an acre. Crews contained the small fire and a helicopter attacked the blaze with water.
On Tuesday, July 2, a suspicious fire destroyed a historic mining structure and scorched several acres of private property in La Plata Canyon. The fire was believed to be human-caused and destroyed the Gold King Stamp Mill. A five-person crew from the Columbine District was the first on the scene and was joined by San Juan Hotshots and firefighters from the Fort Lewis Mesa Fire Department. In addition, a helicopter performed water drops, and a tanker delivered four loads of slurry. These efforts had the fire under control that evening.
Earlier this week, investigators from the Colorado Bureau of Investigation and local officers were onsite with a dog to determine if the blaze was the result of arson.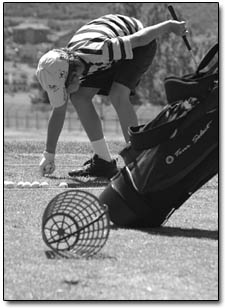 Swing time: Ryan MacDonald, 12, of Durango, tees up a ball at the Hillcrest driving range recently./Photo by Todd Newcomer.
County pulls Lake Durango plug
Development on La Plata County's dry west side will be hindered in the immediate future by the lack of a dependable water source. Last Monday, La Plata County commissioners unanimously adopted a resolution finding that the Lake Durango Water Co.'s water supply is not sufficient in terms of quantity, dependability
and quality to sustain new development.
Lake Durango currently serves Durango West I and II, Rafter J, Shenandoah and Trappers Crossing. The decision does not affect existing lots, only parcels of land that are requesting subdivision. While the county stressed that the resolution is not a moratorium on development, it would inevitably limit development.
The resolution stated, "Based upon all the evidence and testimony presented at the hearings, county staff was of the opinion that Lake Durango Water Company does not have the present capacity to meet the statutory and regulatory requirements
as a water provider for new subdivision development."
Fort Lewis partners with Boise State
Fort Lewis College and Boise State University, the largest university in Idaho's higher education system, have partnered with a dual-degree engineering program. Students in the program will concurrently receive a bachelor's degree in physics from Fort Lewis and a bachelor's degree in civil, electrical or mechanical engineering from Boise State. Under the agreement, students will take their first three years of coursework in Durango, then finish the final two years of the upper-division engineering curriculum in Boise.
Boise State's six-year-old engineering college has gained national recognition.
"This agreement will offer Fort Lewis College students the best of both worlds – a strong science foundation at a small liberal arts and sciences college topped off by a first-rate engineering education at a metropolitan university," said Boise State
University Provost Daryl Jones.
This cooperative arrangement is similar to ones Boise State has with Albertson College, of Idaho; Northwest Nazarene University and Lewis-Clark State College.
DHS debaters among nation's best
The Durango High School Speech and Debate team has argued its way to the top. The team took first at the state competition in Atlanta where three team members placed among the top 20 out of more than 2,500 students competing from
throughout the nation.
"We were competing with people that were in the top 1 percent in the country," said team member Chris Berk. "That's a small percentage we are proud to be among."
Berk placed 14th in the U.S. Extemporaneous Speaking competition; incoming Junior Scott Cheesewright was 17th in the International Extemporaneous speaking competition; and incoming senior Larry Myers placed 12th in Extemporaneous
Commentary Speaking.
Other team members who participated but did not place were Ryan McCardell and Jeff Graves.
DHS English teacher Tony Myers has led the DHS team to nationals a total of nine times in his 14 years of coaching, but he says that this particular team "is special."
"We had students like Scott Cheesewright who know politics so well they could give President Bush a briefing," said Myers. "That's attributed to hard work and pure talent."
Mesa Verde seeks transportation fix
Light rail could be transporting visitors to Mesa Verde in the not-so-distant future. It is one of many options being considered to alleviate traffic on the existing road as officials develop the Mesa Verde Transportation Plan.
A workshop to discuss options will take place in Cortez on July 16. The meeting will provide an opportunity for the community, park staff and transportation consultants from David Evans and Associates to share ideas about alternative transportation concepts. In addition to current or enhanced automobile and tour bus access, transportation modes like shuttle buses, tramways and light rail will be explored.
The purpose of the transportation plan is to develop an efficient and sustainable transportation system to provide access to Mesa Verde National Park and enhance conservation of the natural and cultural resources and improve the visitor experience.
-compiled by Will Sands