by Mike Sheahan
Welcome to "The Goods," the weekly entertainment comment that cannot believe that we are fast approaching mid-July. I realize that a "time flies" remark is usually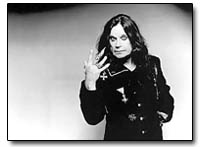 reserved for the aged or very boring (I may well be both), but were the last four months not a blur? It seems like only yesterday I was making fun of the people who sell out a Bon Jovi concert in Denver, and suddenly it's time for Ozzfest in Albuquerque. But more on that later. There are plenty of nonironic or heavily cliched happenings around town that deserve mention.
If, unlike yours truly, you have not had enough of the combination of live music and sunshine, then the Celtic Festival at Durango Mountain Resort this Saturday, July 12, is right up your alley. Incidentally, the word Celtic is pronounced with a hard "C," like a "K," not a soft "C" like an "S." I say this because recently a gum-snappin', cell-phone-talkin', Capri-smokin'bleach-blonde walked up and said to me, "Is this where the Seltic jam is? Can I get a blue Hawaiian?" I was dumbfounded, but here I digress. At Saturday's Celtic Fest, one can expect tons of live music including,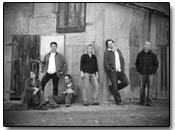 among many others, local Celtic favorites Beltaine. Northern European-flavored food and shops will abound, and the day would not be complete without the obligatory tasting of Scotch Whiskey.
Tickets are only affordable, the music starts at noon, but most importantly, it should be nearly impossible to find a blue Hawaiian. Count me in.
In what may be the most interesting musical set up this week, an event known as Brass and Barbecue will match the Music in the Mountains Brass Quintet with a few members of local country act Narrow Gauge. Held at Silver Mountain Guest Ranch but meant to informally kick off the Music in the Mountains series, the result of this combination should be fun. If, like me, you have no idea where Silver Mountain is, have no fear – buses will take you to and from the First National Bank parking lot starting at 4 p.m.
Those of you who thought the fine art of singing off key to a synthesized version of your favorite song had left Durango are horribly, horribly wrong. It's true, the fine Japanese art of karaoke is alive and well at Club Scoot and Blues every Monday night. Whether your favorite is the Starland Vocal Band's "Afternoon Delight" or Jimmy Buffet's timeless classic "Margaritaville," this is your chance to show off your vocal skills for those inside and your ass for those on the sidewalk outside. It is worth checking out because you have not lived until you've heard five drunken girls go at "Achey Breaky Heart" or my rousing rendition of "Come on Eileen." Both are something to be seen.
As mentioned above, the week's big throw down is in Albuquerque next Tuesday. The traveling cartoon circus that is Ozzfest will roll through the Journal Pavilion and will, of course, feature the Dark Prince himself and the biggest nightmare of the religious right since Ozzy, Marilyn Manson. But the show doesn't stop there, MTV darlings Korn and the only band I know named after a car, Chevelle, also will "entertain." Lessee, Ozzy has the hottest show on MTV; Manson is merely a cartoon version of Ozzy; Korn was on "MTV Beach House"; and Chevelle is a car. All the 14-year-olds and Fort Lewis drop-outs who bought tickets should be disappointed but instead will probably have a great time and come home with new ideas for great mullets.
This week's sign the end is near: It's bad enough that we can't sit through a decent night of TV watching without hearing the details of Jennifer Lopez and Ben Affleck's personal life every 15 minutes. We are now being assaulted by trailers for the movie the two made together. Enough already! My only solace is the thought that after this awful flick comes out, and tanks, they may lay low for a while.
This week's album: If you haven't heard of the southern rock band The Drive By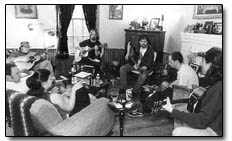 Truckers, get ready because you will soon.
The band's latest release, "Decoration Day," is its best and has the attention of critics nationwide. A kind of thinking man's Lynnrd Skynrd, the Truckers pridefully embrace their Southern roots but escape the anthem cheese of the band that gave us "Freebird."
This is an album that starts quietly with "The Deeper In," a number that sympathetically recounts the story of the only two people in prison for incest in the United States, and ends quietly with a tale of an abused wife who thinks about but hasn't yet used the "Loaded Gun in the Closet."
In between, we are treated to a fiercely proud Southern number called "Outfit," in which a father urges his son not to follow his career path, but if he should there are rules. Among other things, and in two-thirds time, he tells the son he should never: call what he wears an "outfit;" say that his car is "broke;" worry about losing his accent; and act like his family's a joke. "Outfit" is delivered with such intimacy and simple sense of purpose that one thinks songwriter Patterson Hood never intended anyone but his son to hear it.
The most Skynrd-like track comes four songs into this 15-song epic with a sweet, inviting guitar riff. But then the lyrics enter with: "My daddy didn't pull out/But he never apologized/Rock and roll means well/ but it can't help telling young men lies." Compare that to anything that precedes the Drive By Truckers, and if you find more gritty melodic substance, I'll buy you this album. In a perfect world "Decoration Day" gets a Grammy, and Shania Twain gets kicked to the curb.
Next Week: Better crap at Journal Pavilion.
Did Phat Lizzard kill? mpsheahan@yahoo.com