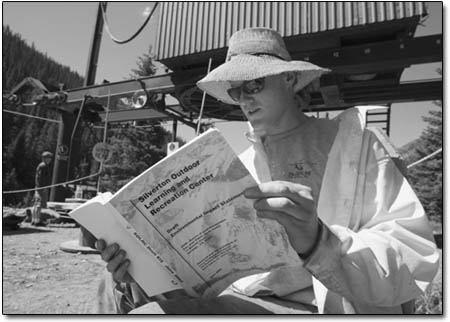 Aaron Brill, owner of Silverton Mountain, enjoys some down time recently at the ski area near Silverton. The draft environmental statement on the ski area was recently released and a decision on how the ski area will operate is expected this winter./Photo by Scott Smith
The storm of controversy surrounding the Silverton Mountain Ski Area appears to be subsiding. With the recent release of a draft environmental impact statement and some kind of approval imminent, many opponents of the backcountry ski area seem to have grudgingly accepted the existence of lift-served skiing on Storm Peak.
The idea for Silverton Mountain Ski Area was first hatched nearly four years ago. With similar operations in New Zealand in mind, Aaron Brill envisioned an atypical ski area where the turns would be steep, uncrowded and always fresh. He also wanted a ski area free of real estate development, the cash cow of most ski operations. To make the undertaking even more challenging, Brill wanted to make this ski bum's dream accessible to the ski bum and said he would limit ticket prices to $25.
An uphill climb
Over the last few years, Brill's original vision has fought an uphill battle. Foremost, Silverton Mountain has been limited by a slow governmental process for the last two seasons. Brill owns 350 acres of old mining claims on the 13,487-foot Storm Peak, roughly six miles from Silverton. At the outset, he went after a Bureau of Land Management permit to allow skiing on 1,300 adjacent acres of public land. As Brill completed construction of his single, two-seat lift and made the push toward opening day late in 2001, the BLM decided an environmental impact statement would be necessary. After nearly two years, a draft of that EIS was released late last month with a preferred alternative that calls for a mix of guided and unguided skiing depending on snow safety. The BLM is currently soliciting public comment on the document.
In addition to slow environmental review, Brill also has faced substantial opposition to his plan from the beginning. Members of the backcountry ski community both in Silverton and Durango, many of whom had accessed Storm Peak and the adjacent Minnehaha and Velocity basins for decades, have objected to the creation of the ski area. These tensions culminated when a closure to do avalanche control work served as a flashpoint between Brill and members of the backcountry skiing community.
Here to stay
However, with the recent release of the EIS and two seasons of guided skiing under Silverton Mountain's belt, objections seem to be relaxing.
"I really haven't experienced any community opposition since last winter," Brill said. "As far as I know, the people who used to be giving us problems are mellowing out."
Brill added that Silverton Mountain Ski Area's one lift, a recycled, two-seat Yand from California, is not going anywhere.
"I think most people realize at this point that we're here, and they might as well enjoy it," he said. "We're not going to be taking down the lift."
Dave Fiddler, a member of the Silverton Town Council and course director with the Silverton Avalanche School, agreed that tensions have relaxed.
"I think because it's summer the whole thing has died down quite a bit," he said. "The feedback from the winter operation has also really been positive."
Fiddler added that Silverton Mountain may impact backcountry skiing negatively, but it has helped Silverton's sagging winter economy. "The people that are against it are usually coming at it from an outdoor recreation perspective," he said. "Personally, I also understand the business perspective, and overall my opinion is a positive one. I wish Aaron the best of luck."
Fait accompli
John O'Carroll runs a nonprofit in Silverton that provides free planning services to rural communities and is by no means pleased with the existence of Brill's lift on the west side of Storm Peak.
"I am very concerned about the environmental impact and the long-term impact of real estate speculation in that basin," he said. "It goes against the grain of what this community has articulated as its vision."
O'Carroll said that the price of real estate is escalating radically throughout the Silverton area. He credited Brill and Silverton Mountain for fueling some of that speculation.
"There's been a considerable amount of real estate speculation in Silverton in the last 18 months," he said. "A week ago, the last house priced under $200,000 went under contract according to our records."
Still, in spite of these and other grievances, O'Carroll and Community Design will not be taking advantage of the opportunity to comment on the Silverton Mountain EIS.
"I can't imagine that the BLM will not pursue its compromise at this point," he said. "I think it's kind of a foregone conclusion, and I've directed our students to work on something else."
Keith Roush, of Durango, has backcountry skied in the vicinity of Storm Peak for the last 20 years and also was strongly opposed to lift-served skiing on the mountain. Like O'Carroll, Roush has accepted the existence of the Silverton Mountain Ski Area and the likelihood that the BLM will issue Brill a permit. Unlike O'Carroll, Roush will be penning a letter to the BLM and encouraging safety and environmental friendliness at Silverton Mountain.
"I think the key is that it's done in a safe manner that's friendly to the environment," he said.
The impacts
Colorado Wild and San Juan Citizens' Alliance are two local conservation organizations that also will likely be commenting on the EIS. Jeff Berman, executive director of Colorado Wild, has only begun to review the document and said he will probably comment.
"We will most likely write a brief letter toward the end of the comment period expressing any concerns we might have," he said.
Mark Pearson, executive director of San Juan Citizens' Alliance, said that he has yet to review the document. However, he noted that the most significant issues with the ski area are safety and avalanche related and not environmental.
"I think the biggest issues are related to safety and avalanche danger, and that doesn't have anything to do with environmental issues," he said.
Brill echoed this sentiment, saying, "The EIS points out that the environmental concerns just aren't there."
Brill also said that charges that Silverton Mountain is fueling real estate speculation are ludicrous. "Right now the biggest problem for real estate in Silverton is the summer second-home market," he said. "They're the ones taking homes out of the rental market."
As for overall impact, Brill said that Silverton Mountain hosted 2,700 skier days last year. "What we did in a year, the train does in a day," he said.
Richard Speegle, BLM project leader, said that socio-economic issues were considered in the EIS, but that the challenge for Silverton Mountain will be surmounting avalanche danger. "The major issues that came out of the EIS are safety and avalanche issues," he said. "All along, the snow safety experts all said that it's doable, but he'll have to have an expensive snow-safety program."
The BLM will accept public comments on the Silverton Mountain EIS until Sept. 18. Speegle said that "something might crop up," but is optimistic that a final decision will be made in December.
"That's if everything goes well," he said. "We're focusing on this and want a decision."