A summer fling in the 'grass
Broke Mountain Bluegrass Band picks its way into local music scene
by Missy Votel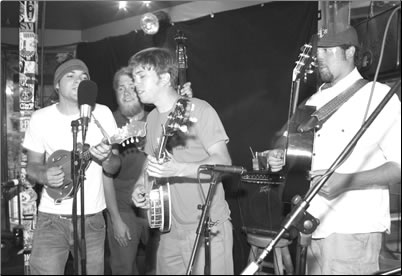 Broke Mountain Bluegrass Band members, from left, Robin Davis, Travis Book, Andy Thorn and Rick Hauchman perform a number at the Summit last Saturday night./Photo by Todd Newcomer.
Although the name the Broke Mountain Bluegrass Band may invoke visions of a shrouded mountaintop somewhere in the hills of Kentucky, its meaning is actually a lot more literal and a lot less romantic.

" We were playing Frisbee golf, and I was talking about how much money we didn't have, and I said we were just a broke mountain band," said guitar player Rick Hauchman.

Sitting on the floor of an empty rental house, members of the five-man band sip cold Rainiers and discuss their short history together, the best happy hours for free food and future plans, which right now don't extend far beyond the next few weeks. For the past month, two members have been couch-surfing at the home of two other band members. Yet, with the lease up – and some of them soon to be homeless – they are unfazed.

" We're playing in Santa Fe this weekend after String Cheese Incident," they say. From there, they're embarking on a mini tour of the West, crashing or camping wherever the road may take them.

And if their nonchalance seems uncharacteristic of a budding new band, perhaps it is because the Broke Mountain boys know that, just like their happenstance meeting, fate will take care of itself.

The newest addition to Durango's bluegrass scene came about last winter

when Hauchman and banjo player Andy Thorn were visiting from North Carolina on a ski vacation. While here, they stopped into Canyon Music Woodworks, the workplace of Anders Beck.

" They came in the store, picked up instruments and proceeded to rip the hell out of them," said Beck, a dobro player who also plays with local bluegrass band The Salty Dogs. Impressed, Beck invited the two to get together with himself and two of his bandmates, bassist Travis Book and mandolinist Robin Davis.

" We played music for the next 18 hours straight because it was so fun," said Beck.

The chemistry among the players was so strong that before heading home, plans were solidified for Hauchman and Thorn to return in the summer.
" They thought we were going to suck because there's no good bluegrass in Durango, Colorado," said Beck, making a friendly jab at the blueblood mentality of many East Coast pickers.

" And then Travis sang 'Blue Night,'" returned Hauchman, referring to an old Bill Monroe tune.

When Hauchman and Thorn returned a few months later, the good times continued at the quintet's reunion, which took place at a loosely organized bluegrass "retreat" held in the Utah desert.

" It was pretty magical, really," said Beck. "We didn't really know how it would work, but by the middle of the first song, we were all looking around at each other going, 'Holy shit.'"

All in their early twenties – with the exception of Beck, the old man of the band at 25 – and sporting the prerequisite rumpled college look, the Broke Mountain boys look very much the average garage band. Yet, their ease with each other and their instruments is something found only in more seasoned bands that have seen many miles together. Likewise, their well-honed, time-honored sound is not exactly what one would expect from such fresh faces. Adhering to the traditional tenets of bluegrass ala Earl Scruggs and Monroe, they prefer unplugged instruments and crowding around a single microphone to wa-wa pedals and synthesizers.

" The five of us around the mic, that's what it's all about," said Beck.
In fact, some members of the band admit to having no exposure to popular music whatsoever.

" I don't even know what Phish sounds like," said Davis, whose father is a bluegrass musician in Pagosa Springs.

" It's true," said Book. "If you put Phish, Widespread Panic and the Dead on the radio, he wouldn't be able to tell them apart."

And while many of today's bluegrass musicians are bending the rules, incorporating contemporary styles, the Broke Mountain Bluegrass Band believes in staying the high-lonesome road.

" We always play old school stuff," said Hauchman. "There's something to be said that the sound going in to your instrument and the sound coming out is what it really sounds like."

Beck also points out that this style of acoustic playing leaves little room for error.

" Every note you play is important," said Beck.

The softspoken Davis sums it up best: "There's no B.S."

But even more so than their own convictions, the boys of Broke Mountain say what really matters is how their music is perceived by the listening public. And old-time bluegrass, they say, is one of the only types of music able to cross all boundaries.

" It appeals to everybody, more so than any other music I know," said Book. "It's just pure."

And while there is no doubt that, despite their boyish appearance, Broke Mountain is a band advanced beyond their years, they do admit they have a bit of an image problem.

" At one of our shows these moms came up to us and said, 'You're so cute,'" said Thorn, a music major at the University of North Carolina. "We're not cute. We're trying to be serious here."

Yet, in local musical circles, they say they are gaining respect. Book says the older, more experienced local bluegrass players have been generous with their enthusiasm and encouragement.

" The Durango bluegrass establishment has been extremely supportive," he said. "They're stoked about us, and it feels good."

And feeling good, after all, is really what it's all about.

" We thought it would be fun to get together, and so far it has been, and it'll continue to be," said Beck.

As for the future, it is a subject the Broke Mountain boys, in characteristic fly-by-the-seat-of-their-cargo-pants attitude, don't dwell on. They do know that come fall, Hauchman and Thorn will be returning to North Carolina, but they have a feeling Broke Mountain won't just be a summer fling.

" It definitely won't be the end," said Hauchman.