by Mike Sheahan
This is "The Goods," you shall soon be informed and excited about the myriad of entertainment options at your fingertips. This week brings, of course, the Fourth of July. Which means many of you will celebrate your love of country by blowing up a small piece of it. Of course, not all of us will make the trip to New Mexico to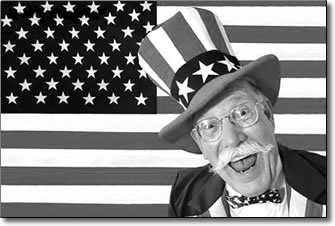 purchase fireworks, but every year we hear and see them, so someone must be doing it. If you are one of those people, check out Crazy Harry's just this side of Aztec. Great prices.
Those of us interested in safer, more legal fun for the Fourth, have several options. The local Kiwanis club will be hosting a big Fourth of July wing ding at Rotary Park , the park behind the VFW hall. Small town Independence Day celebrations are usually the best, and this one should be no exception. There will be live music all day, including a rare in-town appearance by the Bar-D-Wranglers, and tons of food and kid's games. Oh yeah, there'll also be a beer garden run by the VFW. You've got to have beer on the Fourth, they go together like pigs in a blanket, which also may be available. Then, after the sun goes down, look up for the massive fireworks display.
When the fireworks are over, you should be just in time to scoot over to Storyville to enjoy the musical stylings of local jammers Freewill Recovery . Whew, what a day you'll have. The only way to cap that is to have a couple Alka Seltzers and sleep 'till noon.
Twirly dance fans will have a corker of a time deciding whether to head north or south this holiday weekend. In Santa Fe, twirl rock powerhouse String Cheese Incident will play two big nights, July 4 & 5, at the Paolo Soleri Amphitheater. Sure it's a bit of a haul but TWO nights? That's a lot of Cheese.
Maybe you got your fill of Cheese a couple of weeks back at Telluride, but you still want to skank with pride this weekend. Simply head to the Conference Center in Telluride on Saturday, July 5, where Ziggy Marley will entertain the audience with his brand of reggae-pop. I've heard that Marley's sound has morphed a bit, but I'm sure he'll bring plenty of the old stuff you have grown to love. Whether you go south or north this weekend, remember the roads will be filled with gendarmes and roadblocks.
If all of this reggae and jam-grass seems a little too wild for you, there is always the Echo Basin Ranch where on July 5, folk crooner Dan Fogelberg will take the stage. Fogelberg has been charming audiences (and putting me to sleep) for more than 30 years now and with countless huge hits under his belt, he has plenty to keep the show going into the night. Starting at $40, the ticket prices may seem a little steep, but that will undoubtedly not stop people from turning out in droves.
If you didn't already know, Durango's independent movie house is open and running again. The remodeling at the Abbey Theater is not all finished, but enough is done for you to enjoy a movie or a show. The highlight of the recent work is a wraparound balcony filled with Italian leather love seats. I definitely see myself spending many an evening in those soft seats. On top of that, the new mahogany bar is worth the price of admission alone, and the recent addition of cocktails to the beverage menu completes the deal that adds the Abbey to the very short local list of great places to see live music.
This week's sign: In an incredibly bizarre turn of events, it seems this week that there are absolutely no signs of our impending doom or glory. It's a little eerie, but enjoy it while you can, for next week we will all surely resume our downward spiral.
Your name here. mpsheahan@yahoo.com