Waving the rhubarb flag
Silverton Rhubarb Fest breathes fresh life into summertime staple
written by Rachel Turiel
Sidebar: More than a pie thing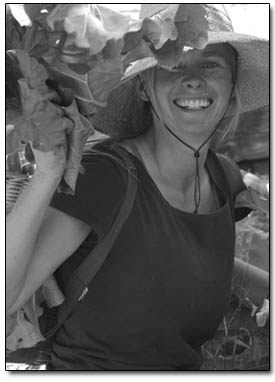 Katrina Blair, of the Turtle Lake Refuge, harvests rhubarb Tuesday./Photo by Todd Newcomer.
It was on that festive national holiday, July 4th, when I first became intimately acquainted with the shiny, red stalks. We were traveling from Durango to the annual Rhubarb Festival in Silverton, packs loaded with overnight gear, snacks and other necessities of merry-making. Pining for the cool mountain air while passing the outskirts of our high-desert town, we realized we were terribly unprepared for the coming festivities. We had no rhubarb.
Jumping out of the car, Dan and I hit the hot, dusty streets of Durango in search of the strange, wavy-leafed plant. We began walking the dirt alleyways of old Animas City, peering into back yards. Fruit trees, geometrical lawns, garden parties and small, exuberant dogs outnumbered garden plots. Things had changed since the days when people fed their families from back yard vegetable gardens. On the verge of giving up and arriving empty handed, Dan – with his hunter's eyes – spotted a small patch of rhubarb in a sun-beaten yard. No time to be shy, we knocked on the door of this small, slightly decomposing house, clearly a vestige of an earlier, less-complicated time. A woman with sparkling white hair and stooped posture answered. Dan explained our unusual yet urgent need, and without much fuss, the woman led us out to her yard where she deftly pulled several stalks of cherry red rhubarb – enormous leaves still attached – and handed them to us. We thanked her profusely and headed out to Main Avenue, waving our exotic red-handled flags in our own brand of patriotism, and in hopes of flagging down a ride to Silverton.
As many of us who've eaten rhubarb-strawberry pie know, the two flavors go well together. Furthermore, rhubarb and trawberries are both harvestable around the same time. My 87-year-old friend, lifelong Durango resident Alberta Graham, says it best: "We used to just cook it, put some sugar on it and eat it."

Rachel's Spring Sauce
Equal parts rhubarb and strawberries
Sugar or honey to taste.
Simmer rhubarb and strawberries without any extra water for one to two hours, or until soft, stirring often. Add sweetener if needed. Serve immediately on pancakes and/or ice cream. Can the rest in pint jars for 40 minutes.

Rhubarb Leather
1 quart rhubarb
Honey
Chop rhubarb small, and simmer in 1/8 cup water until it starts to soften. Let cool slightly, then puree I blender. Add 1BD tablespoons honey per cup of rhubarb. Line a cookie sheet with plastic wrap and spread puree evenly over plastic about BC- 1/8 inch thick, leaving an inch of plastic on all sides for easy removal. Dry in oven at lowest setting, between 100 – 140 degrees. It will take six to eight hours to dry.

Turtle Lake Rhubarb Lemonade
1 cup chopped rhubarb
2 cups water
4 tablespoons honey (or to taste)
Juice of one lemon
Blend all ingredients, strain out pulp. Serve and enjoy.

Turtle Lake Rhubarb Pie
1 cup hazelnuts
2 cups oats
BD cup honey
1 tsp. vanilla
3 stalks fresh rhubarb
1 cup soaked black mission figs
Place hazelnuts, oats, honey and vanilla in a food processor and blend until crust consistency. Flatten crust in a pie pan. To create filling, chop rhubarb and place in food processor with figs. Blend until smooth. Add filling to crust. Serve fresh or chilled.

Rhubarb is an old-school plant, found in the back yards of sweet old houses that still sport asbestos siding and have yet to be remodeled into multi-story duplexes. Those who can remember a very different Durango – when my westside neighborhood was still sagebrush country through which sheep were herded to summer range in the La Platas – know something about rhubarb. Today, with exotic, sweet fruits cheap and readily available, it's no wonder that the sharp, tart taste of rhubarb has fallen by the wayside.
Rhubarb is a perfect mountain crop; ask anyone living in Silverton at 9,200 feet. It requires spring temperatures of 40 degrees to break dormancy, an easy request of Silverton. According to Judy Zimmerman, San Juan County assessor, many houses in Silverton have their own rhubarb patches. Jonathan Thompson, publisher of the Silverton Standard and Miner, adds: "If you don't have a patch of your own, there's one nearby. There are certain patches everyone knows about. However, some of them are in the yards of abandoned houses and when someone moves in it gets a little tricky."
Zimmerman moved to Silverton from Durango in 1979 because "Durango was way too busy." She was one of the people who started the annual Silverton Rhubarb Festival as sort of a county fair. Grand Junction has its peaches, Olathe's got the corn, and Silverton, with its 14 frost-free days a year, has the 'barb.
According to Zimmerman, the wives of miners first planted rhubarb in the late 1880s. Apparently there are still patches growing wild in the abandoned mining town of Howardsville, where no one has lived for more than 50 years. Rhubarb isn't scared off by a heavy frost, a foot of snow or even drought, all of which are within the range of possibilities for a high-altitude, Southwestern spring. When mining wives tended early summer peas, lettuce and radishes, rhubarb, a perennial, could be counted on for food each year. After a long, cold winter, the first red nubs of rhubarb poking out of the earth would be something to celebrate. For some of us, they still are.
Terry Kerwin, longtime resident of Silverton and grower of six varieties of rhubarb, says the festival "is really a pie and ice cream social." Kerwin explains that the festival began when the Sunnyside Mine was still operating and employing a large percentage of the town. "People weren't so tied to the tourist economy, and everyone had time to take a few hours out of their day on the Fourth of July for rhubarb pie and ice cream," he says.
For the festival, the town collectively produces more than 100 pies (using all locally grown rhubarb), which are sold whole or in slices, with proceeds going to the Silverton library.
Kerwin believes rhubarb is going out of fashion and that it's the old-timers who "really know how to cook it."
"The best recipes come from people over 70," he claims.
Zimmerman agrees, but Thompson, who is raising a family in Silverton with his wife, vows that he makes a mean rhubarb crisp and that the younger generation is keeping it alive. "It's the town crop," he says proudly.