Back in Telluride, The Gourds and real rodeo
by Mike Sheahan
It had to happen, it is finally official. To quote my mom and the cartoon dog Snoopy it is "sum-sum-summertime." Proof can be found on your calendar or by the fact that the Telluride Bluegrass Festival happens this weekend. The granddaddy of all regional music festivals, Telluride still gets away with calling itself a "bluegrass" festival when really it has little to do with bluegrass music. Remember Jackson Browne and Natalie Merchant from years past? They're about as bluegrass as I am a flamboyant hairdresser from West Hollywood.
The Telluride festival is already sold out, surely with most tickets going to wealthy Californians or folks from Boulder. But for my local, loyal readers who have tickets and are going, here are a couple highs and lows. Don't miss Emmylou Harris with her band, Spyboy, on Saturday evening. No matter her age, Harris can own a stage and have an audience more captivated than anyone half her age. She has three distinct musical eras from which to draw, and there's no reason to expect that she won't represent them all brilliantly. Just make sure you run away immediately following Miss Harris' set as Nashville music superstar Vince Gill will bring his radio-friendly cheese to a stage just blessed by one of country music's finest. It ain't right.
If Vince Gill doesn't chase you out of town, then Sunday brings two personal favorites. The ever-engaging Michelle Shocked plays in the morning and the ham-sandwich-in-hungry-town that is Alison Krauss plays at night. Both are worth popping a squat in your tent or condo while Vince "rocks" out. As a further sign of massive sellout, the whole festival will be broadcast on XM, the new satellite radio system available to those of us who own top-end SUVs or Willie Nelson's tour bus.
Those of us who refuse, or can't afford, to attend the star-studded event in Telluride need not despair. There is enough happening right here in our little corner to keep you away from that pretentious Yup-hole.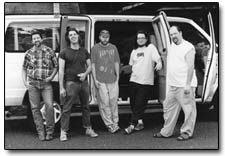 The Gourds
The Gourds, of Austin, Texas, must really love playing in Durango because they are back for a third show at Storyville. This week they'll take the stage Friday, June 20. If you are staying in town, and especially if you've not seen a Gourds show, get a ticket and go. Their music is one part rock, one part bluegrass, one part folk and two parts crazy. The Gourds deliver a show not to be missed, and like every one of their shows in Durango, this one will sell out. Last winter, the Gourds played two consecutive sold-out shows, this week they play only one.
Sometimes it's hard to remember that Durango is a many-faced town, but it is. On any given night downtown, one can find a gaggle of nose-pierced, hair-dyed kids hanging around the Shred Shed. Not too long ago I came across a group of cowboy-hat, peg-leg-pant wearing kids hanging around a flatbed truck blaring a Jeff Foxworthy comedy tape and hassling hippies on bikes. To me that meant only one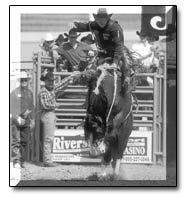 thing: Rodeo season must be starting soon. And dang if I wasn't right. This weekend begins the season of man's domination of the animal kingdom with a barbecue beef dinner. What better way to kick off a rodeo than by hosting a feast comprised of one's fellow competitors? Kids can join in the fun in an event called "mutton busting," in which they hold onto the neck of a sheep and attempt to hang on for five seconds. If there is an adult version of said event, color me the champ. The Durango Pro Rodeo takes place at the La Plata County Fairgrounds every Friday and Saturday night throughout the summer.
This week's sign that all is well: A few sporting seasons were recently completed when the New Jersey Devils beat the Anaheim Mighty Ducks for the Stanley Cup (thus keeping Anaheim from thinking it is a real city). Then, the San Antonio Spurs beat the New Jersey Nets, thus keeping Jersey from thinking it is anything but a mullet factory. The best thing about the NBA Finals is that David Robinson, one of the last great, classy players and ambassadors of the game, went out the way Michael Jordan should have. As a winning leader and a champion, Robinson – despite of all his "glory to God" talk – should, instead of Allen Iverson, be the most popular NBA player of this time. The game, and I, will miss him.
This week's album to own: Say you are on a cross country trip with some friends and the 2 a.m. to 6 a.m. driving shift has fallen in your lap. Naturally, you'll want some music that will keep alive the romance of the road while allowing your carmates to get their Zs.
The latest by Jay Farrar is possibly the best choice of new music. Atmospheric, moody and catchy enough, "Terroir Blues" is a natural progression in the Uncle Tupelo/Son Volt/Jay Farrar vein. At times country ("Hard is the Fall," "Hanging on to You"), it also is musically adventurous ("No Running Back"). This new record is set around a table of short tracks called "Space Junk," and the whole album listens like a 90-minute road trip rather that a collection of songs. It may be "Space Junk," but if I'm left alone on the highway there's not another disc I want with me. "Terroir Blues" takes a couple listens, but so do all the good ones.
You ropin' doggies? mpsheahan@yahoo.com