Durango BMX faces uncertain future
After just more than a year in business, Durango's BMX track is worried about its future. The track sits on 17 acres of city of Durango land, which is earmarked for a park. And while Durango BMX organizers say they have always been aware of the year-to-year nature of the location, they argue that the track has become a great Durango amenity.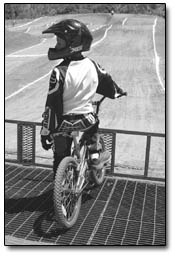 10-year-old Nick Schneider waits
for the gate to drop at the
Durango BMX track on Sunday.
BMXers are allowed to use the 17-
acre track on a temporary basis
under an agreement with the city,
which owns the land./Photo by
Todd Newcomer.
Cathy Metz, parks and recreation director, said that the city's Parks, Open Space and Trails plan calls for a multi-use city park on the 17 acres behind Big 5 Sporting Goods. The park's focus would be river access, but it would also likely include volleyball courts, a small outdoor basketball court and possibly an in-line skating rink.
Because of this, Durango BMX was granted permission to build a track on an interim basis, according to Metz. "Ever since the beginning, the BMX people knew they were year to year," she said.
Metz added that the city will take care of Durango BMX for now at the 17 acres and at another site when the time comes. "The hope is that we can continue to accommodate their needs until we can accommodate them elsewhere," she said.
Sandy Myers operates the track with her husband, Danny. Myers said that the track was built and is operated entirely with volunteer labor. Still, she said that it is one of the best BMX tracks in the state and is used by more than 100 locals.
"Everything down there is donated," she said. "All the people and businesses who have donated to it are the only reasons the track's as successful as it is."
Myers did acknowledge the year-to-year agreement, but argued that the 17 acres are perfect for the track. "We knew it was a year-to-year agreement, and that they had plans for that land," she said. "But if it's possible, we'd love to stay there."
She added, "We feel this spot is optimum for us because of the Animas River Trail. It allows kids to just ride themselves to the track. The city's also really fortunate to have a national caliber track and one of the nicest in the state, and the whole thing was built for free."
Developing the 17 acres sits third down on the city's parks priority list, below Chapman Hill improvements and reconstruction of the skate park.
"The city hasn't developed the 17 acres because the city hasn't had the money to do that," Metz said. "There's no money for it this year, and there's probably not going to be money for it next year."

Excel School faces strict deadline
The Excel School, Durango's only remaining charter school, was given 30 days to get in line with school district policy this week. If the school fails to provide a plan that shows it can keep running, improve its educational quality and become financially solvent, it will be shut down by the 9-R school board.
The school recently enrolled more than 90 students for the fall semester and presented the school district with a contingency plan to keep Excel alive. However, this week district officials said that keeping the school open will require more.
"We just want to make sure their academic program fills the needs of the students in terms of meeting the state and federal standards," said Deb Uroda, 9-R director of public information. "That will be a challenge for them, and we're here to help."
Uroda added that Excel fills a niche, saying, "The school district really values Excel's role in educating our students, and we are heartened to see students and parents are coalescing to address the issues that threatened its continued operation."
Last month, 9-R Superintendent Mary Barter commented, "It would be our preference that both our charter schools had survived. But it's also our job to make sure our students have sound and stable education and to make sure we're using our taxpayers' money responsibly. If we can make all of this happen, it would be wonderful."

Crews contain the Trail Creek fire
The area's first significant wildfire was contained early last weekend after growing to a size of 89 acres over five days. The lightning-triggered fire began June 3, and by June 8, crews had the blaze surrounded by fire line.
Beginning June 3, firefighters started battling two separate lightning-triggered fires north of Pagosa Springs. The fires were known as the Trail Canyon and Trail Canyon No. 2 fires and are located 16 miles north of Pagosa along the Piedra Road. The smaller of the two blazes was contained that night.
Prior to containment last Saturday, half of the 20-person San Juan Hotshot Crew, an engine crew from the Pagosa Ranger District, two light helicopters, a heavy air tanker, a Type I helicopter and two additional Type I crews battled the blaze.
The fire was controlled by the end of the shift Saturday, and the fire was turned back to the Pagosa Ranger District. The estimated cost of fighting the fire is $400,000.
The Forest Service warned that there has been very little precipitation in Southwest Colorado over the last several weeks and grasses are starting to dry out.A0Recreationists
should try to park their vehicles in areas free of vegetation and check to make sure their campfires are completely out before leaving the area. Smoke sightings can be called into local fire departments or Durango Fire Dispatch at 385-1324.

Carbon Junction relocation in works
A recently published legal notice indicated that the Colorado Division of Minerals and Geology proposes to renew a coal-mining permit for the Carbon Junction Mine 2 miles southeast of Durango. Though Oakridge Energy Inc. failed to return phone calls, Trails 2000 executive director Bill Manning said that the permit renewal is actually related to expansion of gravel mining and reclamation of an old coal mining site.
"I actually think what's going on up there is not coal mining but expanded gravel mining," Manning said. "I think their permits for coal and gravel are intertwined."
Negotiations are currently under way to reroute the popular Carbon Junction trail which hooks in with Crite's Connect and the Sidewinder Trail at the north end and dumps out at the south end of Highway 3. An expansion of gravel operations would lead to mining in the area at the top end of the trail. Trails 2000, La Plata County and Oakridge Energy are looking for a mutually agreeable solution and are planning on rerouting the trail.
Manning said there is discussion of moving the top of the trail to a canyon to the east and the gravel operation would actually help build the new trail with its machinery. Hand tools would be used to put a final finish on the trail.

Fort Lewis College raises tuition
The Board of Trustees for Fort Lewis College has approved an increase in tuition and fees for the 2003-04 academic year.
In-state tuition will jump 6.25 percent, from $951 to $1,010 per semester. Out-of-state tuition will increase by 10 percent, from $4,800 per semester to $5,280 per semester. Summer tuition will be raised by the same percentage. The Board of Trustees has also approved a 5.3 percent increase in student fees of $19.25 to $384.25 per semester.
The increases were necessary because the State of Colorado recently reduced funding to higher education institutions and other agencies. Fort Lewis College cut nearly $2 million from its current-year budget and another $2 million from its 2003-04 budget.
"We are pleased to receive approval to increase tuition, but we remain cognizant of accessibility and cost of education," said Interim Fort Lewis College President Robert Dolphin, Jr. "We have also made a commitment to increasing financial aid to keep higher education affordable for Fort Lewis College students."
Fall classes begin Monday, Sept. 1.
-compiled by Will Sands