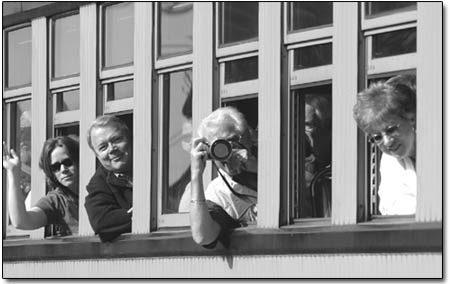 Passengers soak up the scenery as the Durango & Silverton Narrow Gauge train leaves the station on Tuesday morning./Photo by Todd Newcomer.
The students are gone, the tourists have started arriving, and all of Durango is hoping for a gangbuster summer after last year's fire-stunted season. Now, with Memorial Day weekend about to kick off, the experts are "cautiously optimistic" about the months to come.
Mary Hart, director of the Durango Area Tourism Office, said summer officially starts for her office this weekend. "We are excited about it; we're ready for it; we're doing everything to promote it," Hart said. "We believe it's going to be a good season."
The tourism office is implementing 18 new techniques to boost local tourism after last year's fires and subsequent decline in visitors. Hart said tourism indicators show a clear need for the measures: Mesa Verde National Park had 406,685 visitors last year rather than its usual 600,000, and the Durango and Silverton Narrow Gauge Railroad carried 129,690, down from its average of 200,000.
This year, Hart said there are potentially "very favorable trends" that could benefit the Durango economy, such as Americans increasingly opting for driving vacations because of concerns about SARS, terrorism and war. Consequently, DATO has pulled all international advertising and is targeting automobile-based tourists in Colorado, Texas, Arizona and New Mexico, in that order.
Getting in the car
Bruce Moss, owner of Gateway Reservations, the primary booking agency for the Durango area, said driving vacationers continue to constitute a large portion of his callers. Moss said he is getting 180 to 260 calls a day from people wanting to make reservations for lodging, the train and packaged trips. He also said that the economy is playing a big part in how people travel, and that people are trying to shop for the best deal.
"The economy has forced people to look for deals," Moss said. "They're shopping and trying to find what's most affordable."
Moss' company is trying its best to keep tourists in town longer than the two-night average by offering extensive package deals. DATO also is working to keep visitors in town longer and to stay rather than just driving through. To facilitate this, the DATO lobby has new phone desks where visitors can make hotel bookings directly. Also, the DATO website was overhauled in February to make it easier for people to find information and make bookings. Another new marketing strategy is advertising in specific publications geared toward senior citizens, whose numbers are down because of struggling retirement plans, Hart said.
Ultimately, Hart believes word of mouth is the best form of advertising and hopes that every visitor who comes here will feel welcome. She says DATO is doing all it can to make this summer successful.
"We're trying to be proactive," Hart said. "All of this makes us confident that we're on the right path for the proper benchmark to support recovery," Hart said.
Road to recovery
Of course, recovery is on everyone's mind, particularly business owners'.
Mark Kerklo, owner of Johnny McGuire's Deli, said last summer's fires and subsequent decline in visitors was devastating not only to the environment but the community – emotionally and financially.
"A lot of people took it really hard," he said.
As for the financial aspect, Kerklo said, "It's trickle-down ramifications were pretty dynamic. The economics (of local business ownership) revolves around being able to nest egg your summer profits and live off them in the wintertime, and that certainly didn't happen."
Still, that's life in a tourist town, and Kerklo is hoping for a great summer. "If you're a business owner in any tourist town, you've got to be optimistic to a fault," he said.
Stan Rabbe, owner of Gallery Ultima, said projections about this summer are practically all that many local business owners talk about.
"It really is on everyone's mind," Rabbe said. "For a business owner, you can't weather two summers in a row like this."
But providing this summer isn't a repeat of last year, Rabbe said last summer's fires may actually increase the number of visitors to Durango this year.
"I think the fact that Durango was in the news day after day last year ... they're going to come," Rabbe said. "The impact will be positive this summer because people will want to see what happened."
Rabbe's outlook is particularly optimistic considering that he lost his house in the fires last summer.
"That's one of the reasons why I am optimistic," Rabbe said. "Losing the house showed me how things change, but it's not the end of the world – it's just different."
The power of press
Mesa Verde National Park is set to completely open for summer during Memorial Day weekend. Tessy Shirakawa, public information officer for the park, said with gas prices dropping, people may be more prone to drive to summer travel destinations.
"That's exactly what we're hoping for," Shirakawa said. "The tours are booking up."
The Durango and Silverton Narrow Gauge Railroad was one business dramatically affected by last summer's fires since it temporarily shut down and then reopened with limited service. But Kristi Nelson Cohen, vice-president of sales and marketing, is staying optimistic.
She said even though the train's roundhouse burned in 1989, 1992 ended up being the train's biggest tourist year – which may have had something to do with national press the event generated.
"It was a tragedy, but it was news nonetheless," Cohen said. "So I have this feeling that you get negative press, but it's press nonetheless. People hear about it and remember it's something they've always wanted to do."
Cohen said the purchase of new diesel locomotives to ferry passengers or pull the steam engine during times of high fire risk ensures that the train will never have to stop or abbreviate its service again. Additionally, the train is continuing its advertising campaign aimed at the driving market and encouraging Coloradoans to stay in state this summer.
She said Durango continues to be a great vacation destination, with blue skies and "ribbons of green."
So with more Americans looking to driving vacations, and Colorado being in the heart of the country, this summer should be much better than the last.
As Cohen concluded, "We're not worried about SARS, we're not worried about terrorism, and it's Americana. We intend to have a great year."