Iron Horse returns for 32nd year
The criterium and downhill events are back
written by Missy Votel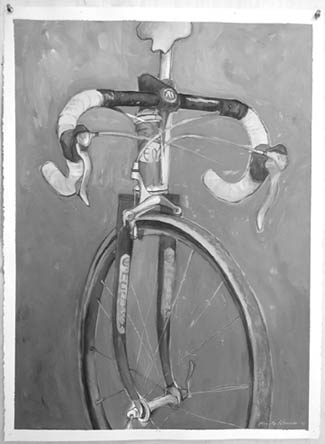 This painting, by local artist Krista Harris, will be on display at Steamworks in conjunction with the Iron Horse Bicycle Classic this weekend.
For more than three decades, cyclists have packed the narrow twists and turns of U.S. Highway 550 for the annual 47-mile trek from Durango to Silverton known as the Iron Horse Bicycle Classic. And while originally conceived as a race of man against machine, the classic has grown into a three-day celebration of all things two wheeled with a chain – and then some.
"We just try to show everyone a good time during the weekend," said Kendra Holmes, Iron Horse race director. She said this ranges from the traditional road race to mountain biking events, a foot race, a swimming event and even an art exhibit. And while there are plenty of distractions for the athletically inclined, she said the Iron Horse is geared to being equally entertaining for spectators.
Of special note, Holmes said, is the return this year of the criterium, a short, fast race that will be held in the streets of Durango. She said the crit hasn't been held in 12 years but was resurrected because of demand.
"It's pretty much built for spectators," she said. "Seeing 30 riders in a pack racing around corners downtown should be pretty exciting."
She said the crit, which begins at 7 a.m. Monday with the junior division and culminates with the pro races at noon, takes racers on laps of an 800-yard loop through downtown, starting at the Main Mall.
Iron Horse schedule of events
Saturday
7:30 a.m.: Pro road racers leave Durango
Rec Center
8:15 a.m.: McDonald's Citizen's Race/Tour starts at McDonald's ; Durango & Silverton Narrow Gauge Train leaves station for Silverton
8:30 a.m.: Highway 550 closes at Durango Mountain Resort
10 a.m.: Endo Downhill starts at Log Chutes, Junction Creek Road, West on 25th St. at Main Ave.
12 noon: Highway 550 re-opens
Sunday
8 a.m. Run/Heart Walk (Park Elementary)
All day: Cross Country mountain bike racing and Expo, Chapman Hill
10:15 a.m.: Mountain Cross qualifiers, Chapman Hill
12:15 p.m.: Mountain Cross Finals
2:15 p.m.: Kids racing
Monday
All Day: Criterium - Durango
9 a.m.: Observed Trials at Steamworks

Also back by popular demand this year is the mountain bike downhill, held at the Log Chutes Trail. "We haven't had one of those in nine years," Holmes said. "It was another thing where people asked for it."
She said the race, which begins at 10 a.m. Saturday, is open to riders of all abilities and that the steep course should provide plenty of action for spectators as well.
"It's a fun, fun course," she said. "These guys are on bikes with 10 inches of suspension – it's crazy."
In addition to the downhill action, there will be cross country mountain bike racing Sunday at Chapman Hill and in Horse Gulch. Holmes said the best places for watching these races are on Fort Lewis College Mesa at the top of Chapman Hill and the quarry in Horse Gulch.
For those looking for something they can enjoy at their own pace, the artwork of local painter and cyclist Krista Harris will be on display at Steamworks. The exhibit, "About a Bike," will run until the National Off Road Bicycling Association Championships in August.
"She paints and lives and breathes cycling," said Holmes. "It's different; it's inspirational; it's bike art."
For the more puritanical bicycle enthusiast, there are, of course, the road and citizen's races. Holmes said the pros will take off from the Durango Recreation Center at 7:30 a.m. Saturday, followed by the citizens, who will depart at 8:15 a.m. from McDonald's.
"We encourage people to come down and see the riders off," she said. "We'll have tandems, kids, people dressing up – every year we have someone doing something crazy."
Holmes said she expects about 400 competitors for the road race and more than 500 for the citizen's race. Overall, there are 1,300 people signed up for Iron Horse events and numbers for the Iron Horse have been rising steadily over the last five years, she said.
"We are up this year quite a bit. I think Durango's on the upswing again as far as cycling is concerned in general."
Holmes attributes the rise in interest to the area's scenery, the fact that the road race is on a closed road and several years of good weather during an event that historically has been prone to the whims of Mother Nature. And she said this year the trend will continue.
"We're having good weather," she said. "It's going to be good, damnit."