At the head of the pack
Durango's Tom Danielson begins ride to the top
written by Will Sands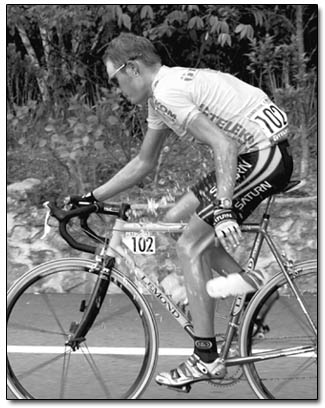 Durango's Tom Danielson sports the yellow jersey en route to an overall victory in Malaysia's Tour de Langkawi last February. Danielson has moved to the forefront of the American road racing scene recently and is positioning himself to be America's next Tour de France hopeful./ Photo by Rob Arnold.
Tom Danielson wants not only to win this Saturday's Iron Horse road race. He wants to break the sub-two-hour, tailwind-induced record set by fellow pro Jonathon Vaughters in 1997. Even with an additional 2.5 miles added to the course and the potential for stiff competition from Vaughters himself, Danielson's odds are good.
A few years ago, Danielson, 24, was a member of the Fort Lewis College Cycling Team struggling with inconsistent results. Now, he's in one of the brightest spotlights in professional cycling. Following his overall victory in Malaysia's Tour de Langkawi this February, Danielson is now being lauded as America's next great road-biking hope. Following the Langkawi victory, Phil Liggett, the voice of the Tour de France and the world's most popular cycling commentator, said, "He seems to have all the elements that could make him the next American to win the Tour de France 85 He's just cocky enough to be a real champion."
This is a sentiment Danielson's and Fort Lewis College's coach Rick Crawford shares. "He's the golden goose if you ask me, and I've had my hands on the golden goose before," he says. That other golden goose was none other than Lance Armstrong.
As Danielson waits in line for coffee at the Steaming Bean, there's very little that's cocky about him. When Liggett's quote is mentioned, he replies: "When I first read that I laughed. My friend (professional Durango cyclist) Todd Wells jokingly calls me cocky because I'm paid well, have the best bike and have a car. I thought, oh no, that's perfect ammunition for Todd.
"But Phil's British," Danielson continues. "By cocky, I think he meant tough and resilient. I hope he didn't mean it as an ego thing. Keeping my head level is one of the things I pride myself on."
Even though he has won a 10-day stage race against some of Europe's best riders, Danielson is by no means cocky about coming back to Durango and having the fastest time to Silverton.
"Any race is an unknown," he says. "I've been racing in these flat stage races lately. So with all the climbing, the Iron Horse is more my element. But I won't have a full team for support, and it's a short race and that makes it more difficult."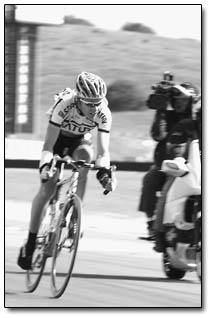 Danielson at the Sea Otter Classic./Photo courtesy of Velonews.
Turning it around
Danielson, a Connecticut native, first came to Durango in 1999 to attend Fort Lewis College, a run he concluded last December with a double major in marketing and psychology. During his time at FLC, he competed on the cycling team, initially in mountain biking.
"My whole life, I totally was in love with mountain biking and cycling in general," Danielson says. "I pursued it but could never put the pieces together. I was a struggling racer my entire college career."
However, late in 2000, Crawford came to Fort Lewis and Danielson met his new coach.
"He steered me in the right direction," Danielson says. "He said, 'your build and talents would go better on the road scene.' Of course, I didn't believe him."
Crawford and Danielson trained hard during the winter of 2001. That spring, Danielson entered New Mexico's Tour de Gila stage race, still officially many steps away from pro status. He left the race with a third place in one of the individual stages, an eighth place overall and a contract to ride for Team Mercury.
"From May of 2001 on, I turned pro and was a competing cyclist," he says.
Fighting your bike
The Mount Washington Hill Climb in New Hampshire is a 7.6-mile race that goes virtually straight up. The ride averages grades of 18 percent, and what was thought to be an unbeatable course record was set in 1999 by U.S. Postal's Tyler Hamilton. In August of 2002, Danielson showed up for the race fresh from a victory in the Tour of China. He'd never ridden Mt. Washington before and didn't know what to expect.
"I went out there thinking I was a good climber," he says. "But the hills around Durango don't even compare to it. I would say the closest thing to the grade is the top of the Telegraph trail. It never lets up. You're fighting your bike the whole time."
After switching out to much easier gearing, Danielson left the starting line and fought his bike up Mount Washington. He pulled into the lead but didn't know how he was doing against the clock.
"The only indication I had that I was doing well was that at one point the press vehicles stopped waiting to film the guys in second and third place and just started following me."
When he finished the climb, Danielson had not only won the race, he had shattered Hamilton's record by nearly a minute. "That will always be an experience that remains for me," Danielson says.

Changing horses
Later that year, Team Mercury dissolved largely because of poor management, and Danielson started shopping around for a new sponsor and team. Several European teams were options, and Danielson had an opportunity to join Lance Armstrong on U.S. Postal. However, he settled on Saturn, a team with a largely domestic focus.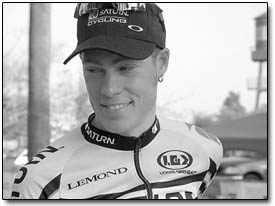 Tom Danielson/Photo courtesy of Velonews.
"I felt I needed another year of racing domestically," Danielson says. "Saturn gave me an opportunity to do some stage races in Europe and to develop more and become more of a leader."
On Saturn, Danielson shares leadership with Chris Horner and Nathan O'Neill, two cyclists with impressive domestic records. Unlike Postal, where Danielson would have been largely a support rider for Armstrong, Saturn takes a more Darwinian approach.
"We show up at a race with eight guys who can win, and we make the choice from there," Danielson says.
In the European peloton
This February, Saturn showed up at the Tour de Langkawi with a full roster for the 10-day stage race. The race in Southeast Asia ranks as the fourth-largest stage race in the world behind the Vuelta a EspaF1a, Giro d'Italia and Tour de France.
"I was interested in the race because it has a big mountain stage," Danielson says. "I was also interested in going there and racing against the top European pros."
After a third-place finish in the first-day time trial, Danielson rose to the top of the Saturn list. But there was concern that his youth would prevent him from staying in top form for the remaining nine days. "The whole Saturn team and the director thought I had the overall best chance for a stage win or an overall," Danielson says. "But they were there in case I faltered, which everyone thought I would."
However, after stage number six, Danielson took the yellow leader's jersey and held it in a duel up the notorious Genting climb against last year's winner, Dario Munoz. Danielson also held onto the leader's jersey until the finish line and claimed the overall victory. "It was a good situation," he says. "It showed my mental toughness and how I dealt with pressure."
On the home track
After competing in the nationals in Pennsylvania for the honor of wearing the stars and stripes for the upcoming year, Danielson will fly back home to Durango to prepare for the Iron Horse. However, coming back to Durango means more than just another race for Danielson.
"There are a lot of attachments I have here," he says. "The first is the college. It gave me a career in terms of racing, and it gave me my coach Rick who turned me around. I also came to Durango as a nobody and the town has watched me develop and given me support. I know when I'm racing the whole town is behind me."
Danielson adds, "I've actually thought how hard it would be for me to live somewhere other than here."
However, if all goes as planned, Danielson will be living somewhere other than Durango next year. He and Crawford have their sights set on the Tour de France – Danielson plans on moving to Europe and being at the start of the world's greatest bicycling race next summer.
"Eight years of pretty hard work is starting to gel," Crawford says. "We think that in 2004, we'll actually see Tom racing in the Tour."
But looking to the future, there's still no cockiness in Danielson. Whether he'll be at the start, eventually win the race or become the next Lance Armstrong as predicted, remains unknown.
"Time will only tell," he says. "All I can do is absorb what people are saying and try. I will say that I am going to devote the next eight or nine years of my life to getting there."