A San Juan Hotshots vehicle sits in front of the crew's headquarters just above Cascade Village, near the base of Engineer Mountain. The elite team is training for another season of wildland firefighting./Photo by Todd Newcomer
Some unlikely spectators watched last year as a wildfire consumed thousands of acres on Missionary Ridge. Stationed at the base of Engineer Mountain, the 20-member San Juan Hotshot Crew could only fretfully watch and listen to the fire as it erupted day and night, destroying landscape and homes.
At the time, the newly established crew was enduring seven weeks of required training. Crewmembers were still spending hours on end swinging Pulaskis, learning about fire behavior and training their bodies for extreme outdoor conditions. At the end of long days, the hotshots retreated to their homes – some near the fire and some in the fire's path – only to watch it burn with great intensity. Their Pulaskis lay abandoned at their Engineer Guard Station.
For the seasoned firefighters, waiting to fight the fire was a logical decision based on wisdom and safety. For the novices, waiting to fight the fire was like waiting for Christmas morning. It was difficult for everyone.
"I had to hide my feelings of anxiety that the fire was going on," says Hotshot Superintendent Shawna Legarza. "I knew what had to be done before we could go fight the fire."
Soon, though, training was over, and the 20 crewmembers finally converged on the Missionary Ridge Fire and fought it with lessons fresh on their minds and the eagerness required of wildland firefighters. It was, literally, a trial by fire.
Leading the elite
Now, back for a second year, the San Juan Hotshot Crew is settled in and prepared for this year's wildfire season. All but five hotshots from last year returned, giving the crew a range of experience – from brand-new firefighters to veteran firefighters with 15 years of experience. To boot, their leader, Legarza, is the only female superintendent of a hotshot crew in the country – and is only the third female superintendent in the history of hotshot crews.
And along with varying years of experience, each has his or her own story about joining what is known as the "elite" crew of wildland firefighters. There is one common thread among the San Juan Hotshots, though. Nearly every one grew up learning to love – by choice or not – physical labor in the outdoors.
Take Joe Wyatt, a farm boy from the Idaho Panhandle. For 10 years, he has worked in various firefighting jobs, mostly on helitack crews. Spending his youth working on a farm and doing logging, Wyatt has always found more enjoyment working outside, where he's pushed to his physical limit.
Then there's Jacob Birdsell, who is entering his second season as a wildland firefighter. Birdsell, another farm boy, grew up in Jewel, Kans. While growing up, Birdsell's family home was destroyed by fire started from an electrical short.
"That's what got me first interested in fire," Birdsell says. Add to that his love of the outdoors and the zest for physical labor.
Jesse Jones was going to fire camp when he was as young as three years of age. His parents worked for the Forest Service, often in fire-suppression positions. Growing up in the Cascade Mountains of Oakridge, Ore., Jones was enveloped with lush forests – and the fuels that would ignite them. In his eight years as a firefighter, Jones has climbed the ladder, from working on hand, rappelling and helitack crews, to his current stint as a hotshot. Though he was immersed in a firefighting atmosphere, Jones said he wasn't pressured by family to do this type of work. "My family expected me to find happiness. And I found happiness in fire," he says.
Arduous work
Along with his crewmembers, Jones says happiness as a hotshot comes in several ways. But none of it is found in the glory of being labeled "elite." People have tagged hotshots as the cream of the crop, because they are the most physically fit firefighters, expected to be self-sufficient in the most grueling and demanding positions.
Hotshots typically work 14-day shifts, with two days off in between, and often work up to 16 hours each day. When they aren't fighting fires, they spend 1BD hours physically training each day. To become a hotshot, applicants must pass a "pack test," which requires completing a three-mile hike in 45 minutes or less carrying a 45-pound pack.
In addition, they have to prove their fitness by running 1BD miles in less than 10:35, and do 40 sit-ups in 60 seconds, 25 push-ups in 60 seconds and a certain amount of pull-ups depending on individual body weight.
The fitness helps hotshots remain at the top of their form, because when a wildfire breaks out, they have to hike backcountry terrain carrying all of their equipment, food and water. They work on the frontlines of a fire, digging fire lines and enduring searing heat, hard sleeping ground and few amenities.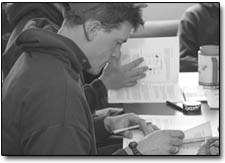 Hotshot Lance Martin, of Kansas, flips through a training workbook in preparation
for the upcoming firefighting season./Photo
by Todd Newcomer.
Though the San Juan Hotshots are located on the San Juan National Forest, they fight fires anywhere in the country when needed. They often spend several weeks away from home, fighting one fire after another in unpredictable environments.
Still, most members of the San Juan Hotshots refuse to soak up what they see as fulsome praise.
"'Elite' is a strong word," says Ray Gething, a three-year firefighter. Dustin Davison agrees. "As a hotshot, we definitely see a lot more fire. But it's the crews who do the cleaning up after us that do the real dirty work."
Recognizing the pedestal many put hotshots on, Legarza makes an effort to keep her crew grounded. Part of that requires her to ensure good team dynamics – and sound logistics.
"People call us the elite because our system is so organized and we easily adapt to different environments. We pride ourselves on being good in any situation," she says. "But, I don't want my crew to have an ego. I don't think we are the elite, we're more like the backbone."