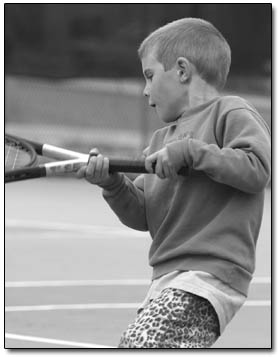 On the ball: Four-year-old Marco Good expends
some excess energy during tennis practice on Tuesday./
Photo by Todd Newcomer.
DMR streamlines its workforce
Durango Mountain Resort announced this week that it would be restructuring substantially to prepare for its forthcoming expansion and to take advantage of its partnership with Kirkwood Mountain Resort in Lake Tahoe, Calif. Much of the restructuring amounts to downsizing, including the elimination of roughly 12 full-time positions in various departments and the promotion of eight DMR managers to handle expanded responsibilities.
Additionally, four senior managers will assume responsibilities at both resorts. DMR says it has restructured its employee classifications and benefits in an effort to conform to industry standards and respond to the dramatic increases in premiums seen throughout the resort industry. Several positions that were year-round also have become seasonal positions.
"We are trying to streamline the company to make it run more efficiently, and we will be saving some money on payroll," said DMR spokesman Matt Skinner
DMR and Kirkwood CEO Gary Derck added: "It makes sense to combine some operations with our sister resort, to take advantage of having such a partnership. And with construction set to begin this summer under the new master plan here in Durango, we are repositioning our staff to best manage this exciting new growth."
As DMR prepares to begin construction, the resort has promoted/hired several senior managers to oversee the centralization of certain critical resort and real estate business functions with Kirkwood. These new positions are part of the parent company of both resorts, Mountainsprings, LLC.
David Likins, the CFO of Kirkwood, will now become CFO of DMR as well. Mark Seiter, the senior vice president of finance at DMR, will now oversee the accounting, business team and financial reporting functions at both resorts. Cathy Swarts, controller at DMR, will become controller for both resorts. Mark West, former head of resort marketing and sales for the Maverick Co., has been hired as vice president of real estate marketing for both resorts. DMR also said it is in final negotiations with a top resort industry manager to assume the general manager/chief operating officer position, which was recently vacated by Bob Kunkel.
As for the exciting new growth, DMR has plans to add 1,649 units and 410,000 square feet of commercial space in the form of six villages near the ski resort over the next 20 years. Construction on the early phases of the ambitious expansion is set to begin this summer.

Police officer shot near Cortez
A Colorado State Patrol officer was shot multiple times after a traffic stop south of Cortez last Thursday. Chris Cutrone, a 29-year-old canine officer, remains in serious condition at St. Mary's Hospital in Grand Junction. The man believed to be responsible, 26-year-old Brent Derrick, apparently shot himself after being pursued on foot and is also reported to be in serious condition.
Preliminary investigation shows that Cutrone stopped a 1996 Buick LeSabre with Texas plates for a routine traffic violation. The incident occurred at approximately 2:20 p.m. May 8 on U.S. Highway 666 outside the Ute Mountain Casino. Almost immediately after Cutrone approached the vehicle, the driver produced a handgun and fired multiple rounds at the officer. It appears that the most serious wound was suffered when a round entered his upper chest just above the bulletproof vest he was wearing.A0Cutrone apparently then stumbled away from the vehicle and found his way to the front entrance of the nearby casino where emergency personnel responded. He was eventually stabilized and transported via helicopter to St Mary's, where on Tuesday he was listed as being in serious condition.
The suspect apparently fled from the scene in the vehicle toward Ute Mountain Tribal Land.A0He then apparently drove the stolen vehicle into a nearby reservoir and fled the area on foot.A0Police initiated a search and found the subject nearby. A foot pursuit ensued prior to the suspect sustaining a single self-inflicted gunshot wound to his body. Derrick was eventually also taken to St. Mary's Hospital and has since been relocated to Denver Health Medical Center. His medical condition was last reported as serious.
Derrick's vehicle was reported stolen out of Amarillo, Texas, in late April after he apparently pushed its elderly female owner to the ground. Derrick had a criminal history that included aggravated robbery and assault on a police officer and was wanted on multiple felony warrants.
An assistance fund has been established for the Cutrone family – Chris and his wife, Cathy, and their two young sons, ages 1BD and 2BD, at the First National Bank in Cortez.A0Call 565-3781 for more information.

Coalition opposes Farmington drilling
A diverse group has gotten together to oppose the Bureau of Land Management's long-range management plan that calls for 12,500 new gas wells in the vicinity of Farmington. The San Juan Citizens' Alliance, the Oil and Gas Accountability Project and DinE9 Care have joined forces with area ranchers Don and Jane Schreiber and TreciaFaye Blancett to change the plan.
The group charges that the proposed plan fails to provide a balanced approach to managing public lands and fails to protect the public from degradation to air quality. On May 5, the group filed a protest asking the BLM to issue a Notice of Significant Change and set a 30-day comment period as first steps to addressing the plan's deficiencies.
"The plan puts the priority on extracting the gas resources at the expense of other uses such as ranching, recreation and protecting our cultural heritage here in the San Juan Basin," said Jane Schreiber.
The protest has gone to National BLM Director Kathleen Clark in Washington, D.C. Clark now has 90 days to decide to either deny the protest or grant a Notice of Significant Change.

Crain's resignation goes official
In the midst of the biggest development boom in La Plata County history, the county's director of planning services left his post in February. This week, Joe Crain's resignation became official, and the county has agreed to pay him $51,564 – the equivalent of nine months' salary.
Comments on Crain's departure are still being kept to a minimum, and there is still no word on whether he resigned or was terminated. A La Plata County release stated only, "La Plata County and Mr. Crain have resolved on mutually agreeable terms all matters pertaining to Mr. Crain's employment with La Plata County and his departure there from."
On Wednesday, Nancy Lauro was officially appointed to fill Crain's shoes permanently. She has been employed by La Plata County since 1995 as planning services manager and acted as interim planning director since March 1 of this year.
County Manager Michael Scannell commented: "Ms. Lauro has nearly 20 years' experience in planning and is well versed in the myriad of complex land-use issues facing the county at this time. Her technical skills, hands-on experience and understanding of local issues make her well qualified to assume the position of Planning Director of La Plata County."
-compiled by Will Sands