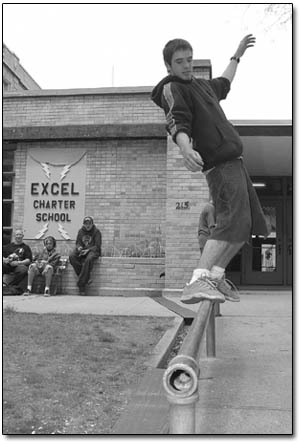 Matt Young, a sophomore at Excel Charter School, balances himself on a railing outside the school Tuesday./Photo by Todd Newcomer.
After almost 10 years in existence, Durango's only remaining charter school is heading into summer with an uncertain future.
The Excel School, which had 114 full-time students enrolled in 2002-03, opened in 1994 with a focus on preparing high-achieving students for college. However, lagging state test scores, accounting snafus and administrative upheaval have School District 9-R officials questioning the school's viability. Although the school is self governing, its budget must first be approved by an apprehensive 9-R School Board.
"We want to see the school succeed, but we don't want to put $750,000 at risk," said Deborah Uroda, 9-R director of public information.
Nevertheless, Excel's teachers, students and parents are clinging steadfastly to keeping the small charter school afloat, saying it offers the only public education alternative in Durango.
"I watched my sixth-grader go from Cs and Ds to As and Bs at Excel, and he loves it – need I say more?" said Excel parent Sean Andrietta.
Andrietta was one of about 15 parents who gathered at the school Monday night to form a game plan in light of 9-R's concerns. Chief among those is the school's performance on the state-mandated Colorado Student Assessment Program tests, or CSAPs. The tests are used as a gauge for President Bush's "No Child Left Behind" law, which links public school funding to student achievement. Districts that do not make adequate progress on test scores may be required to pay for tutoring to bring up scores or be restructured altogether under the federal law.
Excel Open House
Where: Excel Charter School, 215 E. 12th St.
What: Featuring school tours, pizza and ice cream
More Info: 259-0203
In spring 2002, Excel sixth- through 10th-graders scored lower than the district average in 12 of 16 areas and lower than the state average in 8 of 16 areas.
"Our concern is that they are below the district average and will pull the district average down, and we have to be accountable to the federal government," said Uroda. "The school was founded for high-achieving students who were college-bound, but their CSAPs don't reflect that."
The issue of poor test scores is further complicated by the school's shaky administration. Earlier this spring, Excel Principal Bruce Hopmeier resigned after only a year. His resignation was followed by that of the school's five-member board. The void is now being filled by an interim board made up of parents.
"The school needs to show a certain amount of progress and to do that, it needs to have its instructional house in order," said 9-R superintendent Mary Barter, speaking to concerns over stability.
And while the board struggles to do just that, Excel finds itself in a Catch 22. The State Board of Education requires schools have teacher's contracts signed by June 1 for the upcoming year. Furthermore, under its contract with the district, Excel must have an enrollment of 90 students by October 1. Should Excel fail to meet this quota come October, it would be forced to close and be responsible for paying those teacher contracts as well as any other debts.
"It's like having a teen-ager who has a credit card in your name," said Diane Doney, 9-R's director of finance. "Sooner or later you are going to have to pay the consequences."
Excel also faces an additional expense of $63,000 to the Colorado Department of Education for incorrectly tabulating school enrollment from 2000 to 2002. "Auditors found that some of the students that had been counted weren't educated at Excel," said Doney. As a result, the school must reimburse the state.
Although the district is not liable for Excel's debts, Barter worries that if Excel dissolves, 9-R will get stuck with the bill. "That's why we're so concerned," said Barter. "9-R could be held responsible for hundreds of thousands of dollars even though it clearly says in the contract that we're not."
Barter added that if the school closes its doors next fall, students' lives also will be disrupted. "There are two issues 9-R has to face: Being saddled by debt and the disruption in the lives of students if, partly into the school year, they have to transfer," she said. "For students, that's a step backwards."

Outside the mold
Despite adversity, parents and staff at Excel say the school is worth saving and are gearing up to fight the good fight.
Liza Tregillus, Excel's newly elected acting board president and parent of a sixth-grader, said: "Using CSAPs as a bottom line for students' and a school's worth is ridiculous. I don't want to throw away accountability, but a lot of it has to do with parent accountability and looking at other variables at work."
Liza's husband, Peter, said Excel caters to students who may not learn from traditional "cookie-cutter" methods. He said
his son, who suffers from epilepsy, is one such student. According to Peter, the medications to control his son's condition had a side effect of making him sleepy. However, he said when he approached his son's old teacher about allowing breaks for the students to move around and rejuvenate during long class lectures, he was rebuked.
"We got nowhere, and the teacher was offended," he said.
As a result, the Tregilluses pulled their son out of the public school and put him in private school, where he fared better. Ultimately he ended up at Excel, where he thrived with the individual-based learning style. "This is the first time in his life that he likes going to school," said Peter.
Sue Leonard, another of Excel's newly elected acting board members, had a similar experience with her son, a ninth-grader.
"He's one of those kids who's really smart but doesn't turn in his homework," she said. "He needed that extra push you get from a small classroom."
Leonard said Excel affords its students the extra attention they require but often don't receive in larger classroom settings.
"I think a lot of the kids there like the smaller, homey atmosphere," she said.
Nevertheless, supporters of the Excel approach realize they face an uphill battle.
"The old principal and old board didn't get things in motion when they should have, and that's too bad," said Peter Tregillus.
However, Liza, who was on the founding board of the now-defunct Community of Learners Charter School, feels it's not too late for Excel.
"It's late in the game, and it is a scary situation, but it is doable," she said of reaching the enrollment target.
The new board has made enrollment its top priority, with an open house planned for Thursday night. "I just couldn't stand there and watch it shut down without having this last open house," said Liza.
Leonard said the goal is to get the word out about what Excel offers. "We're part of 9-R, it's free and students can take the bus to school – it's all part of it," she said. "But people just don't know about it."

Rising above turmoil
Liza Tregillus said she is hopeful there are enough people in Durango looking for an alternative to fill Excel's halls next fall.
"It's a wake-up call to the community," she said. "If you want the option, now's the time to step up."
As for Excel's administrative upheaval, she believes this, too, will pass.
"I'd encourage people not to be put off by the apparent turmoil," she said. "There are a lot of neat parents involved, and we're finally having fun for once. Things got a little heavy there for a while."
And while Barter also acknowledges the situation is dire, she expressed hope that Excel will fare better than COL, which closed in 2001. However, she admitted the 9-R School Board will have the ultimate say in the matter.
"It would be our preference that both our charter schools had survived," she said. "But it's also our job to make sure our students have sound and stable education and to make sure we're using our taxpayers' money responsibly. If we can make all of this happen, it would be wonderful."
Meanwhile, Leonard, of the Excel board, said the ramifications of closing Excel go beyond finances.
"'No child left behind' – that's what the whole school system is based on," she said. "But if we close, we will have children left behind."