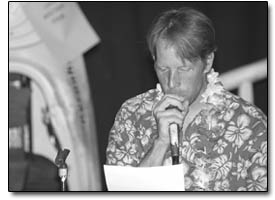 Paddlingparty: Durango Whitewater Coach
John Brennan emcees during a benefit for Durango
Whitewater held Sunday night at the Abbey. The event included an auction and a kayak giveaway./ Photo by Todd Newcomer.
Crews snuff county's first wildfire
Durango's wildfire season got an early start May 1 when a controlled burn near the Forest Lakes subdivision got out of control. Crews were able to extinguish the 8-acre Texas Creek Fire in quick time.
At approximately 2:51 p.m., the Upper Pine Fire District was dispatched to a wildfire roughly three miles west of Forest Lakes on County Road 245. According to reports, crews arrived to find that the burn had been started by a brush-clearing crew hired by the landowner to do fire mitigation. The crew had set fire to the brush pile and a strong gust of wind caused the fire to intensify and spread in a southeasterly direction and start an up-slope run.
Quick action by the Upper Pine Fire District prevented the fire from spreading substantially. A call also was placed asking for assistance from the Durango Fire Protection Authority, the United States Forest Service, a helicopter and the La Plata County Office of Emergency Management. The combined efforts of 65 firefighters from these agencies had the fire contained at approximately 5:30 p.m. At containment, the total size of the fire was estimated at 8 acres spreading from private to federal land.
Following the blaze, Upper Pine Fire District Chief Jim Picolli cautioned residents to contact La Plata County Dispatch before starting a controlled burn. He also encouraged people to burn only between first light and 10 a.m. La Plata County Dispatch can be reached by calling 385-2900.

City Market renews Manna donations
The Manna Soup Kitchen's primary food supply was renewed this week. A new corporate policy had cut off donations by City Market's two local groceries to the local soup kitchen in early April. However, after discussions City Market has decided to resume donations, which supply between 80-90 percent of Manna's food and feed approximately 100 people per day.
King Soopers, which owns the City Market chain, made the decision based on setting a new personal standard for food safety and not donating food that it wouldn't be comfortable selling. However, Randy Geist, chairman of the Manna board, said that a comfortable middle ground has been reached.
"Safety operating procedures have been revised to benefit the soup kitchen and make sure that City Market was still donating food safely," Geist said.
Geist said that negotiations began immediately after the news hit and that City Market has been very flexible. "They've been really helpful," he said. "They didn't realize the hurt they were putting on us."
In addition to resuming donations, local City Markets have gone one further. They will be setting up drop boxes for personal food donations to Manna and allowing customers to alter their Value Cards to donate a portion of profits to the soup kitchen.
Geist said that it was fortunate to resolve differences and resume a long-standing relationship. "They have been helping the soup kitchen for the last 18 years in a number of capacities," he said. "It's great to have them back on board and in full force."

Coalition calls for new wildfire laws
Last week, a statewide coalition of conservation groups including Durango-based Colorado Wild called for pending national wildfire legislation to be revised. The group is asking that federal wildfire-prevention efforts focus on protecting homes and lives rather than logging forests.
"We want Congress to give us the tools we need to protect our communities.
Now is the time to focus our attention on creating defensible space, and thinning and removing fuel around our homes," said Tom Hoffman, a red card certified firefighter for a Jefferson County volunteer fire department.
The coalition said that it recognizes that federal and state coffers are strapped for cash this year and consequently funding for such community support may difficult. As a result, the coalition called for federal legislation to focus limited manpower and money on communities rather than logging projects in the backcountry.
"Even as the spring rains continue, we know that fire is not far behind," said Jeff Berman, executive director of Colorado Wild. "Locally we know what the problems and solutions are. We're just waiting for Washington to catch up."
Public lands fees ended near Ouray
New access fees on public lands suffered a major setback in late April when the Ouray County commissioners voted to suspend a fee charged by the Forest Service in the Canyon Creek/Yankee Boy area. The vote on the popular recreation corridor near Ouray. marks the first time that a local government has overruled a federal agency.
The County commissioners` action was in response to recommendations made by the newly formed Yankee Boy Regional Conservation Association, a group formed by regional groups, including the Western Slope No-Fee Coalition. The new fees at Canyon Creek/Yankee Boy were somewhat unique, however, being the only ones in the entire nation to be invited by a local government.
"The Yankee Boy change is a positive step, but Yankee Boy is a unique situation," WSNFC co-founder and Durango resident Kitty Benzar said. "This solution would not be appropriate for almost any other Fee Demo area. It is important that Congress appropriate adequate funding to the land-management agencies and intensify its efforts to oversee how those funds are spent."
The No Fee Coalition opposes public lands fees saying they represent a double tax, discriminate against those with lower or working incomes, and enable the land-management agencies to appropriate their own funds without Congressional oversight. The program is scheduled to expire in October 2004, and the coalition is working in Washington to make sure that happens.

Banner elk season in the works
The Colorado Wildlife Commission has unanimously approved issuing 146,000 limited antlerless and either-sex elk licenses for the fall season, the most ever, as part of the long-term goal of bringing the state's elk population closer to the Division of Wildlife's population objectives.
The goal is to build on the success of last year's record elk harvest with another season where hunters harvest more than 61,000 elk during the annual fall and early-winter hunt. The Division issued more than 136,000 antlerless and either-sex licenses in 2002.
Hunting is the DOW's primary tool for managing the state's big-game populations. When game populations are above objectives, more antlerless and either-sex licenses are issued. The DOW's elk harvest objective for the upcoming season is nearly 65,000 elk, 5,000 more than last year's objective.
The Commission also approved limited licenses for deer, black bear, pronghorn and moose, similar to the totals issued in 2002. "In two of the last three years, we've exceeded our harvest objectives for elk and for the first time, we're beginning to see a decrease in the elk population in areas where we've been over objective for some time," said John Ellenberger, the DOW's big-game coordinator. "But we're still substantially above our population objectives in some areas, and we are making a large number of antlerless and either-sex licenses available in those places."
-compiled by Will Sands