Moms, autoharp and the rock-crawling championships
by Mike Sheahan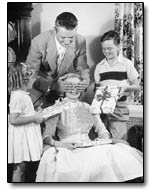 There is plenty going on this week, but whatever happens, do not forget that Sunday is Mother's Day. Even though it is almost an entire week away, and I'm thinking and writing about it now, I will still forget until the last minute. In an attempt to please all the mothers in my life, I will scramble around pathetically only to present my child's mother with some tulips from my neighbor's yard and a hand-written coupon good for "one free back rub." Rational minds know that Mother's Day is just another Hallmark holiday, but this does not matter, don't forget, guys. Payback lasts all year.
Your weekend of fun begins tonight at Haggard's Black Dog Tavern, where a collective known as Acoustic Durango will host a singer/songwriter showcase starting at 8 p.m. Songwriters Tracy Brenner, Pete Gulliani and a favorite of mine, Sand Sheff, will perform, and as far as I can tell, there is no cover. It's nice to see the folks at Haggard's stepping it up in the live music area. Especially in the summertime; it's a great place to hang out and see a show. Just figure out who's driving home before you get there.
On Monday, May 12, the DSCPA is bringing autoharpist Brian Bowers to the Durango Arts Center. Autoharpists are the exact opposite of guitar players in that everybody plays guitar. In fact, the Autoharp Hall of Fame only has four members (Bowers is one), and two of them are related. I guess what I'm driving at is, you don't get the chance to see a guy do what Bowers does every day. He has played with members of the Dillards, the Seldom Scene and New Grass Revival, and should bring a show full of old-time mountain tunes with a bluegrass feel. If you don't know, an autoharp is like a regular harp but much smaller and played in one's lap. Depending on how it's played, it can sound like a harp or even sound similar to a banjo or mandolin. Either way, this should be an interesting night of music.
If all this talk of songwriters and autoharps strikes you as a little too high society, then I have found just the thing. The Avalanche Off-Road-Vehicle Ranch is playing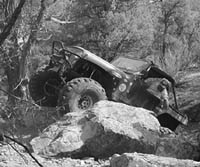 host to Cal Roc's Rock Crawling championship on Friday, Saturday and Sunday. Here's your chance to gather with your fellow outdoor enthusiasts and show your love for the outdoors by repeatedly driving huge 4x4s over a small part of it. If you don't have a 4x4 with cartoonishly huge tires but do want to drink beer and watch people try to drive up cliffs, then this is for you. I'm fuzzy on the details, but you can go to www.avalancheohvranch.com for them and some boss pictures.
How to cap off a weekend full of Bud and exhaust fumes? Just drive to Albuquerque on Wednesday, May 14, for a concert by 1980s rock legends RATT. I used to laugh whenever I heard about another of these hair bands brushing the dust off the ol'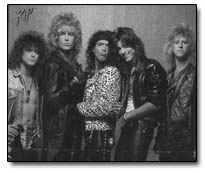 flying Vs and rotating drum kits, but now it just makes me sad. Really, RATT only had one mildly successful album and song (anyone remember "Round and Round?"), and that was nearly 20 years ago. The only reason for anyone to go to this show is if they have an incredibly developed sense of irony and $30 they don't care about. If, somehow, I've just convinced you to go, RATT will be performing at (I swear) The Midnight Rodeo. Have fun.
This week's sign that the end is near: I don't see how it is reasonable to expect college athletes to live up to some higher moral standard when even their coaches don't live up to the same high standard. Alabama football coaches are gettin' jiggy in strip clubs, and Iowa State basketball coaches are drinking Natty Light and posing for pictures at sorority parties. Even Roy Williams (Kansas) dumping his school and recruits for a huge payday at another school is despicable when the NCAA frowns upon kids leaving school early for the exact same reason.
This week's weekly album review of the week: When the alt-country poster band, Whiskytown, broke up several years ago, everyone, with the unfortunate exception of Ryan Adams, rode off into the sunset. Whiskeytown fiddle player and vocalist Caitlin Cary is back with her second record in two years, "I'm Staying Out." It is a solid collection of songs that finds her straying away from her punk-country past but keeping a firm eye on country music's history. A song like "Sleeping in on Sunday" could find a home on commercial country radio, but its four-minute running time will probably prevent that. Cary is at her best, though, when she mixes it up a little. "Please break my heart" is driven by a piano straight from a Patsy Cline single, and Cary gives a vocal delivery to match. "Cello girl," written with Whiskytown cohort Mike Daly, would've fit nicely on either of the last two Whiskytown records. Many people are calling Cary the most interesting musician to come out of Whiskeytown's rubble. If she keeps making records like "I'm Staying Out" people will start reviewing her without mentioning that other band.
My jeep has fatter tires than yours: mpsheahan@yahoo.com