Nomads of the 21st Century
The season is upon us.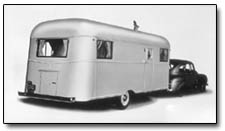 I'm not talking about mud season, the fabled summer season or the dreaded dry season. I'm referring to the season of the giant white elephant. Recreational vehicles have made an early appearance in the valley, their numbers are growing, and they're certain to be on our roads, filling our mountain passes, communing in our parking lots and summering in the valley's camper parks for months to come.
During the last quarter of my life, I've become an inadvertent connoisseur of these land whales. However, the relationship has not been rooted in the standard form of attraction. Instead, I've found that somehow I attract recreational vehicles. Over the years, my many encounters have led to a loose scientific study of the mobile cubes that so many of our golden-year brethren call home.
As for the boilerplate, recreational vehicle refers to a vehicle or structure designed to provide temporary living quarters for travel or vacation. The structure can be motorized, towable or in the case of many of Colorado and Utah's RVs, fixed in parks as permanent living quarters. Despite the appearance of some of these white boxes on wheels, RVs should have a length not to exceed 41 feet and a width not to exceed 8.5 feet. General RV amenities include sleeping quarters, kitchen, bathroom, systems for fresh and wastewater, electricity, propane, heating, air conditioning and entertainment. As nearly anyone who's camped in a public campground can tell you, this whole works is frequently powered by a generator that's happiest running late at night. The entertainment features of recreational vehicles range from basic radio/stereo to Direct TV/home theatre set-ups.
RVs also boast colorful titles. Some suggest a standoffish approach to tourist travel, demanding respect with names like "Prowler" and "Intruder." Others are more whimsical and seek acceptance in Western communities with names like "Fiesta," "Flair" and "Fun Mover." RVs like the "Genesis" have biblical overtones while names like the "Land Yacht" and "Nomad" hint at the craft's calling.
I accidentally began my study of the RV on the long drive north. As I set out for a summer of Alaskan fishing with a friend, a Toyota hatchback and a tent, little did I know that the Alaska National Highway was also the Mount Everest of RV trips. Rather than driving alone to the last frontier, we too often found ourselves squeezed between a Winnebago Expedition and an Itasca Jamboree. Our visions of sitting around campfires with Athabaskan medicine men were replaced by conversations deep within the Yukon about Molson beer and Canadian cigarettes with the proud owner of a "Land Yacht." (Editor's note: The drive to Alaska remains the most amazing road trip available to any motor vehicle operator. Its beauty and wonderment have been deliberately overshadowed in order to help the story.)
Years later, I repeated the long drive north, this time with my wife Rachael. Like Everest, the world's longest RV trip had grown in popularity. My earlier drive had been haunted by stretches of 200 miles between gas stations and areas of washboard that crossed entire Canadian provinces. This time, we found a highway that had been paved end to end as well as spots nearly every hundred miles where RV drivers could pull over, pull out the black snake and leave their dead weight behind. During a particularly surreal experience, I awoke in the middle of British Columbia with white moving all around me. Panic-stricken, my wife was at the wheel of the car cursing and blaring the horn. Somehow, we'd entered an RV gauntlet. A "Komfort" had us pinned up against an "Ultimate Freedom" as an oblivious "Sedona" backed toward us at full speed. Several days later, we met the drivers of the "Ultimate Freedom" at an unplanned road stop. As will happen in the Yukon, the end of a bridge had collapsed. Luckily, the time passed quickly with the "Ultimate Freedom" sharing two full revolutions of Barry Manilow's "Copa Cabana" album as we waited.
Since those journeys, I've heard other tales of RV horror. One friend spoke of rounding a bend at 50 mph only to have a giant "W" staring her in the face. The RV had stopped dead in the middle of the road for a little bird watching. Another mentioned following a "Supreme" and 16 other cars at 18 mph from Ouray to the top of Red Mountain Pass. Only at the Idarado switchbacks was he able to yell "Pull over!" up to the oblivious driver. From a legendary Telluride drug dealer, I heard a tale of the RV that deceived the DEA for more than a decade. Using an older couple with a bad Las Vegas habit, a sombrero and a retrofitted Winnebago, he had successfully trafficked tons of dope over the Mexican border and through the Reagan and Bush administrations and the War on Drugs. On the flip side, one acquaintance accidentally spent two nights at a Capitol Reef RV park nursing a sick automobile. What he described was not a senile, never-ending bridge game, but a raging party of over-the-hill swingers. The party got going as soon as the sun set with martinis and Neil Diamond and concluded with a wrinkly game of Musical Winnebagos.
Come to think of it, I've never met a hostile or angry RV owner. For the most part, they tend toward innocent oblivion, masters of spacing out. That includes the man piloting the 41-footer that rolled by my office the other morning. With a custom stenciling reading "Paradise Found," an older bespectacled gent waved kindly at a passerby on the sidewalk, unaware that he'd nearly smeared a cyclist in his blind spot. He just kept on rolling.
Perhaps, the RV is the great American payback near the end of the journey. And perhaps we'll run into "Paradise Found" again when Rachael and I will ship Skyler off to college in 18 years, put a down payment on a "Leprechaun," load up and make that trip north to Alaska for a third time.
-Will Sands