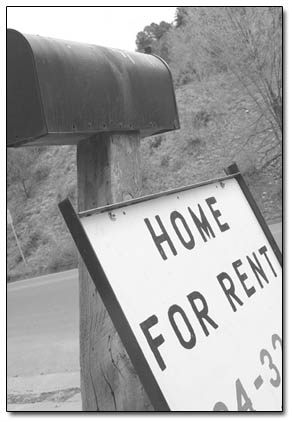 A "for rent" sign sits in front of a Durango home recently. Some Durango property managers are reporting vacancy rates as high as 8 percent, a departure from the norm of 2-3 percent. Many blame the soft market on low interest rates and last summer's fires./Photo by Todd Newcomer.
It's a good time to be shopping for rental housing in Durango. Not only have thousands of college students just packed up and left, but the rental market has been soft since last fall. A number of local property managers point to an abundance of available rentals and a somewhat slimmer pool of renters currently.
Dawn Wright, broker associate with Durango Property Management, said her company has been having a harder time filling the rentals it manages. Since last fall, Durango Property Management has had four times its usual number of vacant rentals. These vacancies are in all types of housing, including studios, condos and single-family homes.
"Since about October, our vacancy rate has been at about 8 percent," Wright said. "It's usually between 2 or 3 percent."
Wright credited low interest rates for the soft market, remarking that not only have long-term renters been buying homes, but long-term homeowners have been buying investment properties and flooding the market.
"I think it has a lot to do with the interest rates," Wright said. "People who always dreamed of buying are buying. There are also a lot of homes that used to be owner-occupied that are being bought as investment properties and put into the rental market."
Like Wright, Caroni Adams, broker of the Property Manager, has seen a huge downswing over the last year and named last summer's wildfires and the resulting economy as culprits.
"June is traditionally one of my biggest move-in months," Adams said. "Last June, everybody just stood in the street and watched the fires. We hardly got a single call during the entire month. I am definitely hoping that this summer will be better."
As for October, Adams witnessed a widespread move out of her units from business layoffs, again resulting from the fires. "If the business is doing well, they hire employees, and they move into rentals," Adams said. "If the business is doing poorly, the rentals are empty."
In addition to increased availability in the rental market, Adams said that rent prices also have dropped. "Where we used to get $1,200 a month, we now get $1,000," she said. "I don't even have anything for over $1,200. I wouldn't get it filled. In the under $800 a month category, things fill up pretty quickly."
On the supply side, Adams agreed with Wright and said that low interest rates are creating vacancies. "We're losing a lot of tenants because they are buying homes," she said. "I'm also seeing a lot of locals buying second homes and renting them."
Moira Compton and her husband recently bought their third home in the Durango area. For the last several years, they have successfully played the landlord game and even found a new tenant last week in the midst of college move-out. In spite of their success, Compton said she routinely hears from people who have trouble renting their investment properties. However, she added that there are too many "dumps" in Durango.
"Ours are existing homes that people have actually lived in," she said. "We made improvements that we were satisfied with. A lot of people have rentals or buy rentals and don't do any repairs."
Sandra Tischaefer, owner/broker of AREM Property Management, agreed that interest rates are turning many renters into owners, saying, "I do know that it is occurring. If a tenant can get two or three people together and get a down payment, why not? But, I do think with the current economy, it can be difficult to get that down payment. It can take six months or even a year of saving."
Tischaefer said that her condo business took a small hit last fall when Hillcrest Apartments released another 100 units onto the market. However, other than that, she has not seen a downturn.
"We've seen consistency," she said. "We did come down in some of our condos and townhomes. But we're not seeing the gloom and doom of the 8 percent vacancy rate in our market."
Durango City Planner Greg Hoch said that while business may be tough for some property managers and landlords, an excess of rental units will be good for Durango.
"Competition is healthy," he said. "If there are this many units on the market, rents will probably drop. People may also realize that they need to sell their investment properties and open up home ownership to others."
Adams, of the Property Manager, also is optimistic about the current situation. Citing her 17 years in the business, she said, "I've been through these ups and downs many times. It always balances out."