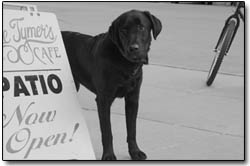 Eating Out: A black lab awaits its owner while escaping the long arm of the dogpolice
law outside a downtown restaurant recently. /Photo by Todd Newcomer
Senior V-P steps down at DMR
Bob Kunkel has announced that he plans to resign from his position as Senior Vice President of Durango Mountain Resort but has agreed to maintain a long-term outside contract relationship with the resort.
"I made a commitment to help the resort improve its operations, establish a new brand image and improve its relationship with its customers, its staff and the community of Durango," said Kunkel. "I feel I have done that, and now it is time to step aside and let others take the day-to-day operations of the resort further down the road to realizing its full potential."
Kunkel added, "These last few years at the resort have been very exciting, but at times I was stretched an inch deep and a mile wide. Now I can focus on a limited number of strategic initiatives that are critical to DMR succeeding in its next phase of growth and development."
Kunkel intends to re-establish his consulting business and maintain an office at the downtown DMR facility, from which he will serve other tourism, recreation and service-industry clients in the area.

A-LP blasting stalled until mid-May
With blasting and major excavation planned near downtown, Durango residents are going to get a strong taste of the Animas-La Plata project in coming weeks. Construction on a large pumping plant across from Santa Rita Park has been delayed approximately one month, and heavy work including morning dynamite sessions is set to kick off mid-May. Local residents can expect blasting nearly every morning for the entire summer.
As planned, A-LP will take water out of the Animas River and pump it up to a reservoir 2.5 miles south of Durango in Ridges Basin. Construction on the project got under way early last summer in the expansive natural bowl of Ridges Basin. This summer, construction will take place a little closer to home at the base of Smelter Mountain.
Across from Santa Rita Park, crews will work to excavate a hole that will eventually be 60 feet deep, 200 feet long and 40 feet wide. Currently, site preparation is taking place including the creation of roads, erection of safety fencing and initial topsoil removal. However, much of the excavation will be accomplished with explosives, and Pat Schumacher, A-LP projects manager, said that Durango should expect blasting nearly every morning throughout the summer.
"Once they get down to bedrock they'll have to begin blasting," Schumacher said. "I think they've got between 60 and 70 blasts planned, which means if they go nearly every day it could take most of the summer."
Schumacher said the current date for the dynamite work to begin is set for Monday, May 12. Plans are for blasting between 5 and 6 a.m. in the morning with detours on Highway 3 around the intersection of Santa Rita Park and U.S. Highway 550.
Construction of the pumping plant is expected to take five years. When completed, the pumping plant will lift water from the river up through an inlet pipeline into Ridges Basin.

Overdrawn LPEA makes large cuts
Last week, La Plata Electric Association, the energy cooperative serving La Plata County, took steps to return to profitability. In an effort to get LPEA out of the red, three administrative positions have been laid off, the group's advertising budget has been slashed by one-third, and 23 other employees will be offered early retirement options.
David Waller, LPEA spokesman, said that the cuts are expected to save the co-op $1.3 million. Last year, LPEA ended the year $1.05 million in the hole.
In addition to the cuts, LPEA passed on a rate increase to customers around the first of the year. The 10 percent hike was the second increase in nine months and primarily covered rising power costs. A portion of the increase also will cover $5 million in debt accrued by Wesodi, an LPEA fiberoptics subsidiary.
"We've had two rate increases from Tri-State in the past year that we've had to pass on to our members," Waller said. "Hopefully the members will take it more easily if they see that we're doing everything we can to reduce our expenses."
Waller added that part of the reason LPEA ended the year so deep in the red was Wesodi's losses. He said that the company plans to be profitable this year. "There is hope that the association will be profitable this year," Waller said. "We're doing everything we can to reduce our expenses."

Campbell works to spur drilling
A proposal spurred by Sen. Ben Nighthorse Campbell, R-Colo., could make it easier and more cost effective for Indian tribes to develop their natural resources. This week, the U.S. Senate Energy and Natural Resources Committee amended its energy bill to include provisions designed to spur energy development on Indian lands, including the substantially developed Southern Ute Reservation. Opponents charge that it would allow tribes to skirt EPA regulations.
"The Senate Energy Committee took concrete steps to help tribes overcome the obstacles to energy development on their own lands," said Campbell, a member of the Energy Committee and chairman of the Committee on Indian Affairs.A0
The provisions would create an Office of Indian Energy Policy and Programs; authorize financial, technical and capacity-building assistance; provide for liberal land leasing; and requires public participation on environmental and related matters.
Campbell suggested that the amended bill would help tribes and reduce dependence on foreign oil. "With our country importing 57 percent of our energy supplies from abroad it makes sense to increase production at home and that includes Indian energy," he said.
Not surprisingly, a number of tribal organizations are in support of the change including the 50-member Council of Energy Resource Tribes (CERT), the Southern Ute Indian Tribe, the DinE9 Power Authority and the Cherokee Nation.

City water flush stirs up residue
Durango residents who notice a slight brown tinge in their drinking water in coming weeks need not worry. The city of Durango is in the process of its annual water main flush, and the discoloration is residue from the pipes.
"Every year we do a spring flushing and exercising of the valves in the water system," said Public Works Director Jack Rogers. "Sometimes that stirs up a little rust in the pipes."
Rogers advised that people who notice discoloration run their taps until the water clears. The spring flush is expected to take the next three weeks and will impact most areas of town.
"There will probably be some disturbances in all parts of town except the newer sections," Rogers said.
-compiled by Will Sands