Playing in the dirt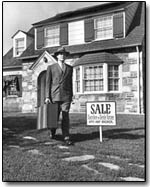 I've played the Durango real estate game a few times now and come up with mixed results. My first trip around the great 81301 roulette wheel was probably the most interesting but only because it resembled a country music song and was full of heartbreak and desperation.
Loan approval in hand and down payment collecting dust, my wife Rachael and I faced a lease that ended May 1. We'd started home shopping months prior but were having little to no luck finding our dream home. Our definition of dream home had also gone from a painted lady on East Third to anything with a foundation inside city limits. Even that proved challenging, and we found ourselves looking at homes in such far-flung locales as Hesperus and Purgatory.
As the days ticked away, our Realtor was scrambling but only had bad news.
"Here's a place that would have been perfect. But it went under contract before it hit the Multiple Listing Service."
Several days later, we called about a yard sign we'd spotted near Park Elementary. "It's under contract and already has a back-up contract."
After a couple more of those and a lot of dead air, something broke. "I've got a line on a perfect house on East Fourth that a woman's planning on listing. You guys will have the first crack at it."
We celebrated by driving up and down East Fourth and playing "guess the house." Two days later, that dream also fell apart. On the message machine, a voice said somberly, "Um, I've got a little bad news. That woman on Fourth decided to sell it to her neighbor. We'll keep looking."
Just then a little hope flashed on the scene.
Throughout our quest for a local home, I religiously picked apart the For Sale By Owners in the classifieds and particularly the "Homes in Town" section. Just as our new life on East Fourth went up in smoke, the page turned and another door seemed to open:
Recently Remodeled: 2bd home close to downtown. Great yard, decks, mature trees, garage.
The phone flashed to my hand, and I dialed immediately. After three rings, a man picked up and said three words I honestly can't remember because I haven't heard them since. He answered the line something along the lines of "Gold Nugget Realty," and I distinctly felt like I was talking to someone in another state. My first inclination was to hang up, but we were hungry.
"Yeah, I'm calling about the home in town you have advertised," I said cautiously.
"You called the right place," he replied eagerly. "So you're looking for homes downtown. Let's get started with your name and phone number."
I felt a sudden twist in my stomach but he had me, and I foolishly gave out the precious information before asking, "Um, what about that house in town?"
"Oh, that," he chuckled slyly. "That house is in Durango West. When do you want to see it?"
"We're looking for a home in town," I replied with a little edge in my voice.
"Don't worry. I'll find you your home in town," he boasted. "How many bedrooms you want?"
"We already have a Realtor," I said with a lot of edge in my voice.
"Well what are you doing calling me then?" he snapped back. "Obviously he should be doing a better job. It doesn't hurt to have more than one person looking."
I was dumbfounded as my new best friend returned to his friendly voice and said, "I'll generate some listings and get back in touch with you." He then hung up.
The good news was that Mr. Gold Nugget never called me back. Who knows? Maybe he's still out there looking. The other good news was that we eventually found our house in town. I guess after more than a few spins on the roulette wheel, you eventually wind up with a winner.
Still, the odds in Durango are not good ones. Prospective homeowners face a lack of inventory that's created rapidly escalating prices. It makes for a generally ugly experience for the buyer and a rosy one for local sellers. I can't give you a solution, but the numerous developments being proposed on Durango's outskirts are trying to. It's a simple equation – add more homes and people have to call "Gold Nugget Realty."
In the midst of proposals that will double the size of the city, there's talk that Durango will be saved and everyone will have a home. It's a noble sentiment, but I have some doubts.
Barring total economic collapse or hard regulations, prices are not going down that easily. I've seen crafty proposals in other towns in Colorado that resulted in doublings of the population. However, the blue sky thickened and prices also doubled and even quadrupled in one case. Direct extensions of the town grid ended up becoming the most exclusive sections of the town, whole neighborhood blocks of second homes that sat empty for much of the year.
Even having been through the wringer in Durango, I know that pure numbers are not the answer. Until something dramatic happens outside Durango or we can come up with some creative solutions inside Durango, the local real estate wheel will keep on spinning.
– Will Sands