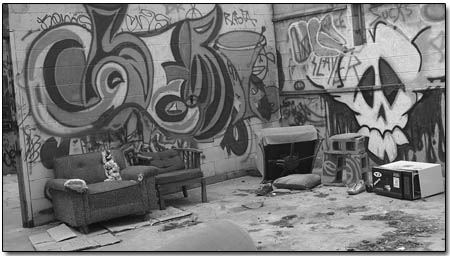 A hollowed out building is marked with graffiti in downtown Durango. Despite a flourishing of gang activity in Northern New Mexico, including Farmington and Aztec, local police say gang-related crime has yet to make its way north of the border. /Photo by Todd Newcomer.
Gangs are flourishing just across the Colorado/New Mexico border. Farmington, Aztec and other areas of Northern New Mexico have become havens for street gang activity that is widespread and becoming harder to spot. On the up side, local law enforcement says the trend crosses the border and into La Plata County only occasionally and has yet to prompt local concern.
Since Jan. 1, two drive-by shootings have taken place in Farmington, and officers apprehended four heavily armed individuals roaming the streets late one evening.
In a likely related incident, a driver of a vehicle lost control and crashed the same night. Upon investigating the scene, officers found five pistols, one of which was clutched in a dying man's hand, as well as an assault rifle.
A different kind of demographic
The Farmington Police Department Gang Enforcement Unit reports that there are 15 known gangs in Farmington containing 519 members. An additional seven gangs call Bloomfield and Aztec home; Kirtland has two gangs; and eight gangs reportedly roam the Navajo Reservation. Unlike the notorious Bloods and Crips, Northern New Mexico's gangs are frequently mixed race and hard to differentiate. They have names ranging from Chicano Pride and Southside Locos to the Latin Kings and the Westside 60s.
With an eye on a situation that is worsening, Farmington Detective Sgt. Pat Cordell said that the number and intensity of gangs in Farmington is a good barometer of community health. He noted that people generally join gangs because they are missing something on the home front. Once gang members are inside, the gang becomes appealing for other reasons.
"It's indicative of a bad family environment where a child is looking for a sense of belonging," Cordell said. "But it quickly can become somewhat lucrative when they get involved in the criminal activity."
Judy Pacheco-Sanchez, program director of Albuquerque's Gang Intervention Program, concurred. Youth Development Inc. established the Gang Intervention Program to work with individual gang members and expose gang them to positive alternatives to gang-banging.
"Some join for a sense of belonging, and others are intimidated into it," Pacheco-Sanchez said.
In Albuquerque, there are 90 documented gangs and an estimated 8,000 gang members. Pacheco-Sanchez said that people also join gangs for another reason – it's the family business. "Others are born into it and following in the footsteps of their parents and even grandparents," Pacheco-Sanchez said, noting that gang members can range in age from 11 to senior citizens.
In the business
When it comes to street gangs, going into business usually means trafficking drugs, methamphetamine and crack cocaine in particular. Cordell commented that dealing and trafficking drugs creates one set of problems for law enforcement and another set of related problems involving damage and theft of property.
"Drugs are always going to be a big part of it," he said. "From demand for drugs, you get property crimes including theft and burglary."
Violence is another direct spin-off of drug trafficking. Cordell related a situation of two rival gangs, one selling crack and the other selling meth. He said that the crack-oriented gang made an entrance into the methamphetamine market, drove the price down and provoked a hostile response. "The gang that originally had the meth took steps to control that market," he said.
The intensity of violence also has grown, according to Cordell. It is now common for gang members to be equipped with firearms, and assault weapons are not uncommon.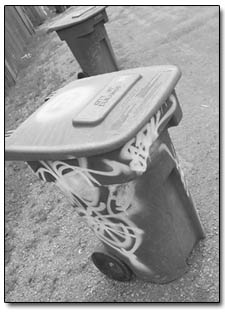 Spray-paint tagging is a common way gang members mark their territory. However, local law enforcement says gangs have become more discreet in how they identify themselves, opting for mainstream colors and signs in an effort to escape the scrutiny of local police./ Photo by Todd Newcomer.
Welcome to New Mexico
Cordell and Pacheco-Sanchez said that one of the reasons Farmington and New Mexico as a whole have their hands full with gang activity is that the state is generally more lenient on crime. Both said that known felons have flooded into New Mexico from urban areas on both coasts. Specifically, they cited California's "Three Strikes and You're Out" law as a major gang motivator. The law basically means life in prison for people convicted of three felonies in California. Cordell noted that there is nothing in New Mexico even approaching an equivalent to the law.
"Instead of three strikes and you're out, we have the two strikes and you move to New Mexico," he said. "We're sorely in need of some legislation to make this less of an appealing place for gang members. But remember, this was also one of the last states to adopt sex-offender registration."
Pacheco-Sanchez agreed. "We've been hearing that for quite a while about many states and especially California," she said. "Gang members can get away with drug trafficking for a few weeks there or they can come to New Mexico and get away with it for a couple years."
However, light legislation is not the only thing enabling gang members to prosper. As law enforcement has clued into their habits, gang members have become savvier.
Gang members' "colors" now tend toward the mainstream. Gone are the days of Raiders jackets and red bandanas. Markings are now considerably more subtle.
"Initially when the gangs first started becoming obvious they were very extroverted about being gang members and wore specific clothing and had certain tattoos," Cordell said. "They realized they were drawing attention from the police and having trouble doing business."
Over the border
Whether the gangs of Farmington, Aztec, Kirtland and the Navajo Reservation have crossed into Colorado and started doing business in Durango is difficult to discern. If there is a significant gang presence in Durango, it's also a discreet one, according to local law enforcement.
Captain Dale Smith, of the Durango Police Department, said that with the exception of some isolated incidents, local officers have not seen gang activity in downtown Durango.
"Some of the gang-bangers come up from the New Mexico area to Durango, and some probably even live up here," Smith said. "But all of the activity is focused down there."
Kelly Davis, a sergeant with the La Plata County Sheriff's Office, agreed, saying, "What we see are incidents that are few and far between if we can even attribute them to street gangs."
However, Davis added that local law enforcement is aware of the situation in New Mexico and has its guard up. "We know they're out there, and we know that occasionally they have conflicts over whose area of influence this is," he said. "Still, it hasn't manifested itself in much street-level activity."
Having had its hands full of street-level activity, the Farmington Police Department is happy for a break between flare-ups, according to Cordell.
"We kind of had a flurry of activity around the beginning of the year, and it has subsided." he said. "Hopefully, it will stay that way for a little while."