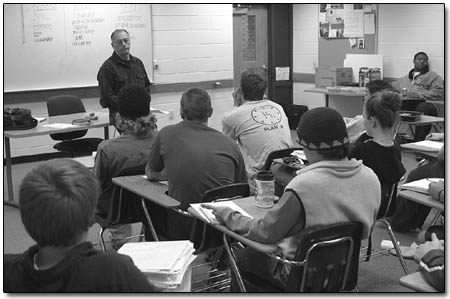 Members of Master Plan Ministries attend a "Cross Training" meeting last Monday as Nate Herbst discusses future programs and current attendance levels. Presently, 150 students are members of the group. /Photo by Todd Newcomer.
On the day Chicago-native Matt Sheddon arrived at Fort Lewis College to move into the dorms by himself, he met several members of Master Plan Ministries, a non-denominational campus Christian group.
They were there as part of an annual event to help freshmen move into the dorms, and they helped Sheddon and then invited him to dinner that night. Since he didn't know anyone on campus, he accepted their offer, and eventually got involved with the group.
Now, almost three years later, he's the treasurer of Master Plan, and he has also been a Resident Advisor at FLC living inside the dorms for the last 2 1/2 years.
In fact, at least a third of the college's RAs are members of Master Plan Ministries, which has stirred up a controversy on campus. Some residents and their RAs contend that members may be using their positions as Resident Advisors to pressure freshmen into joining Master Plan.
When he joined, Sheddon said he felt some pressure to change his lifestyle. Because members of Master Plan do not drink alcohol, do drugs or have premarital sex, Sheddon said he didn't like the group for the first year and a half because he thought members didn't approve of his lifestyle, which involved "sleeping around, kind of," and drinking.
"When you know where they stand, you feel they're judging you...but they're not," Sheddon said.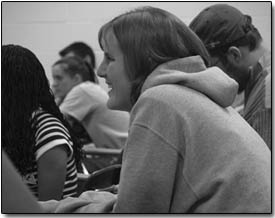 Some members of Master Plan Ministries liken the group to a "big family." However, a large percentage of Resident Advisors are members of the group,
prompting concerns. /Photo by Todd Newcomer.
Master Plan Ministries was founded at Fort Lewis about 20 years ago by Durango native Russ Akins, who still acts as its director. Currently, there are over 150 active members at the college; the group also has a presence at Grand Junction's Mesa State College.
According to the group's Website, its goal is "preparing others to reach and influence the world for Christ through spiritual multiplication."
Master Plan activities include Welcome Week, when members help freshmen move in, trash collection days, when members go to dorm rooms collecting garbage, retreats at the group's lodge near Cascade Village, Thursday night men's meetings, Friday night two-hour "S&L" worship services, weekend get togethers, outdoor activities like kayaking and hiking, and about a dozen Bible study sessions each week.
Akins noted that Monday night features a "Cross Training" meeting to help members deal with some campus hostilities, saying that certain FLC professors are "anti-Jesus, anti-Bible, anti-God...false intellectualism."
In the "basics" segment, members discuss questions like "how do you know Jesus was real," according to Akins. In the "apologetics" segment, members learn how to answer questions from people who may have doubts about Christianity, like how a loving God could allow war. "Disciple building" focuses on leadership, or as Akins said, "How to develop and train other people who are learning."
This level of involvement and activity has been largely responsible for raising hackles on campus.
"It's definitely a topic of discussion among non-Master Plan RAs," said Aimee Goddard, a current non-Master Plan RA. "Most of them are really good people, but they aren't getting a lot of monitoring."
Goddard said she has heard concerns that Bible studies are held by RAs as official campus programs in the dorms, and that she has had Jewish residents complain about the name "Master Plan," as it has Nazi Germany connotations.
Goddard's main concern is that some Master Plan members are using their positions as RAs to recruit freshmen members.
"From what I've heard from residents, there are almost whole halls of students that they've recruited," Goddard said. "I definitely think it's an issue, and it's unethical, really."
Goddard said that she is the president of Feminist Voice, but has kept her personal biases out of her position, and that none of her residents are members "because I haven't pushed it on them."
Goddard said she has expressed her concerns to her direct supervisor and other housing officials, but isn't sure if they will address the situation or change their hiring policies.
"It's a fine line for housing to walk. They can't not hire someone because of their religious beliefs – that's blatant discrimination," Goddard said.
Andy Sheston, director of FLC housing, said he believes that of 24 total RAs, there are currently eight who are active in Master Plan.
"They're more organized this year, from what I've heard," Sheston said.
Sheston said RAs are responsible for weekly registered programs to involve residents, like Superbowl parties, learning about careers in the outdoors, and quilting workshops. He said RAs who are members of Master Plan are permitted to have one Bible study count as a registered program, provided the meetings are open to everyone.
"We as a department promote diversity and inclusiveness," Sheston said.
Sheston said that if you believe rumors, his department is planning to hire all Master Plan Resident Advisors. However, he added that when he mentioned the rumors to his assistant director, who has worked in the department for years, "She just chuckled."
He said that in the past, the department has been accused of exclusively hiring football players and homosexuals.
"It gets to be more than three people and it's a conspiracy," Sheston said.
RAs for next semester have already been hired, and Sheston that he doesn't know how many are members of Master Plan.
He said RAs are recruited with an ad in the Independent, posters, and by asking each current RA to find one or two residents to recommend and give an application.
One current RA, John Fildes, is the president of Master Plan. He said that though many of his residents have become involved in Master Plan, he hasn't actively promoted it – they just associate him with the group and its activities and approach him with questions. It's then that his commitment to the group and its principles surfaces.
"A lot of my residents have ended up getting hooked up with Master Plan," Fildes said. "It's just a part of me. I can't help it sometimes."
Fildes credits the organization with helping him stop stealing, raising his GPA from 2.06 to 3.03, learning to make friends, and gaining confidence. He said it is easy to abstain from drinking and having sex.
"I've fallen in love with God, and I don't want to do anything to break his heart," Fildes said.
Akins said this kind of passion for Christianity and Master Plan makes the current membership special.
"This year's and last year's groups are the most outward loving type people I've been around," Akins said. "There's a lot of time they spend together – it's like a big family."