From Grassolean to Solar Cooking
Durango gets down for Earth Day
written by Jennifer Reeder
Flowers are blooming, rivers are rising, and Durango's biggest Earth Day ever is set to usher in spring on Saturday, April 19. The event will feature a day of music, kids' activities, giveaways, more than 50 information booths, speakers and slide shows, a solar expo, and even an environmental rapper – all for free.
"It should be almost like a little city here. That's what we're hoping for," said John Shaw of the Smiley Building, the event's venue.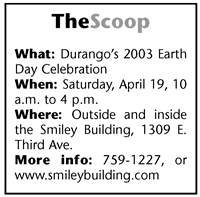 Shaw is co-owner of the Smiley Building and an organizer of Durango's Earth Day. Shaw bought the former middle school with his brother Charles and Lisa Nublock in 1997 with the goal of providing "a public place to serve as an example of what you can do (to conserve energy in a business)."
The roof of the Smiley Building is outfitted with solar panels that supply about 25 percent of the building's energy and a third of its heating.
"We want conservation and sustainability to become much more mainstream," Shaw said. "It's not just for hippies anymore."
Earth Day is a perfect opportunity for the community to come and see what it's all about. Tom Bartels, former owner of the Abbey Theatre, will emcee the day-long event, where there should be something for everyone.
"We don't want this to be really heavy," Shaw said. "The main goal is to have a good time."
Earth Day Schedule:
Outdoor Earth Day activities at theSmiley Building:
10 a.m. to 4 p.m. - Free event: kids activities, information booths, live music, speakers, tree planting, giveaways, solar expo, vendors and more
10:30 a.m. – Bluegrass with the Magpies
12 noon – Jazz with the Recyclers
1 p.m. – Charris Ford, aka the Granola Ayatollah of Canola, environmental rap
1:30 p.m. – Drumming with Kulu
2:30 p.m. – Big Money and the Corporate Citizen rocks
6:30 p.m. – Laura Love concert in the Smiley Theater, Melissa Crabtree opens; $16 advance at Southwest Sound, $18 at the door.
Indoor Earth Day presentations in Smiley Building, Room 16:
11 a.m. – Travis Reeder from Ecos Consulting on the community wide benefits of energy conservation and how they can be implemented by the utility company.
12 noon – Tim Wheeler on the importance of a strong local economy.
1 p.m. – Dylan Norton on Durango's water future.
2 p.m. – Sherry Fuller of Cliffrose Nursery in Cortez on xeriscape.
3 p.m. – Kari Bremer, of Fountain of Earth~Design & Construction, and Eric Husted, of Lorax Forest Care, will show slides and lecture on traditional, conventional and sustainable approaches to both forestry and residential construction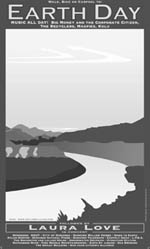 Music lovers will enjoy bluegrass from the Magpies, jazz from the Recyclers, and rock from Big Money and the Corporate Citizen. Kids and their parents can join in a drumming circle, led by Durango local Kulu. Kids will have plenty of other fun stuff to do too, with games, bubble machines, and jugglers on the premises. The Children's Museum of Durango will offer face painting, a square-wheeled tricycle that runs on a special track, rubber band paddle boat races, and teach Sun art, where children use a large magnifying glass to burn art work or their names into a block of wood. Durango Nature Studies will help kids learn about solar power with a large solar oven to cook food, and then they can build their own "solar cookers."
For grown-ups, there will be about 50 information booths with hosts like environmental groups, natural builders, and nurseries. There will also be food vendors with goodies available for purchase.
Plus, lots of drawings for giveaways, Shaw said.
"We want everyone to leave with something," he said.
Giveaways will include compact florescent lights, and a number of water conservation aids from the city. Jack Rogers, director of public works, said the city is working harder on its water conservation efforts, and hopes to reduce per capita water consumption by 10 percent in the near future.
"We can make our water system go a lot further if we all use less water," Rogers said.
He said city officials will have an Earth Day booth with information about lawn watering and recycling. They will also be giving away shower timers, water faucet aerators, which slow the flow from 2.2 gallons a minute to 1 gallon a minute, and sprinkler catch devices that help measure if a lawn is being overwatered.
"We're just happy to be participants," Rogers said.
At the solar expo, Charris Ford, founder of Telluride's Grassolean Solutions, will showcase a car that runs on biodiesel made from used french fry grease.
"We were instrumental in getting the first 100 percent biodiesel powered city bus in the nation in Telluride two weeks ago," Ford said Saturday.
Ford and the other members of Grassolean Solutions are fairly unique in the biodiesel industry because they use recycled grease instead of new oil, which is much more common. As he says in one of his "eco raps" – which Durangoans will likely get to hear Saturday:
"So Here is the latest on French Fried Potatoes
It's a Good thing that everybody's so stoked on the taste
But there's four billion gallons of fryer grease just goin' to waste.

The oil from the seed of almost any vegetable plant
Can fuel your diesel rig by pourin it straight into the tank
I know so cause I keep on doonit so don't tell me you can't

You see, I need a vehicle to meet my vehicle needs,
Ya know fer carry-in loads, you know to travel @ speeds.
I got that veggie fuel burnin now I'm rollin with ease
Is that the scent of French fries I'm smellin' on the breeze?"

Ford said he is looking forward to Earth Day and what participants might take away from it.
"Proactive, solution-oriented lifestyles are always more fun than giving up and being depressed," he said. "There's a lot of cause for celebration and excitement."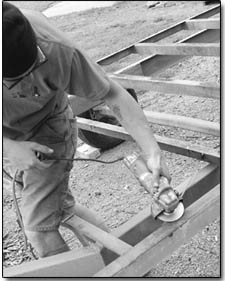 Abe Saunders prepares the Earth Day stage in the Smiley Building courtyard Tuesday afternoon./Photo by Todd Newcomer.
Indoors, Tim Wheeler, Travis Reeder, Dylan Norton, Sherry Fuller, Eric Husted and Kari Bremer will give Powerpoint and slide shows on supporting the local economy, energy conservation, Durango's water future, xeriscaping, and sustainable building and forestry. Additionally, most studios in the Smiley Building will open and showcasing their business specialties, such as tai chi, yoga, painting, ceramics, and using computers with photography.
The day will conclude with an evening concert by Laura Love in the Smiley Theater. Local favorite Melissa Crabtree and her band will open the show, which costs $16. Shaw said 10 rows of seats will be removed for the concert for dancing.
"We'll have Durango's biggest dance floor going," Shaw said. "You don't want to sit down for this show."
Shaw said he hopes Earth Day will draw the local community together after the war in Iraq has been so divisive.
"Instead of 100 to 200 people, we're hoping for a thousand or so," Shaw said. "And good weather."
For more information on volunteering or hosting an Earth Day booth, call 759-1227, or visit www.smileybuilding.com.