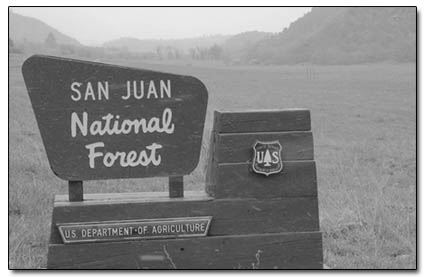 A Tuesday morning snow shower works its way through the San Juan National Forest near the Falls Creek subdivision. /Photo by Todd Newcomer.
When Mark Stiles begins work as the new supervisor of the San Juan Public Lands Center next month, he's likely to have his hands full. More than a year of interim supervision at the headquarters of the area's Forest Service and Bureau of Land Management, last summer's wildfires and other factors have led to some disarray, and Stiles is the first to admit it.
"Things are far from falling apart, but anytime you have a year without a supervisor, you've got some things on the back burner," he said.
Ann Bond, public affairs officer for the San Juan Public Lands Center, agreed, saying, "We are absolutely overwhelmed."
Last week, the San Juan Public Lands Center announced that it had named Stiles to the position of San Juan Forest Supervisor/Public Lands Manager. Stiles has had a storied career in public land management and is currently the BLM Western Slope Center manager, overseeing 7 million acres of public land in western Colorado. He has been the BLM Montrose District Manager, served in the Washington, D.C. office for the Office of the Secretary of the Interior and worked as the BLM South Dakota Area Manager. Stiles also held positions as a land use specialist in North Dakota and a regional economist in southeastern Utah.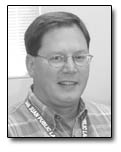 Mark Stiles
In his new position, Stiles will be responsible for managing all of the Forest Service and BLM lands in southwestern Colorado, a job that was last held by Cal Joyner over a year ago. Since that time, acting supervisors have filled the opening on a temporary basis. Stiles himself served in the capacity from May through September of last year, during one of the office's most turbulent times – the Missionary Ridge fire
Stiles said he expects the aftershocks of the fires to hit the office for years to come.
"The effects of that fire in terms of workload will be around the office for another five to 10 years," he said. "We've got to get that in perspective as soon as we can. My job as leader will be to get that in perspective and get back to some normal work."
For many, and particularly for applicants for Forest Service and BLM permits, getting back to the normal day-to-day will be welcome. A number of complaints have been aired that work has slowed dramatically at the public lands center.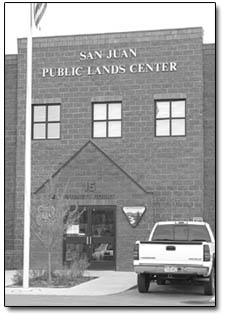 The San Juan Public Lands Center building at the Durango Tech Center. /Photo by Todd Newcomer.
Aaron Brill has been working for the last three years to get a BLM permit for unguided skiing for Silverton Mountain Ski Area. Brill owns 350 acres of old mining claims on the 13,487-foot Storm Peak, roughly six miles from Silverton. However, he has gone after a permit to allow skiing on 1,300 adjacent acres of public land. Silverton Mountain has now been open for two seasons of guided skiing and the permit has yet to materialize.
"At this point, I'm three years into an application to use some public lands for a public use," Brill said. "Unfortunately, the BLM process is about 200 percent over budget and a year-and-a-half behind schedule which is very tough for a small business. I would have thought we would have ended this process a lot sooner."
Brill credited much of the delay at Silverton Mountain to what he called "analysis paralysis," saying, "The study of the project has developed a life of its own. But, our issues have been the same since the beginning. It's really unfortunate."
However, Brill said he worked briefly with Stiles last summer and is excited that he will be taking over the public lands center. "I think Mark Stiles is a definite improvement," he said. "Mark will do a great job. I've only met with him once, but being familiar with small towns, he'll understand the needs and concerns of a rural community better than his predecessor."
On the other end of the Forest Service and BLM process, the San Juan Hut Systems is also experiencing frustration. Last February, Joe Ryan and Greg Randolph approached the San Juan Public Lands Center with a proposal to create a hut-to-hut route between Durango and Moab. The system would allow for self-supported rides between the two mountain bike meccas, with nightly stopovers at backcountry huts. However, such an operation would also require numerous permits, and prior to this week, Ryan and Randolph said they had trouble getting even an acknowledgement out of the Forest Service and BLM.
"The vibe we've picked up is that there've been lots of changes in the chain of command, and those changes have affected things," Randolph said.
Randolph added that he realizes that the public lands center has been burdened particularly in the aftermath of the fires. "There's obviously a lot going on with the forest," he said. "But even if you're tapped in one place, life still goes on."
Like Brill, Randolph said that Stiles' hiring should smooth things out. "I'm sure filling the position will help," he said. "I think that vacancy was definitely part of the reason we had a problem even getting a meeting."
Mark Pearson, executive director of San Juan Citizens' Alliance, concurred with Randolph and Brill on the recent slowing of Forest Service and BLM review. However, the environmental watchdog group hasn't minded the pace, particularly with respect to applications like the one to drill 297 new gas wells in the nearby HD Mountains.
"I guess the process has been slower about making decisions, but we're not complaining about that," Pearson said. "I think for most users, it's been pretty transparent."
The San Juan Mountains Association is an independent non-profit that works to facilitate interaction between the public and the local Forest Service and BLM. Jenny Newcomer, SJMA executive director, agreed that Stiles will have a full plate when he arrives. "He's got a lot of hard work in front of him," she said. "Luckily, he brings the experience of having been here during the fires. I was really impressed with him at that time."
Newcomer said that though the last year has been challenging, everyone at the San Juan Public Lands Center has helped hold things together. "I think there's a strong amount of local leadership and things have gone pretty smoothly," she said. "Other people in the agency have filled in the gaps."
Stiles said he agrees with this sentiment and added that he does not intend to come in and shake things up. "I don't have any plans of coming in and making big changes," he said. "I want to make sure people can continue doing good jobs."
He noted that with its unique Forest Service and BLM combination, the San Juan Public Lands Center deserves credit for its strong record of service.
"This is an amazing office in that it combines BLM and Forest Service," he said. "The folks down there deserve a lot of credit. They've been working hard for a lot of years."
Stiles plans to take up his new post in early May.