Roll out the barrel
Local brewmeisters celebrate 70 years of being Prohibition free with collaborative brew
written by Bryant Liggett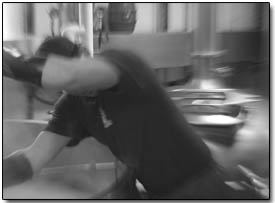 Carvers brewer Eric Maxson stirs the barley stew that will soon become the Durango Bootleggers Society's "Spring
Tonic," a collaborative effort among Carvers, Ska Brewing,
Durango Brewing Co. and Steamworks that commemorates
the 70-year anniversary of Prohibition's repeal. The final product will be tapped Monday at Carvers./Photo by Todd Newcomer.
Durango has always been a town that likes its beer. The microbrewing revolution exploded all over America in the 1990s, but it began in western states including Colorado. Crafted beers also have stood the test of time, and in Durango, it's evidenced by the success and prominence of our four local breweries – Carvers, Durango Brewing Co., Ska Brewing and Steamworks.
The popularity of fresh-brewed beer may have seemed new when Carvers first opened its doors in 1986, but Durango is no stranger to businesses that add yeast to malt, barley, hops and water to create one of America's beverages of choice.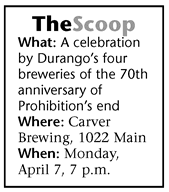 Fort Lewis College history professor Duane Smith is a walking encyclopedia on Colorado past and present and knows a bit about Durango's rich brewing history. He said the early days of brewing predated pasteurization, a process that makes beer safe to ship, giving rise to locally produced beer. "Obviously people liked to drink their nickel glass of beer or their twenty-five cent bucket, so the only answer to that is to have your local breweries," he said.
In response to this powerful thirst, a number of breweries and saloons popped up along Main Avenue and in Durango's two red light districts, one near the train depot and the other on the west side of the 900 block of Main. At the turn of the century, Durango's breweries included a branch of Coors, the Durango Bottling Works, San Juan Bottling Works and the original Durango Brewing Co., which eventually became the Smelter City Brewing Association.
These breweries and the Durango beer industry thrived until 1914, the dark day in Colorado and the rest of America when the 18th Amendment was passed, and America was on its way to going dry.
"Colorado was voted dry in 1914, and it went into effect Jan. 1, 1916, which automatically started bootlegging," said Smith.
With Silverton serving as a major hub for the production of illegal booze, bootlegging thrived in the Durango area, he said.
"Silverton very quickly became a bootlegging center because you could set up your stills in mining tunnels and run it down here to Durango, Farmington and lord knows where," Smith said. "There's one road in and one road out and that's present Highway 550. It was a gravel road so every time the revenue agents or liquor agents tried to raid Silverton, someone would alert ahead, and they couldn't find anybody there."
The impact of Prohibition on Durango's liquor industry was superficial at best. Buildings that had housed saloons and breweries were converted into businesses that served a male-dominated clientele. Bottling works and bars quickly became "barber shops" and "pool halls," most likely attracting the same customers as when they served up legal booze.
The running of illegal liquor went on throughout Prohibition, according to Smith, but not without the arrests, pay-offs and kickbacks between moonshiners and the law typical of the era.
Raise a glass
The dark days came to an end when Prohibition did, in April of 1933. Colorado voted 2 to 1 against the 18th Amendment and the Volstead Act. Minutes later, Durango, the state and the rest of America were saturated.
Durango soon found itself with its usual number of legal bars and saloons, but brewing didn't return as an industry until the 1980s. However, 70 years after the repeal of Prohibition, many feel Durango has returned to its glory days of beer making with four local breweries. And even though the four are in competition, they have a common bond: a love for the art of making beer. In fact, the bond is so strong that Durango's breweries have joined forces in a collaborative beer-making effort celebrating 70 years of Prohibition-free brewing. Calling themselves the "Durango Boot-leggers Society," brewers from Carvers, Durango Brewing, Ska and Steamworks came together to make one batch of beer to honor the occasion, appropriately called Spring Tonic. Using a recipe that dates back to the early 1900s, the special batch was brewed at Carvers in February and will be available at the 70th anniversary party April 7 at Carvers.
"We are making a spring-tonic elixir probably closest in style to a maibock, from a pre-Prohibition recipe that we found," said Ska Brewing's Bill Graham. Maibock is German for "May" bock, or spring bock, typically a stronger, pale beer that is released in late March or April.
According to Eric Maxson, head brewer at Carvers, Durango is unique in that it supports four local breweries, whereas many cities around the country cannot even support one. He said what's special about this beer is that it is the first time all four breweries have come together to make one particular beer.
"It's a collaborative effort where we discuss what we're doing," he said. "There are a thousand ways to make a beer, and as long as you're doing the main things, that's what counts."
And, as brewing continues its long, rich history around the world, and in Durango, Smith said he is confident the love affair between people and their frosty malt beverage will do likewise. "You gotta have your beer."