Opening day, furniture as art and tribute night
by Mike Sheahan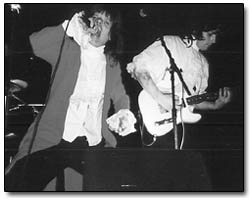 Opening day of the baseball season is here, and it has always been my single favorite day of the sporting year. It's about the promise of a fresh start, the smell of hot dogs and freshly mown grass, and the sounds of fantasy league owners bickering over petty statistical details. The familiar faces of the athletes are excited at the possibility that any of them, if they work hard enough, might still be playing in late October. Except, of course, the players for the Kansas City Royals or Milwaukee Brewers. They just dream of free agency and trade rumors. Because of all this, I literally had to sabotage my TV set so I would be forced to do other things, such as compose this little weekly entertainment heads-up we call "The Goods."
Durango is known for being quite keen on the "benefit night," and this week is no exception. The fun begins tonight, April 3, at Storyville with a benefit for the Fort Lewis College Environmental Center. The cover charge (the price varies based on whether or not you are a college student and when you buy a ticket) gets one access to a silent auction and live music from local songster Greg Oldson, Oregon-based folkie Alice DiMicele and Colorado jam band Single Malt Band.
The Environmental Center hosts annual Earth Week festivities as well as a variety of clubs and programs all year, all of which makes it a worthy cause. The event begins at 5:30 p.m. with the silent auction. Oldson kicks off the music at 6 p.m.
The very next night, Friday, April 4, community radio station KDUR is hosting its second annual Furniture as Art auction. Several weeks ago local artists were given old, discarded pieces of furniture to have their way with. The artists then created functional works of art from what was once rubbish, and these pieces are available to the highest bidder at the Durango Arts Center starting at 7 p.m. You can check out the artwork by visiting www.kdur.org, or you can just take my word when I say that I have seen all the art, and there will be some really cool work up for grabs. Tickets cost $10, but that includes a couple of adult beverages and live entertainment. If last year's auction is any indication, this is the place to be whether you are a patron of the arts or a patron of complimentary adult beverages.
If you are looking for action after the auction, you can scoot over to Cuckoo's and help them celebrate their fourth anniversary with the Lawn Chair Kings. Not exactly known as a live music venue, Cuckoo's provides an intimate setting for enjoying music and your beverage. In honor of its birthday, Cuckoo's is planning food and drink deals, and don't worry, the band promises no cover charge or pyrotechnics.
Anyone who thinks punk rock doesn't exist anymore needs to be at the Summit on Saturday night for the experience that is The Thirteens. You will be proven wrong. These young lads are keeping punk alive and well, right here in Durango. Offstage, The Thirteens are unassuming regular guys, but when they hit the stage they're possessed, loud and, as punk should be, a little dangerous. Not for the faint of heart, The Thirteens are for everyone else. The show should start around 9:30 p.m.
Speaking of KDUR, the ever-popular radio station-sponsored "tribute night" is returning to Storyville on Saturday, April 19. Past tributees have included Madonna, Prince and Michael Jackson and have been both incredibly fun and funny. April 19 is "Rolling Stones Night," and I mention this to you now as a call of arms to local musicians to bone up on their favorite Stones' songs and come wow the crowd.A0These tribute nights are the best when there is a wide variety of acts, so if you are known in Durango as a classical jazz pianist, work up your best version of "When the Whip Comes Down" – the crowd will love it.
As a quick note, rock 'n' roll cliche's Bon Jovi will be on a tour of our little part of the country soon, so if you can, stay out of the major metropolitan areas.
This Week's Sign the End is Near: I recently heard about a radio station in the Midwest that arranged a CD and album smashing after the Dixie Chicks made some pro-peace statement. I don't know which is scarier: that people care enough about some dumb pop star's politics or that the result of their anger is to destroy that person's "art." I remember when the same thing happened to the Beatles almost 40 YEARS AGO! We've come a long way, baby.
This Week's Album to Try: If it hasn't yet, the new album by The White Stripes should hit store shelves soon. On "Elephant" the duo of Jack and Meg White pick up where they left off with "White Blood Cells" of a couple of years ago. The hard mix of punk and 70s arena rock and nerdy ballads are both represented, but the band has expanded its sound. A bass guitar, piano and even extra background singers help flesh out a sound that was, especially for a duo, already quite dense. The big surprise comes when drummer Meg takes a turn on vocals. Not entirely successful – her voice is somewhat thin and lacks range – it does add another interesting element to the group. That's really the deal with the White Stripes: They may not be the best musicians or singers, but what they do is so damn cool you have to like it.
You too can be written about here. mpsheahan@yahoo.com