Nashville survivor revived in Durango
Singer-songwriter serves up country music with alternative flavor
written by Missy Votel
Take one part Tabasco, throw in a heaping helping of prickly pear, add a dash of patchouli oil, mix well in a margarita shaker, grill over an open fire under the stars, serve up with a Southern drawl, and you've got local singer/songwriter Sand Sheff.
With a voice reminiscent of Jimmy Buffett's that has invited comparisons to a young John Prine, and lyrics that run the gamut from truck drivin' and cow wranglin' to hard lovin' and moon shinin', Sheff offers up a unique take on traditional country and western.
In its simplest classification, Sheff said his sound fits into the alt country genre, an ambiguous term for countrified artists who don't quite fit the mainstream mold.
"I'd call it Okie, jamalicious grass funk if I could say it with a straight face," he said when pressed to define his sound.
The 35-year-old singer, who calls Durango home, attributes his unique sound, at least in part, to his diverse past. Over the years, Sheff has been a short-order cook, cowboy, recording artist, bus washer, firefighter, minister and author, in no particular order. He has lived across the United States, from the most remote reaches of the Utah desert to the bustling streets of Nashville.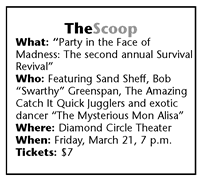 "I have lived around cowboys, and I have lived around hippies," he said. "And we all have a lot in common, whether we know it or not."
Born in Flagstaff, Ariz., Sheff soon moved to Tahlequah, Okla., a small town at the foot of the Ozark Mountains. Situated squarely at a crossroads between the South and West, Sheff said the region provided him a unique perspective on traditional American music and culture.
"It was almost in the West; almost in the South," he said. "Life was a lot slower there. People would sit around on the porch just like their granddad did; they were deeply rooted."
And while Sheff said bluegrass was the music de rigueur for those parts, the twang of the banjo was not what drew him into the musical realm.
"I heard the Beatles, and all of a sudden I was so possessed, it changed everything in me," he said.
Inspired, an 11-year-old Sheff bought his first guitar for $40 and coaxed three friends into doing likewise. "After three months, I was the only one still playing," he said. "And it's been my best friend ever since."
At the age of 18, Sheff headed west to Colorado Springs, where he went to Colorado College on an English scholarship. Upon graduating, he was so smitten by the Western landscape that he decided to make it his new home. With guitar in tow, he began bumming around the wide-open spaces of the Four Corners, which included stints baking at Carvers in Durango and wrangling horses near Moab. He finally settled in a tiny outpost in south-central Utah: Fry Canyon, population 6.
"I had gone as far away as I thought I could from civilization," he said. "There's more Anasazi spirits there than people."
During his time in the Four Corners, Sheff played gigs at venues ranging from the old Farquahrt's stage to rustic campfires. He also landed his first recording gig, which resulted in his first two albums, "Quicksand Soup" and "Highway 666."
However, the wanderlust that brought Sheff to the West soon resurfaced. At the age of 27, he packed his bags for Nashville.
"I knew I was running into a dead end, and I knew I had to leave," he said.
The young singer sold his house, loaded up his truck and, with burning clutch, drove to Nashville. "I just threw myself out there at the mercy of the universe," he said.
The cosmos must have been smiling, because just as the clutch heaved its last breath, Sheff pulled up to a friend's house in Nashville. It was there that he coincidentally met a mutual friend who would go on to become a member in his new band, Buck 50.
"We both ended up at a friend's house on the same day," he said.
Sheff's luck was about to get better. At Buck 50's first gig, there was a record producer in the audience who goaded them into the studio. "He said, 'I want to get you in before you practice too much,'" Sheff recalled.
Within weeks the band had cut its first CD, "Red Dirt Road" and was on its way to establishing itself as one of the premiere acts in Nashville.
"We sold some records; we thought we were going to hit the big time," Sheff said.
However, for whatever reason, Buck 50 never quite made the crossover from alternative shores to the mainstream.
"What we did was so raw," he said. "We would go from psychedelic to getting completely bizarre. I think the Nashville gatekeepers thought it was a little raw."
Within two years, Buck 50 was history, and Sheff was striking out solo. However, after three more years and what would turn out to be his biggest production yet, "Turn Me Around," Sheff once again received the calling to move.
"I woke up one morning and left Nashville," he said.
And while he admits Nashville is not necessarily conducive to fostering independent artists who challenge tradition such as himself, he said he has no regrets.
"Nodoby makes it in Nashville; Nashville chooses who makes it," he said. "Nevertheless, people were really good to me. I had three records that were paid for by other people, produced by other people."
Once again with fate as his guide, Sheff headed west in 2000. Taking a hiatus from his music, he fought fires in Montana and Oregon and eventually ended up back in the desert, this time Bluff, Utah. Here he met his future wife, Alisa. Two months later, the two were married and settled in Durango, where Alisa lived. Once back in Durango, Sheff said he was motivated to resume his music career.
"I was lying low, finishing this book I was writing, and all of a sudden, the music started flowing," he said. With his spirit renewed, Sheff organized the first ever "Survival Revival" in the spring of 2002, something he defines as part minstrel show, part theatrical production and part musical performance, all with the underlying theme of "keeping it real." The show was Sheff's first live gig since leaving Nashville two years earlier and served as the catalyst for regular gigs around town. Sheff said his return to the spotlight has been good thus far, and he has enjoyed the interaction with the public.
"I call myself the human jukebox," he said. "People try to stump me. Someone the other night hollered out Meatloaf, but I got it."
And while Sheff is still happy to play covers, he has formed a band made up of local musicians Jimmy Craighead, Pat Dressen, Glen Keefe and Bob Wennerson, which performs originals. He also is holding his second annual Survival Revival this Saturday and plans to hit the studio this spring to cut a new record, which should be out by this summer.
"It's going to be my best record ever," he said. "I've got five years' worth of material built up."
Of course, in keeping with the ever-morphing Sheff style, he promises it will be unlike anything he has done to date. Beyond that, he said he's open to just about anything fate throws at him.
"It's a funny life," he said. "If you jump right out there, all this weird stuff happens."