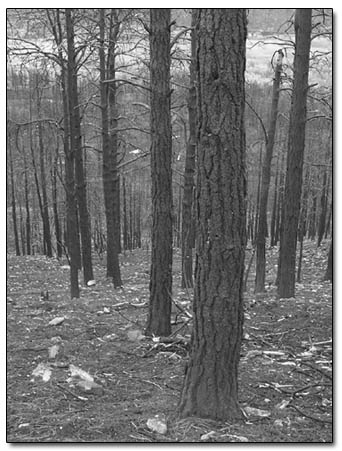 Burned ponderosa pines, like these overlooking the Animas Valley, would be logged under a salvage logging plan being proposed by the Forest Service. However, the plan is being criticized by local enivironmental groups Colorado Wild and the San Juan Citizens' Alliance for being a thinly veiled effort by the
Bush administration to cater to the timber industry.//Photo by Todd Newcomer.
As Jeff Berman, Colorado Wild's executive director, flips through the phone book-sized document, his comments are anything but positive.
"There are dozens of typos," he said pointing to a table.
A handful of pages later, he commented, "There are whole sections of text that should be elsewhere."
Looking at another table, Berman said, "Either their math is wrong or they're leaving things out."
In general, Berman has a blunt opinion of the recently released environmental impact statement on salvage logging in the Missionary Ridge burn area.
"They should take this back," he said. "This is one of the sloppiest environmental impact statements I've ever seen. There are whole issues missing. There are a bunch of scientific issues that are not even addressed."
The San Juan National Forest released the EIS last week as a precursor to harvesting a large number of trees burned in last summer's Miss-ionary Ridge fire. The document is available for public review, and based on that review, the Forest Service will determine how to proceed with the proposed timber sale.
Dave Dallison, timber program leader for the San Juan National Forest, said that the Forest Service's preferred alternative would entail logging on roughly 4,200 acres of the approximately 70,000 acres burned in the giant wildfire. The harvest would be accomplished by standard ground-based logging, cable logging and helicopter logging.
"The primary purpose of the program is to salvage dead and dying timber that would otherwise be lost," Dallison said. "We'd like to do that without causing significant resource damage. Two of the side benefits would be fuels reduction for future wildfire situations and the destruction of some beetle populations."
In the fast lane
Dallison agreed with Berman that the review of the sale is rushed. However, he remarked that speed is a necessity.
"It's on an extremely fast track, probably half the time it normally takes," Dallison said. "This is the time frame because of the deterioration of the timber."
Dallison notes that as soon as trees die, they begin rotting. Consequently, marketable lumber, particularly ponderosa pine, must be harvested as soon as possible. "The first to go is the ponderosa pine," Dallison said. "We only have 18 months to salvage those trees."
Aspen, Douglas fir and Englemann spruce have slightly more forgiving time frames, according to Dallison, but they still lose their value after a couple years.
However, Colorado Wild is not buying Dallison's argument, and the conservation organization views the timber sale as too massive, rushed, reckless and potentially damaging to the environmental and social fabric of La Plata County. While the logging has been proposed as a clean-up and use of already dead trees, Berman said that operation would amount to a total clear-cut and would be on a scale never witnessed in this part of the state.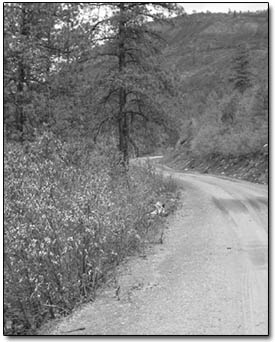 Missionary Ridge Road, seen here, could become the site of increased truck traffic this summer if a plan to harvest burned timber in the Missionary Ridge area gains approval. According to Jeff Berman, of Colorado Wild, the harvest could mean up to 4,000 trucks on local roads./Photo by Todd Newcomer.
"They're proposing to harvest 20 million board feet of lumber," Berman said. "That's about 4,000 logging trucks' worth. If you had a green timber sale this size, it would be accomplished over three to 10 years. They want to do this over three to six months."
Feeding the industry
Dallison noted that in spite of the project's size, the demand for the trees exists, and the timber industry has expressed interest. "Before we embarked on this, we talked with industry extensively, and the sense was that they were very interested," he said. "It just depends on what's going on with the market at the time. It has been up, but I just heard today that housing starts are down."
Berman countered that regardless of the timber industry's interest, capacity would be an altogether different issue. Lumber mills in Mancos, Montrose and Espanola, N.M., have apparently expressed interest in processing the load and adding shifts to do so.
However, Berman raised the question of what happens to the workers when the sale is over. "They either increase the amount of timber coming off our public lands or they lay off all those people," he said. "The Forest Service will either be encouraging levels of industry they can't sustain, or they'll be creating a boom-bust cycle."
Berman said that in his mind, the big push for this operation is coming not from the Forest Service but higher up the chain of command. He said that the Missionary Ridge salvage operation and five others proposed for the state are the result of President George Bush's Healthy Forests Initiative and amount to timber grabs in the name of fire suppression.
"This is driven at the whim of the timber industry and at the behest of the Bush administration," Berman said.
The cost to community
While the industry has expressed interest in the sale, Berman stressed that Durango should be aware of the direct impacts.
"Can this community afford another destroyed or even harmed tourist season?" he asked. "There's going to be heavy logging truck traffic around Bayfield High School when school's letting out. I'm not going to even consider riding my bike on East Animas Road during this. They're also going to have to close whole areas of forest to do this. That's going to hurt out tourism and more businesses are going to be stretched to the limit."
Berman went on to name a laundry list of impacts on the area's natural environment, including total clear-cuts, erosion and weed proliferation, among other issues. Citing the 1995 Beschta study, Berman said that salvage logging actually does not enhance fire suppression, and burned areas are extremely vulnerable to impacts. According to the study, salvage logging actually creates a warmer, drier microclimate that increases fire danger. The study also found that logging damages soils through increased erosion and compaction.
"An area that's been burned is much more sensitive to impacts," Berman said.
Road to nowhere?
One of the chief impacts of the harvest would be related to roads. Berman noted that while the EIS said that very few roads would be built, it does name 90 miles of "roads" that will have to be improved or reconstructed. He added that the EIS does not map or describe where these roads are.
"Most of this project is going to be ground-based logging," Berman said. "They're proposing to use what they call existing roads, but the road analysis is not available. There's no opportunity for anyone to go see what the condition of these roads are, or if they're even roads or trails or double-tracks."
Because of the sum of potential impacts, Berman said his group will strongly oppose the proposed salvage operation. "There may be a few areas that they could go up there and log," he said. "But they're not acknowledging the scientific research, and theydoing nothing to assess the impacts."
Another group likely to challenge the EIS is the San Juan Citizens' Alliance. Mark Pearson, executive director, said that his group has yet to pick apart the document but already has issues.
"I think we'll have some of the same concerns as Colorado Wild," Pearson said.
Offhand, he listed logging on steep slopes, helicopter logging within roadless areas and road reconstruction as potential problems.
"There's an awful lot of miles of roads to be reconstructed up there," he said. "Ninety miles is a great deal of new permanent road."
From consensus to discord
Like Berman, Pearson referenced the Beschta study. In particular, he noted that San Juan Citizens' Alliance had presented the study's findings to the San Juan National Forest during the creation of the EIS. He said he was disappointed to see no mention of it in the EIS.
"It looks like they totally blew us off and didn't even mention it," Pearson said. "That's disconcerting, considering it was compiled by 20 Forest Service scientists."
On a broader level, Berman said the EIS is disconcerting as it represents a break in the long history of consensus building by the San Juan National Forest. Given good past relations with the public agency, he said he is surprised by this shift.
"They are turning that on its head with this," he concluded. "I'm actually surprised. I thought they would be a little more fair."