"Three Women, 300 Miles"
Film documents trip down the Grand Canyon on foam board
written by Missy Votel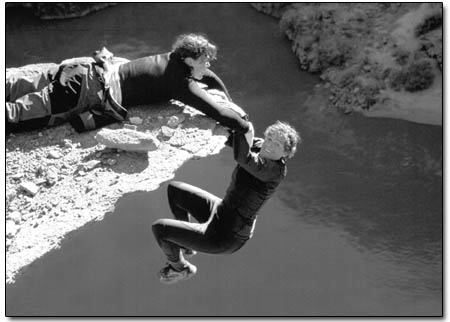 Rusch, lying down, and Julie Munger, hanging, ham it up for the camera in a scene from
"Three Women, 300 Miles."
For many a river rafter, Styrofoam is merely something that keeps beer cold. But for three adventurous women, it was the only thing separating them from a frigid torrent of whitewater for 19 days.
In November 2001, three friends – Julie Munger, 40, Kelley Kalafatich, 40, and Rebecca Rusch, 33 – set out on the icy waters of the Colorado River through the Grand Canyon with nothing but 4-foot foam boards, flippers, dry suits and gumption to guide them down the 300-mile stretch and into river history. The resulting documentary, "Three Women, 300 Miles," is a sometimes-harrowing, oftentimes-humorous and always awe-inspiring look at the resiliency of the human spirit in accomplishing what many said could never be done.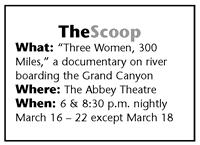 Although the film takes place in 2001, the real story began two years before when veteran river runners Kalafatich and Munger, along with another friend, hatched a plan to be the first people – male or female – to run the Grand on river boards (think boogie boards on steroids). However, just as the women were about to cast off, they were stopped by a park ranger on the grounds that what they were about to do was against the law.

The film was shot partially by fellow expedition member Kelley Kalafatich, left,
who in addition to being an expert river runner worked
as Meryl Streep's stunt double in "River Wild."/Photos courtesy Defiance House Pictures.
"Since the '60s it's been illegal to swim the Grand Canyon," said Kalafatich, who was in Durango last weekend for the film's world premiere. "The ranger said, 'I'm sorry but I can't let you go because it's illegal,' and pulled us off."
Not ones to back down from a challenge, the women began a tireless quest to win the fight. After some digging, they found that technically they could run the river on river boards since the boards are U.S. Coast Guard certified vessels.
"So they had to let us go," said Kalafatich.
Two years later with permit in hand, Kalafatich, Munger and fellow U.S. Whitewater Rafting Team member and adventure racer Rebecca Rusch, set off into the unknown, towing what they needed to survive for the next few weeks.
The film picks up at this point, meeting up with the women on a blustery November day near the put-in at Lee's Ferry. Filmed by Kalafatich and Carr Clifton – who shot footage at the put-in, take-out and a few hike-access points along the way – "Three Women" opens with an honest look at pre-expedition jitters. Despite her Eco-Challenge credentials, we find Rusch, the least experienced river runner of the three, having second thoughts. Unlike many films in the extreme adventure genre that showcase emotionless machismo, it is refreshing to see some human sentiment as Rusch grapples with paring down her gear and makes a teary farewell call to a friend, questioning what she has gotten herself into. However, she is goaded into staying by trip leader Munger, who was born with paddle in hand and has nearly 40 canyon trips under her belt.
"There's no such thing as bad weather; there's just not enough clothes," Munger chides, later adding, "All you need is good humor, good sense and a good sense of humor."
However, we soon learn that Munger also has a healthy respect for the river, particularly for Granite Rapid, a mandatory-thrasher deep within the inner gorge. We also learn later, at the infamous Lava Falls, that the river does not play favorites.
Clifton, a landscape photographer from Northern California whose first foray into moving pictures was with this film, said he drew upon his own personal Grand Canyon as an oarsman on the Grand when trying to capture the essence of the river.
"I had dry heaves after running Granite," he said. "And when you're making a film, the biggest challenge is figuring out how to do tell it the best way you can. I tried to recreate the feeling I had."
Once on the river, the trio finds its groove and comes to the realization that it just might be successful. However, before the team can become too cocky, a bizarre accident turns the tables, almost ending the mission and lending credence to the old river doctrine that 90 percent of all accidents happen on shore. Despite the adversity, the team perseveres, possibly making victory and its pursuit all the sweeter. And in the process, they even manage to have some fun, frolicking in the numerous side canyons and tributaries.
Although at its heart a whitewater action film, to its credit, "Three Women" doesn't rely on the standard formula of hairball descents, blaring speed metal and breakneck editing. Rather, like the river itself, it meanders along, picking up speed where appropriate while still slowing down to enjoy the scenery once in a while. Adrenaline is not had at the expense of cheap stunts, disco helmets or radical camera angles. Instead, one gets it from the unmistakable, deafening roar of an approaching rapid, the site of its tumbling, tumultuous waters and the pure exhilaration of being delivered safely to its bottom.
For anyone who has ever stood for what seemed an eternity on a rocky shore scouting their line, the film will bring back the all-too-familiar pit in the gut and knees of Jell-O. But this is not to say the movie's power will be lost on the landlubbers among us. In fact, Kalafatich said the film, which won Best Documentary at this year's Durango Film Festival, is appreciated by river runners and nonriver runners alike.
"Last Monday when Rebecca came through Lava, the whole crowd started clapping and cheering," she said. "Women came out, and they were crying, thanking me for such an inspiring film."
Indeed, after the film's Friday afternoon screening, Kalafatich experienced a similar response, with many moviegoers taking her by the hands and telling her how moved they were. And lest anyone be misled into thinking "Three Women" is a chick flick, Kalafatich was quick to point out that the response has been equally shared by both sexes.
"What's amazing to me is men – not just women – come up with tears in their eye," she said. "It's amazing to get such an emotional response. People – it just touches them."